Rumble, the online video platform, has gained massive popularity and adoption in recent years as creators seek a YouTube alternative with less censorship and are looking for a video app.
YouTube has implemented various content moderation policies and practices to control misinformation on its platform, especially regarding the US elections, health issues, and more.
This censorship has led to the demonetization or outright ban of some of the most popular creators on YouTube who have diverse or controversial opinions about some sensitive discussions, including politics, race, gender, and more.
Most creators believe this censorship is becoming too extreme and limiting their right to free speech, as anybody can be banned anytime, even with unintended mistakes.
This censorship led to the massive adoption of Rumble, a video platform that has grown to become YouTube's best alternative.
I joined Rumble a few years ago and enjoy the platform's fun and ease of use. I created and published a few video contents and have been making money from my Rumble channel since then.
Since then, I've been exploring the video-sharing platform and thought it crucial to share this Rumble insight with fellow bloggers and businesses looking for a good YouTube alternative and small business marketing ideas.
In this article, I'll discuss for you how the video platform works, the platform's features, and ways you can make money from Rumble as a creator.
Before I get to that, here's a quick preview of what Rumble is all about.
What the Online Video Alternative Platform?
Rumble is an online video platform where users upload, share, and monetize video content. Chris Pavlovski, a Canadian entrepreneur, founded the platform in 2013 to serve as a YouTube alternative for small content creators.
This alternative video network  is popular for being immune to cancel culture because it supports diverse opinions, authentic expression, and open dialogue. This has led to its exponential growth from 1.6 million average monthly active users in Q3 2020 to 44 million average monthly active users in Q2 2023.
Also, this massive inflow of creators is also attributed to Rumble's goal of generating more revenue for creators than its competitors.
Currently, the video-sharing platform pays more to creators than YouTube. Rumble shares up to 60% of its ad revenues with users, more than YouTube's 55%. Creators will also earn 100% of their revenues from subscription badges on the platform until the end of 2023.
Now, AI tools like Fliki help video content creators create visually captivating videos with professional-grade voiceovers, all in one place. It has become much easier to make money online with video blogging.
As a video blogger, you can create your videos on Fliki AI 10x more easily and faster and publish them on Rumble easily.
Rumble is popular for being immune to cancel culture because it supports diverse opinions, authentic expression, and open dialogue.
Click To Tweet
Features of Rumble
Rumble has similar features to YouTube – both are websites for sharing video content.
Here are the top Rumble features:
1. Video Upload and Sharing
Users can upload their videos to the online video platform, and people from any part of the world can access and view them. You can upload videos directly from your local storage or share them from your YouTube channel.
You also have the option to make your Rumble video public, private, or visible only to a select group.
2. Content Licensing
Rumble creators can make extra money by licensing their content to media outlets and publishers.
There are four licensing options you can choose from when uploading your videos on Rumble:
Video Management (Exclusive)
Video Management (Excluding YouTube)
Rumble Only
Personal Use
You'll learn more about these licensing options below.
3. Monetization
Rumble provides various options for monetizing your content on the platform, from sharing the revenue from advertisers to content licensing and syndication.
You can also make money from the platform in other ways, such as referrals, swiping rumbles, and lottery winnings.
In a subsequent section, I'll elaborate on how you can make money on Rumble.
4. Video Embedding
Creators can also embed videos from Rumble channels. Rumble provides creators with tools to embed their videos on external websites and blogs, enabling them to promote their content for higher visibility.
5. Analytics
Rumble creators have access to valuable content analytics that enable them to get insights on their video performances through the creator dashboard. You can see your content views, earnings, audience demographics, and more. These analytics data will help you create more valuable content that satisfies your audience's interests.
6. Rumble YouTube Channel Sync
If you already have videos on YouTube and don't have the time or effort to manually upload them on Rumble, you can use the Rumble YouTube Channel Sync to sync your Rumble account with your YouTube account. This automatically transfers your existing YouTube content to Rumble, and you earn from both platforms.
To use this feature on Rumble, you simply have to log into your YouTube account within the Rumble sync interface. And all your YouTube videos will be automatically copied to Rumble.
7. Live Streaming
Unlimited live streaming is available to all creators on Rumble through the OBS studio. This feature lets creators and webinar hosts connect with viewers in real time.
8. Your Own Channel ID
You can also create as many channels on your Rumble account as possible. You can create channels for different aspects of your business and have unique IDs for each.
With this feature, it's easier for you to promote the different aspects of your business separately.
9. Rumble Studio for Podcasting
The Rumble Studio is another feature that benefits creators immensely. Creators can use this feature to create and publish audio content, such as podcasts, faster and more consistently.
10. Creator Subscription Badges
Viewers can support their favorite creators on Rumble by subscribing to their channels for $5 per month. Subscribers will receive a special badge next to their username in live chat and the mobile app, and they will also be able to use custom emotes chosen by the creator.
With the subscription badges, viewers can watch videos on Rumble without ad interference, improving their viewing experience.
There are many other Rumble features for creators and viewers. Some of them include:
Searching videos on Rumble according to channels and categories.
Viewing videos in full-screen vertical and dark mode.
Commenting and engaging with videos.
And much more.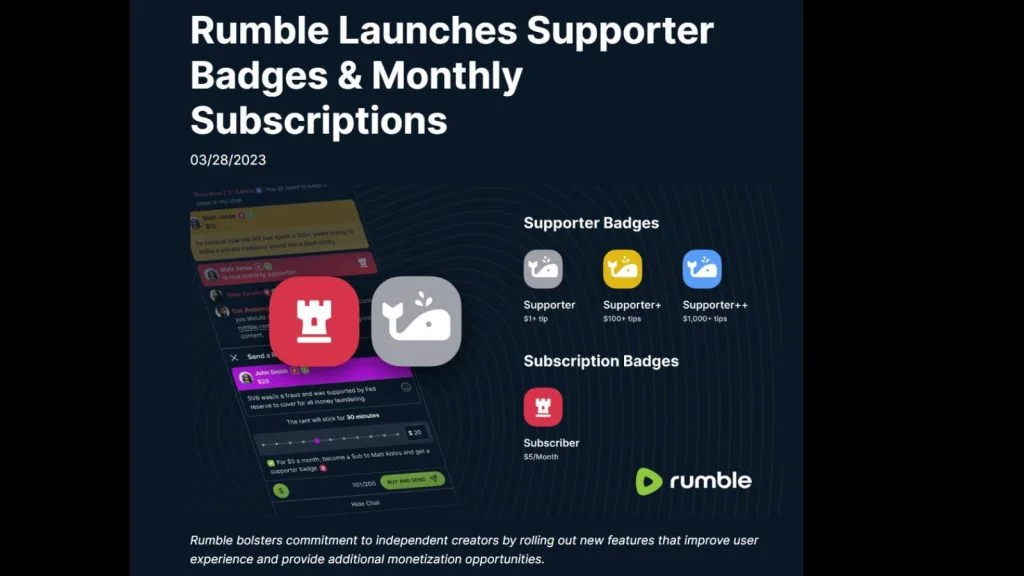 How Does Rumble Work?
Rumble is a platform where content creators upload videos for viewers to discover, watch, and engage with. It works similarly to other online video platforms, like YouTube. However, it has some vital features that make it unique, such as its decentralized and creator-friendly environment.
The platform is free; anyone can sign up and start uploading videos immediately. Then, viewers can visit the platform and watch videos from diverse creators.
Viewers can watch videos from a feed of videos based on recommendations according to the viewer's interests and viewing history, or the viewers can search for videos using specific keywords. They can also search for niche channels that focus on preferred videos.
Creators on Rumble earn as much as 90% of the revenue from their video content. Videos with high engagement rates attract profitable ads, and creators can also monetize videos via various other means.
How to Use Rumble The Online Video Platform
Like all video-sharing sites, using Rumble is simple and straightforward.
Here's a step-by-step process on how to use Rumble.
1. Create and Verify Account
The first step to using Rumble is to create an account.
Visit the Rumble website.
Click "Sign Up" at the top right side of the home page.
Fill out the registration form, providing vital information such as your name, username, email address, password, etc. Once you've provided all the required information, click "Register."
Rumble will email you to verify your account.
On verification, your new Rumble account is ready to go.
2. Complete Your Profile
Once you've verified your account, Rumble will require you to complete your profile. This simply means uploading your profile picture and adding any other relevant information you'd like to share with your audience.
3. Upload a Video
Now that your profile is ready, you can start uploading videos on Rumble.
To upload a video;
Click the "upload" button in the top right corner of the Rumble home page.
Select the video you want to upload from your local storage.
Add a title, description, tags, and other information to help users discover the video.
Choose your video's privacy settings and click "upload."
Now, you can proceed to customize your video.
4. Customize Video Settings
After your video has been uploaded, proceed to customize it further, choosing your monetization option, a thumbnail, and more.
5. Publish Your Video
Once you've customized your video, you can hit publish for it to go live on Rumble. However, if you set it as public, it will be available to other users on Rumble and be searchable on the Rumble search bar.
6. Engage with the Rumble Community
To make the most of your Rumble account, explore the platform to watch videos from other creators, especially those in your niche.
Ensure to like and comment on the videos you find interesting.
How to Get Started on Rumble, The Online Video Platform
Once your account is set up, you're ready to get started on Rumble. You can use any of the six publisher packages to grow your account and generate revenue on the online video app.
Here are the Rumble packages:
1. Free Package
This is the default package when you register on Rumble. It offers unlimited free access to Rumble hosting services. You can upload and monetize your videos with ads.
This free package is similar to the free YouTube version. However, unlike YouTube, it allows you to start earning immediately without the minimum subscriber or watch time requirements.
2. Basic Package
The Rumble basic package is available to creators for $10 per month.
You get to earn from your videos and access unlimited live streaming, an ad-free viewing experience, a premium badge in chats, 100GB cloud storage, and 250GB bandwidth.
3. Starter Package
The Rumble Starter Package is available to you for $25 per month. It offers everything in the basic package, plus 250GB storage and a 1TB bandwidth.
4. Team Package
The Rumble Team Package is available for $100 monthly and includes everything in the starter package plus 1TB storage and 4TB bandwidth. Furthermore, You can also integrate ad tags into your videos, enhancing revenue-generation opportunities.
5. Small Business Package
Their Small Business Package is available for $500 per month. It offers everything in the Team package plus 5TB storage and 20TB bandwidth.
6. Large Business Package
The Rumble Large Business Package is available to large enterprises for $1000 monthly. It offers everything in the small business package, plus a 15TB storage and a 50TB bandwidth. It also offers API access and a video upload endpoint.
To get started on this alternative video network, choose any of the packages, make and upload quality videos, and then promote your videos consistently.
Content promotion is important for success on Rumble, as, even though the online video platform is the best alternative to YouTube currently, it is not as popular as YouTube.
Therefore, promoting your videos on social media, blogs, etc., will increase your views and revenue on Rumble.
How to Make Money with Rumble The Online Video Platform Alternative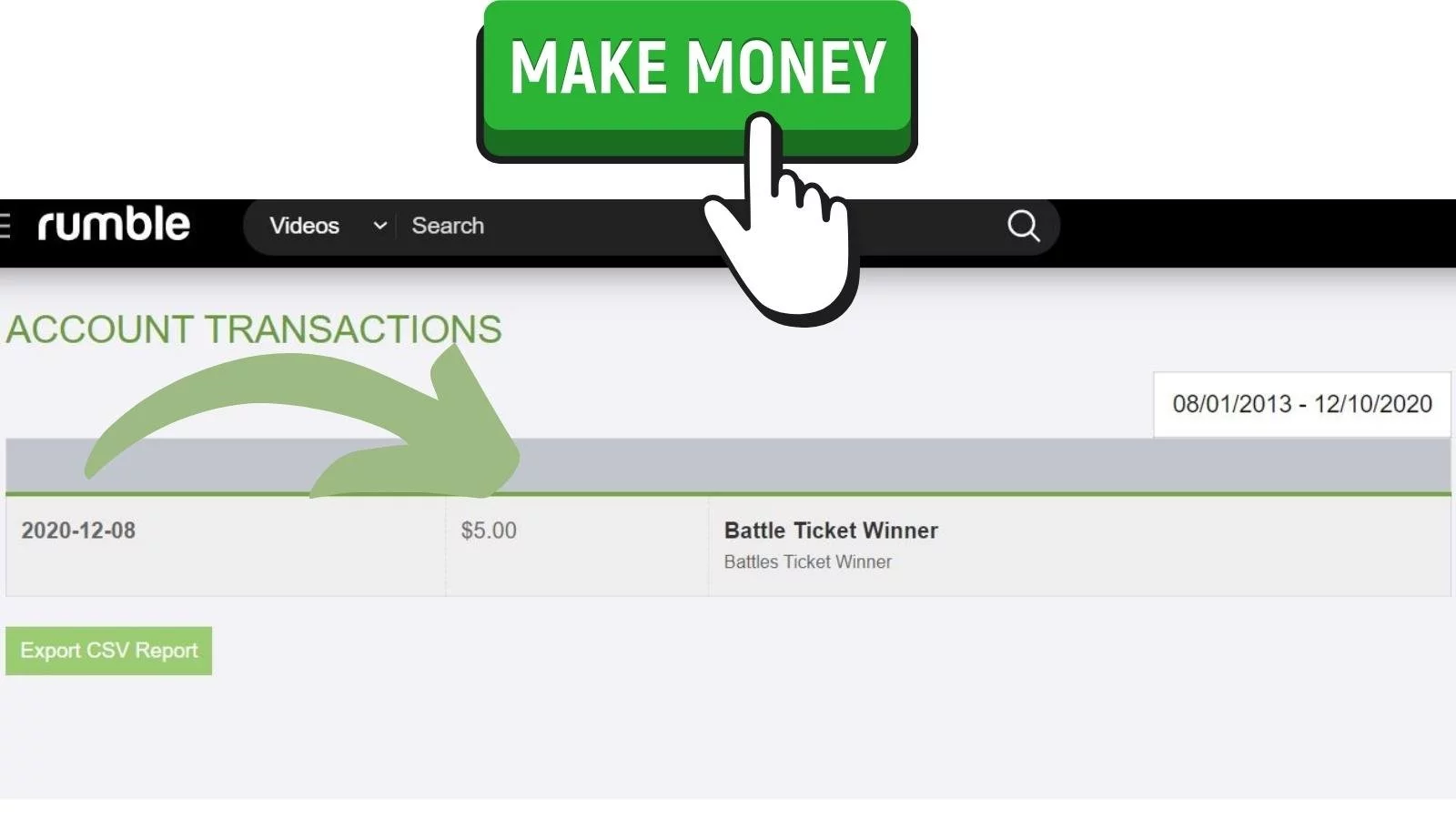 There are many ways creators can make money on Rumble. There are even more money-making opportunities on Rumble than on YouTube.
Here are the various ways you can make money on Rumble, the best YouTube alternative:
Monetize Rumble Videos
As discussed earlier, creators can select licensing options when publishing their videos on Rumble.
There are four licensing options available to you:
1. Video Management (exclusive)
In this licensing option, Rumble distributes your video content by sharing it with exclusive partner websites or TV networks. These platforms will pay for the right to showcase your videos, and Rumble will share the revenue in a 60-40 ratio with you, with you having the larger share.
2. Video Management (Excluding YouTube)
Rumble shares your video content with third-party platforms, excluding YouTube, and shares the generated revenue with you.
3. Rumble Only
In this licensing option, your videos are displayed only on Rumble. That means Rumble has no right to share your content with third-party platforms. However, this means your only monetization option is through ads displayed on your videos.
4. Personal Use
With this licensing option, you retain the rights to your videos. You can only monetize them by getting your subscribers to pay to access your content, as other Rumble users can't search for or view your videos on the content feed.
Earn with Rumble Referrals
Another way you can make money on Rumble is through the Rumble referral program. You can refer people with your Rumble referral link and earn 5% of their earnings when they start making money on the video-sharing platform.
You can find this link in your settings at the upper right-hand corner of the Rumble homepage.
Swiping Rumbles
You can also make money on the Rumble video app by watching and swiping other creators' videos. With the Rumble Swipe feature, users can make as much as 25 cents per day (5 cents per video).
However, you only have to watch the video for at least 9 seconds before swiping it. Fortunately, many comical videos on Rumble are less than one minute – even as short as 30 seconds.
There are so many other ways creators make money on Rumble. You have to get started to discover some of them.
There are many ways to make money on Rumble - video monitization, referrals, and even having fun with video swipes. Learn more.
Click To Tweet
What are Rumble's Content Guidelines?
Rumble has important content guidelines to protect users from discrimination, false claims, and other issues discouraging users from using the platform.
Here are the Rumble content guidelines you must adhere strictly to if you want to succeed on the platform:
It's prohibited to use the platform to incite or invite unlawful conduct, such as infringing legally protected trademarks, unauthorized publication of legally protected copyrighted material, confidential information, trade secrets, or proprietary information. This also includes other illicit acts, such as inciting violence, defaming others, doxing others, or illicitly invading the privacy of another individual.
You're also prohibited from publishing obscenity, including pornography and nudity, for a prurient purpose.
Also, stalking activities, such as misusing the platform to make others uncomfortable in their use of the platform through a pattern of continuous conduct, creating a reasonable fear in another person for their personal safety, or deterring a reasonable user from using the service in fear of such digital stalking, are prohibited.
Discriminating against others based on their legally protected status, such as attacking other users or content creators on the platform based on that user's race, religion, or other legally protected status, is prohibited on Rumble.
Unauthorized advertising, soliciting information from someone under 18, harvesting or collecting information for unsolicited bulk communications, or using the service for any fraudulent purpose is also prohibited.
Rumble is the best YouTube alternative out there and is gaining widespread adoption because of the improved benefits it offers creators. Learn more.
Click To Tweet
Frequently Asked Questions About Rumble
What sort of videos make money on Rumble?
Informative and entertaining videos make more money on Rumble. This is because people are always out to learn something new every day, and while in the process, they want to laugh and ease off, too.
Other kinds of videos make money on Rumble, too. However, comedy and educational videos attract more viewers on Rumble and other online video platforms.
Can you use Rumble and YouTube together?
Yes, you can use Rumble and YouTube together and make money from both. You can upload videos to your YouTube profile and share them with your subscribers on Rumble by integrating both platforms.
This enables you to maximize your earnings on video content, as you can earn from both YouTube and Rumble with the same video.
What is the Rumble Camera?
Rumble Camera is a mobile app that allows you to make money with videos you film with your phone's camera. You can get this camera app from the Google Play Store or Apple Store.
What are Rumble Rants?
Rumble Rants is a feature on Rumble that allows subscribers to tip content creators during live streams. This feature was introduced because Rumble felt the need to improve the creator economy, as they felt creators deserved more than they were getting.
How do Locals work with Rumble?
Locals enable Rumble creators to expand their audiences and make money from audience subscriptions. Rumble is an online video platform that enables creators to upload, share, and monetize their video content. Locals, on the other hand, is a platform that empowers independent content creators to publish their content, engage with their audience, and make money from subscriptions.
By connecting your Rumble and Locals accounts, your audience on one platform can access your content on the other platform.
How can I share a video on Rumble?
You can upload videos directly from your local storage to the Rumble platform or share them from your YouTube channel or Locals profile.
Does Rumble have a "Watch Later" feature?
Rumble users can create playlists of their favorite videos and watch them later. However, there's no direct "watch later" button on Rumble videos.
What does the number of rumbles next to a user icon mean?
The number of rumbles is the number of times users "rumbled" or liked a video.
Can we use tickets in rumble battles on the desktop?
No. That feature is only available on the Rumble mobile app.
How do I check or know if anyone commented on my Rumble post?
You will see comments on your Rumble post in notifications or an email from Rumble. Check your settings on Rumble to ensure your notifications are on.
Can a video that was already monetized be copyright-striked afterward?
Yes, it can. This is because Rumble videos are ready for monetization from the moment they're uploaded. Ensure to read Rumble's copyright policies to be sure you're doing the right thing.
How do I add a tag?
When uploading a video on Rumble, there's an option for you to add tags. It comes right after you choose a thumbnail for the video.
Is there a way to get closed captioning on Rumble?
The closed captioning option isn't available on Rumble at the moment. However, if a creator adds a caption file to their video, you can access it through the desktop browser.
How can I use Rumble Channels?
You can use multiple channels on Rumble to address different niches or major themes. To create a channel, go to your account overview, click "create channel," fill out the form that pops up, and click "create."
Once your channel is created, you can start uploading videos to channels based on the niche each channel is targeting.
Is Rumble available for all countries?
Rumble is available in many countries, including the UK and the US. And as it gains visibility, Rumble will become available in many other countries.
Is Rumble free?
Yes. Rumble is a free, forever platform. However, some features are only available to premium users. You might want to upgrade if the features you need are unavailable on the Rumble free version.
Is Rumble a part of YouTube?
No. Rumble is a different online video platform from YouTube. However, it offers similar services as YouTube and is currently the best YouTube alternative available.
How much does Rumble pay per 1,000 views?
Rumble pays between $3 and $20 per 1,000 views, depending on what you get as a creator. That's slightly higher than what YouTube pays for the same views.
Can you make more money on Rumble or YouTube?
While YouTube has more users and therefore exposes your content to more people for increased revenue-generating opportunities, Rumble has more options for you to make money.
Also, the revenue split between Rumble and the creators is 60/40, where Rumble retains 40% and the creator takes 60%. That's more than YouTube's 55/45 revenue split with creators.
How long does it take to get monetized on Rumble?
Monetizing on Rumble takes a few hours to a few days after uploading, and no minimum subscribers or views are required before you can monetize.
Sign Up on Rumble and Enjoy a Much Smoother Vlogging Experience
Rumble is currently the best YouTube alternative, allowing creators to share their videos and make money through different monetization options. Creators can also make the most of their uploaded YouTube videos by connecting their profiles on both platforms. I'm enjoying the platform so far, and I'm sure my friends, like Ryan, on the platform, are making the most of it.
Are you ready to Rumble? Join Rumble, the Online Video Platform, with this link today! Sign-up is FREE. I'd love your thoughts on this online video platform – kindly comment below to discuss.