YouTube is the biggest video-sharing platform in the world, with billions of users and hours of video uploaded every minute. As a YouTuber, you've probably put in lots of time, effort, and resources into creating your videos. But did you know that you can repurpose your YouTube videos and use them for different purposes elsewhere? In this blog post, we'll explore how you can use a YouTube downloader online to download your videos and use them on other platforms or devices, without violating YouTube's terms of service.
Why You Might Want to Download Your YouTube Videos
Before we dive into how to download your YouTube videos, let's first take a quick look at why you might want to do so. There are several reasons why you might want to repurpose your videos, such as:
Using them on other social media platforms (e.g., Instagram, Twitter, Facebook)
Embedding them on your website or blog
Creating a video portfolio or reel
Archiving them for future use
Editing or remixing them
To achieve any of these, you'll need to download your videos in a compatible format and resolution.
How to Download Your YouTube Videos
Downloading YouTube videos can be done using several tools, both online and offline. However, it's important to note that YouTube explicitly prohibits downloading videos without their consent, except in certain contexts such as offline viewing within the YouTube app itself.
Downloading videos and re-uploading them on another platform is a violation of their terms of service and can result in a channel ban or account termination.
That being said, there are some safe and legal options you can use to download your own videos for repurposing purposes. These include:
YouTube Studio: If you're the owner of the video, you can download it directly from YouTube Studio, which allows you to download videos in their native resolution and format. Simply go to the "Videos" section, select the video you want to download, and click on the "Download" button below the video player.
Third-Party Downloaders: There are several third-party YouTube downloaders that allow you to download your own videos for personal use. Some popular options include 4K Video Downloader, ClipGrab, and Online Video Converter. Just make sure to read their terms of service and privacy policy before using them.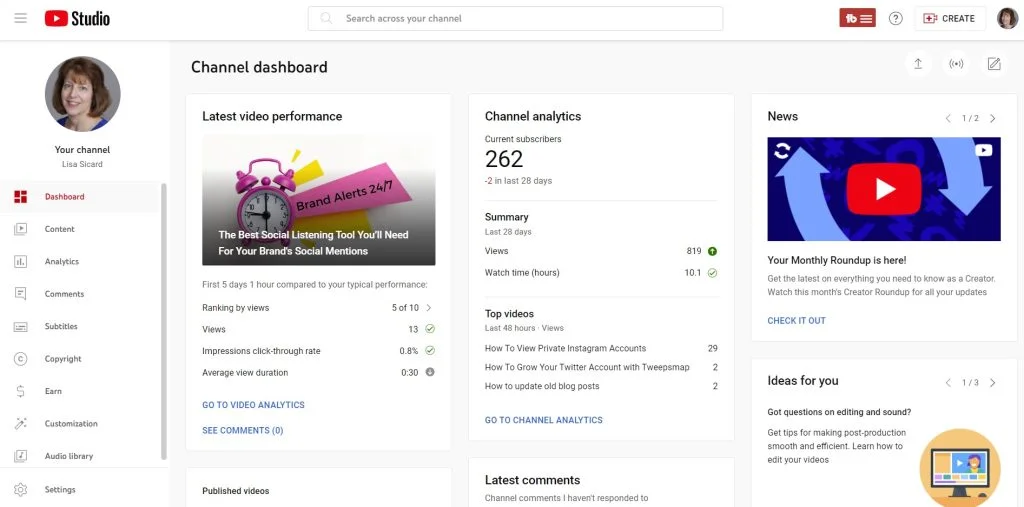 Repurposing Your YouTube Videos
Once you've downloaded your videos, you can use them in a variety of ways. For instance:
Embedding them on your website or blog
Sharing them on other social media platforms
Editing or remixing them using video editing software
Transcribing them into text for blog posts or articles
Creating a video portfolio or reel to showcase your skills and expertise
When repurposing your videos, make sure to take into account the format and resolution of the original video, as well as the specific requirements and limitations of the platform or device you'll be using it on.
You will want to know this before you start the YouTube video downloader online.
For instance, Instagram requires videos to be in a specific aspect ratio (1:1, 4:5, or 9:16), so you may need to resize or crop your video accordingly.
Tips for Optimizing Your Repurposed Videos
Add captions or subtitles to increase accessibility and engagement
Use eye-catching thumbnails and titles to attract viewers
Keep your videos short and to the point
Use annotations or end cards to direct viewers to your other content or social media channels
Test different formats and platforms to see what works best for your audience
Conclusion: How To Use A YouTube Downloader And When You Can
Downloading your YouTube videos for repurposing purposes can be a great way to expand your reach, repurpose your content, and showcase your skills and expertise in different contexts.
By using safe and legal options and following the platform-specific guidelines, you can ensure that your repurposed videos meet the highest quality standards and engage your audience effectively.
Have fun repurposing your content, and don't forget to share your success stories with us. Drop a comment below on how you used them.
FAQs
Can you download a YouTube video?
You can download a YouTube video if you own it and have the rights to the video.
Why would you want to download a video from YouTube?
You may want to repurpose the video onto another social media network or create a reel with it.
Where do you download the video from?
You need to be in your YouTube studio to download the videos.
Are there tools to download them?
Yes, you use tools online to download videos.
What are some ways to optimize the videos?
You could add captions and add thumbnails for them to start out with a great video image.