Is live video shopping for e-commerce taking the retail industry by storm? Yes.
Live shopping, otherwise known as live e-commerce or Livestream shopping is currently the hottest trend to give attention to if you want to maximize revenue for your brand.
Through live shopping, brands can acquire, engage, and convert new customers.
What's more, it transforms online shopping into an interactive and engaging experience for digital shoppers.
Undoubtedly, live video shopping is transforming the future of e-commerce.
Statics don't lie:
E-commerce revenue generated via online shopping is projected to almost triple to nearly $55 billion by 2026.
In the Future Shopper Report for 2021, 28% of online shoppers say additional Livestream shopping would encourage them to buy through social.
A McKinsey & Company survey suggests that live stream events drive conversion rates of almost 30%—10 times more than traditional e-commerce strategies.
So, how can you increase sales with live video shopping for e-commerce?
Let's get to it.
How to Increase Sales For E-commerce
Here are 6 practical strategies to launch live video shopping and drive more sales for your e-commerce business.
1. Choose the Right Platform for Your Live Video Shopping
The first step to getting started with live video shopping for e-commerce is to decide which platform you will live stream on.
Here are a few options to choose from:
Host your live stream on social media platforms
Use dedicated shopping platforms and apps
Develop your own live video shopping store
Let's explore the three methods in detail.
The most popular social media platforms offer a live shopping feature that enables live selling. For instance, YouTube launched its live shopping capabilities in 2021.
You can also use Facebook Live, Instagram Live, TikTok, Amazon Live, and other leading social networks.
Remember that the reach for each platform is dependent on the types of products you offer as well as where your customers hang out the most.
In the Future Shopper Report for 2021, when asked which social channel they were most likely to buy from, 31% of people said Facebook, and 32% rated it the best for social commerce.
Image via Magazine Media
The second option is to use top live shopping platforms and apps like GoLive, ShopShops, NTWRK, and others to stream your shop to the world.
The good news about using these platforms and apps for your livestream shopping is that they have a pre-existing audience.
The third option is to integrate live streaming into your e-commerce store by creating a personalized app. This will enable you to build a targeted audience for your products.
The downside of this method is that you need to build an audience from scratch by marketing the platform.
Given a chance, we would recommend using social media for live selling.
2. Use Influencer Marketing
One of the top five marketing trends in 2022 is influencer marketing.
Image via HubSpot
It's a powerful marketing tactic that can improve customer engagement for your live video shopping.
For instance, Aldo, a Montreal-based footwear brand, launched a live-stream shopping session partnering with celebrity stylist Mimi Cuttrell and Los Angeles-based TikToker Nate Wyatt.
During the live session, the two influencers showcased their favorite Aldo shoes while sharing their style tips on how to put on different Aldo shoes. Viewers were able to purchase instantly.
The event is said to have driven 17,000 website page views and a 308% engagement rate.
Wondering which types of influencers to partner with?
A whopping 67% of marketers say working with micro-influencers has generated great results for their brands.
Image via HubSpot
3. Host Webinars
Webinars are a powerful tool for lead generation.
Live video shopping for e-commerce doesn't limit you to displaying your products only. You can show the professional side of your brand by hosting webinars with industry experts.
This tactic is especially applicable to eCommerce brands that sell skincare products. It provides a great way to conduct contactless marketing.
You can host live webinars with professional dermatologists on your social media pages to educate your audience about maintaining good skin health.
During the live webinars, the experts could recommend products you sell and enable customers to buy instantly.
4. Create Urgency With Promo Codes During Livestream Sessions
Everyone appreciates a good deal and shoppers are always looking to save money, especially during the holiday seasons.
In fact, 83% of shoppers in the United States say that they have used coupons for shopping.
Offer limited-time promos and discounts during live selling sessions. You can reveal the promo codes on the screen and allow customers to purchase your products while still on the livestream.
When viewers know that your brand offers great promos during live online shopping events, they'll undoubtedly watch the entire session and ultimately buy your products.
5. Promoting Your Show Before The Actual Live Session
Aggressive promotion of the live video shopping event will help you in two ways:
Build up excitement before the actual live shopping event
Increase the number of viewers
The results?
Your products will be seen by a huge audience, which increases the chances of closing more sales and ultimately creating loyal customers.
To promote your session effectively, distribute event teasers and notifications to your audience on social media.
Make multiple posts about your live selling event on your social media platforms. For instance, you can create an Instagram video with your influencer promoting the event.
Your aim should be to create hype to increase the number of viewers.
6. Host Live Shopping Events During Festive Seasons
Most of us are guilty of purchasing gifts for our friends and families during the festive seasons.
The projected spending per person during Valentine's Day was $175.41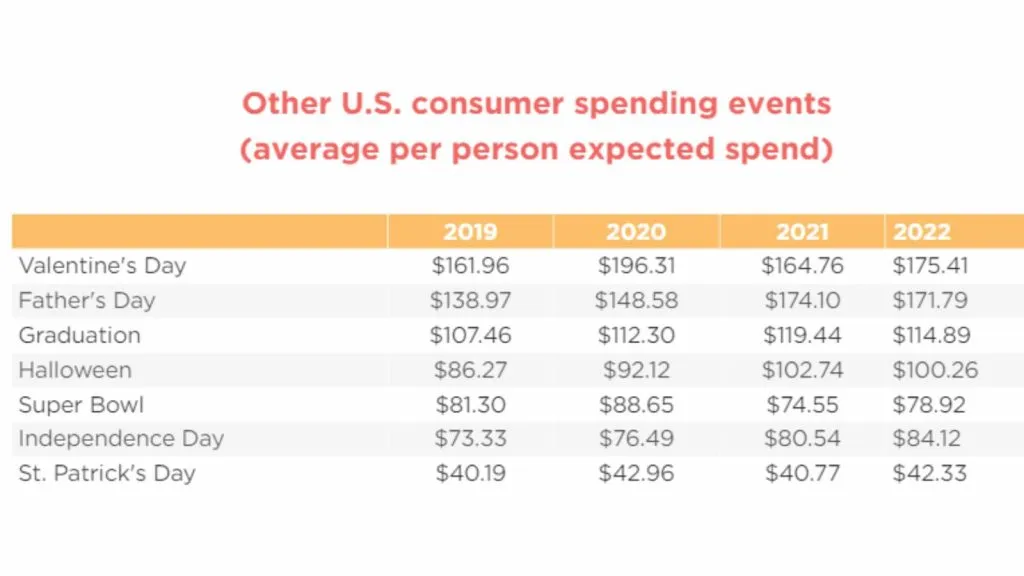 Image via National Retail Federation
Here are the top five events and the amount the average person is expected to spend in the U.S.
Image via National Retail Federation
Festive seasons and holidays are the perfect time to host live video shopping for e-commerce businesses. There's potential to generate huge sales for your business as people make impulse purchases.
You can leverage festivals by launching themed live selling events with a host dressed for the festive season. Have them promote curated products that customers can gift their loved ones.
Final Thoughts On Shopping Videos
In 2022, there are over 2.14 digital buyers worldwide. This means that the demand for live video shopping for e-commerce will remain high.
Use livestream shopping to connect, engage and convert these buyers as you would in a physical store. And apply these tips to make your events and online business a success.
Have you used live shopping online? We'd love to hear from you about it in the comments below.
Latest posts by Gaurav Sharma
(see all)