Did you notice how Parler's social media was growing a few years ago? The Parler app gained popularity as one of the first alternative social media networks.
I was always told not to talk about politics in business and I'm going to try not to in this blog post. The reason for this review is that millions were fleeing other social networks to join this alternative social media network.
And since I first wrote about it, it had become the most talked-about social media network.
Parler App Down In Transition
As Parler users tried to log in they were taken to a webpage that was the email sent out to all users on April 14, 2023. It explains (as you can see below) how the new Parler ownership will be taking over.
This is the 3rd time this social network has been offline since it began back in 2021. It still remains down in mid-May 2023. However, they are still sending out sponsorship emails to users of this alternative social media network.
New Parler Ownership – April 14, 2023
According to an email sent out to Parler users:
"Starboard (Formerly, Olympic Media) announced today that it has concluded the acquisition of Parler, the world's pioneering uncancelable free speech platform.
No reasonable person believes that a Twitter clone just for conservatives is a viable business anymore. By refocusing on the cloud and IT infrastructure space George Farmer has done an exceptional job at successfully leading Parlement into a critically important industry where it has already begun to excel.
Starboard is the perfect home for the brand and its longtime loyal users. "Parler's large user base and additional strategic assets represent an enormous opportunity for Starboard to continue to build aggressively in our media and publishing business. The team at Parler has built an exceptional audience and we look forward to integrating that audience across all of our existing platforms," said Ryan Coyne, CEO of Starboard.
While the Parler app as it is currently constituted will be pulled down from operation to undergo a strategic assessment, we at Starboard see tremendous opportunities across multiple sectors to continue to serve marginalized or even outright censored communities – even extending beyond domestic politics.
Advancements in AI technology, along with the existing code base and other new features, provide an opportunity for Starboard to begin servicing unsupported online communities – building a home for them away from the ad-hoc regulatory hand of platforms that hate them.
The terms of the acquisition are not being disclosed although Starboard expects the deal to be accretive by the end of Q2 2023."
Parler Was Growing
Parler was growing by the millions since January 8th, 2021, and during 2021. But you probably didn't hear about that with censorship of the social media network in high gear.
In fact, Parler beat out Twitter, YouTube, and TikTok in app downloads over the November 7th, 2021 weekend. Yes, the Parler app was downloaded more than any other app in the world in early November.
Since I'm in the business of social media here at Inspire To Thrive I wanted to write about it and my experiences using it.
How The Social Media Network Emerged
Everyone was fighting on Facebook and Twitter over politics. It got ugly and many wanted to gather elsewhere to converse. Many over on Twitter were getting their accounts suspended for no clear violations of any Twitter policies.
It got even uglier on the evening of January 8th, 2021. So much so that Twitter's stock price futures went way down. And then again on January 11th, it went down over 6% that day.
Newer reports show usage for Facebook was down for the first time – in January 2021. It has not come back up in 2021 but it still is the largest of the social networks by users.
So many people upset with all the censorship had no choice but to find alternative social media networks.
Did Parler Come Back Up?
Yes, Parler came back up on February 15, 2021. I was not able to log in that day but did again on the 16th on my mobile device. Then, I requested a new password and within minutes was back up on Parler. Then, on the 18th of February 2021, I was able to log in via the desktop and it was working well.
I had my 500+ followers still there and past posts finally came back. The company archived everything for its users.
Then in April 2021, the Parler app was back on the Apple store for downloads.
On March 31, @SenMikeLee and I sent a letter demanding answers about why Apple removed Parler from the App Store.

🚨Today, we received a response: Parler will be reinstated on the App Store. Huge win for free speech. pic.twitter.com/FQBDSSSFGk

— Congressman Ken Buck (@RepKenBuck) April 19, 2021

And then this:
JUST IN – Apple confirms #Parler is allowed to return to the app store.

— Disclose.tv 🚨 (@disclosetv) April 19, 2021
Can You Log Into Parler Now?
No, with the latest Parler ownership taking over in April of 2023, the social media network is down currently. (May 14, 2023.)
What Happened To Parler's First CEO?
February 5th the original CEO was fired from the Parler Board. You can read more here on the story. The new interim CEO Is Mark Meckler.
Mark is a former attorney and political activist. Today George Farmer was the 2nd CEO of Parler.
Amazon's Decision
Matze has characterized the Amazon decision as "an attempt to completely remove free speech off the internet."
The big tech companies were preventing you from downloading the app from their stores.
This is another great lesson in having your own self-hosted website and knowing who is behind your servers and hosting. Today, doing your research is more imperative than ever before!
If you are looking for other alternative social media networks, I made a video on how to use Gab for you. There are others like MeWe, Minds, Locals, and CloutHub to name just a few that have been cropping up.
What Does The Word "Parler" Mean?
Parler Means to Converse. To have conversations with others.
The word Parler in French means to converse and speak up!
Parler is a United States-based microblogging and social networking service launched in August 2018. The Parler app has a significant user base of conservatives.
Sadly, it became impossible for conservatives to converse on social media without constant fighting and being censored or banned totally.
Social media was meant to have conversations and to be social, not to be silenced.
Parler App Was Growing Rapidly
A while back Fox News host Maria Bartiromo collected more than 700,000 followers on the conservative social media platform, Parler, after saying last week that she would soon be leaving Twitter. But then Elon Musk came along and that changed her mind.
Just like Twitter had the old "fail whale" Parler has been going down in brief interludes over the past several days that weekend with so many joining the network.
How Does Parler Work?
The social networking site is similar to Twitter. You write "parleys" vs. "tweets" and you share others' posts by "echos" vs. "re-tweets."  You can vote up each parley as you see fit just as you would on Twitter or Facebook with a like button.
One thing that is different is that Parler uses a Chronically order of parleys vs. the "algorithm" that Twitter uses. Many users like that. Many folks are getting tired of fighting algorithms.
I did a special how-to-use Parler video over on Rumble. What's Rumble you ask? Another video social networking site that competes with YouTube.
Yes, social media is changing rapidly in the 2020s.
Similar to the other social networking sites, you can direct message people on Parler.  I have not seen any spammy sales pitches on the network to date.
Of course, you may download the Parler app for your phone and use it on your desktop.
Similar to the other social networking sites, you can direct message people on Parler. #parler
Click To Tweet
Getting Verified On Parler
Getting verified on Parler is easy once you show you are a real person. The Parler community is built on trust. The verification process helps to keep the bots and encourages civil discourse as Parler is growing.
Take the next step in pursuing these important values by becoming a Verified Parler Citizen. You can submit your license image to become verified today. Hence, other users will know you are real. Now, you can see my verification badge at @lisapats
Once you are verified you can send others on the Parler network direct messages. Otherwise, you can only receive them. (Thanks to my friend @Justbrenlee over on Parler.)  The verification process may take a little longer with the influx of new users, be patient!
The Difference Between The Red And Gold Badges
The red badge is for verified users as described above. However, they have gold badges that are for public figures with a large following on Parler.
What's The Difference Between Follow Or Subscribe?
On the Parler app, you can follow people just like on Twitter or Facebook. But you can also subscribe to them and just see them in the "subscribe" feed. It is similar to a Twitter list.  My long-time readers here know how much I've loved Twitter lists.
If you hover over a user's parley, on the upper right-hand side is a down arrow. There you will see the option to mute, block, unfollow, report, or subscribe.  I've just discovered this feature and love it.
What Is The Character Count For A Parley?
Unlike Twitter with its 280-character count, on Parler, you can write 1,000-character count parleys. You may include images, GIFS, and memes.
You may also upload videos but there is not a live feature yet, stay tuned! Recently, I uploaded videos via the Parler app and on the desktop.
How Will Parler Make Money As It Grows?
Parler does not accept ads on their platform at the moment. Their plan is to use influencers to bring in money as opposed to using ads on their platform.
Now, I went through the process and found you will have to spend over $500 a month to qualify to run ads on the Parler app. (However, that may make it harder for smaller businesses to compete with Facebook ads and Twitter ads.)
It will be interesting to see with an interim CEO if Parler will change their advertising policies and rates going forward in 2021. Stay tuned!
Did you know Parler ads are coming? In 9 days!

— Lisapats Lisapats Tuesday, December 1, 2020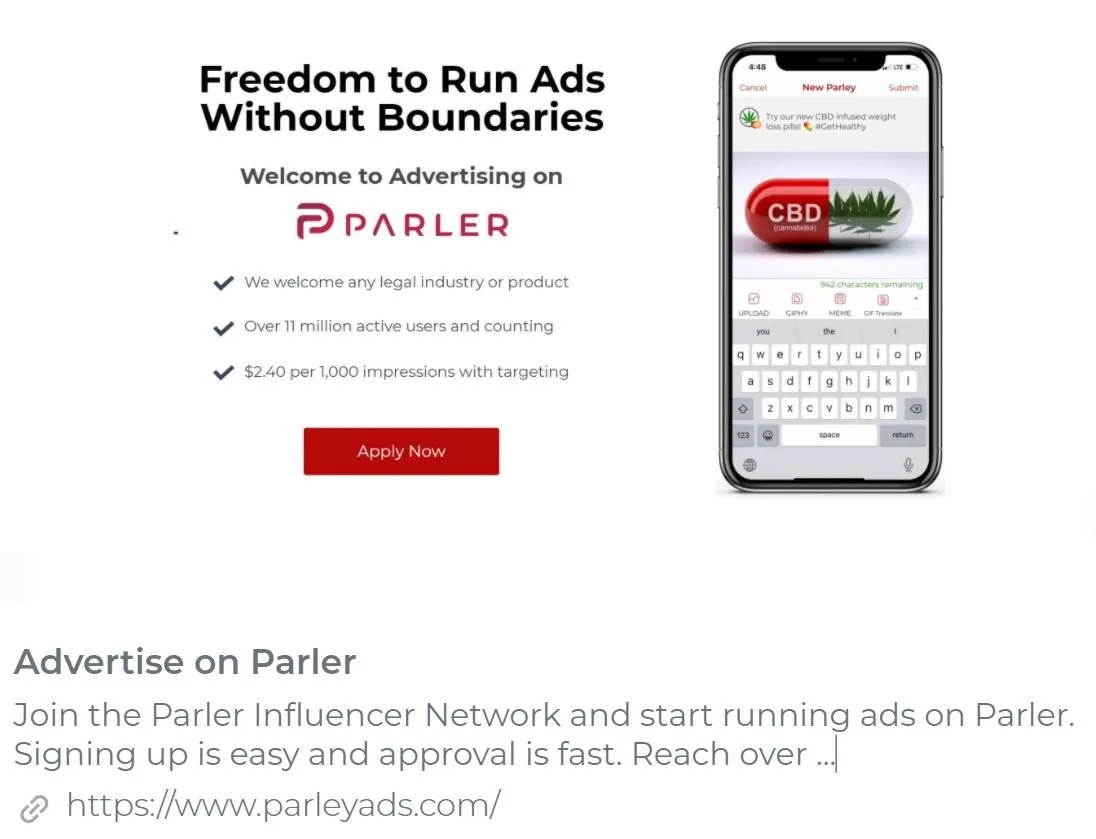 Is There An Opportunity For Marketing On Parler?
Parler ads now start out at $500. I hope they drop those entry rates for small businesses. Facebook allows you to boost posts for as little as $1.
I think once the political stuff dies down there will be some opportunity for marketing and influencers with Parler. Many other non-political types will join to see what Parler is all about as I've seen that happen recently.
It's not just about politics folks, it's about censorship, algorithms, and monetization that changes rapidly on the mainstream social media networks today. That is why Parler and other alternative social media networks are growing today.
As a matter of fact, a new one was announced by former President Trump called TRUTH Social. It has become one of the top social media alternatives in 2023.
But I find this all sad, how will people unite if they all go their own way and do not openly discuss things?
Is The Parler App Free To Use?
Some of you may be wondering if the Parler app is free, the answer is yes. It is FREE to use. You can download it from the app store or the Google play store. (Once the new Parler ownership takes over.)
Archives and Share Buttons
The parleys came down when the network was shut down. With the archives coming back I believe you will be able to see them once again soon. Interestingly, I don't seem to lose any followers there and I haven't been active in months. With Twitter, you gain and lose followers daily.
There is also a new Parley share button from Shareaholic or Sassy Social Shares that you can use in your share buttons. I've used them from time to time here on the blog.
Parler Updates
Parler now features dark mode. To turn it on or off, visit Settings > Display. Then toggle the feature on or off.
Finally, the new edit feature – you can now edit your parleys.  Many Twitter users have been asking Twitter for years for an edit button and it is still not available on that social network.
And lastly, they have released the official Parler Store.
The new edit feature - you can now edit your parley's. #Parler
Click To Tweet
In Conclusion of Parler
Now, are you ready to parley with the growing millions of users over on Parler? I'd love to know your thoughts on this social media network and the Parler app that is growing in the comments below.
Furthermore, if you want a FREE Parler terms quick guide you can download a pdf here.
*For more quick tips on using Parler and other alternative social media networks, I have a Rumble channel for you. It will soon be updated once the new platform comes back online.