Looking for a reliable, effective social media management tool to shape and amplify your social media presence? The Agorapulse dashboard for social media management is the perfect solution. You can use it on the go with the Agorapulse app on your mobile device so you don't miss a thing.
With over 4 years of real-world testing from our team here at Inspire To Thrive, we can confidently attest that this Agorapulse app will revolutionize how you manage all aspects of your brand's engagement. Platforms like Twitter, Instagram, LinkedIn, GMB, Facebook, and now TikTok.
You may think this tool is expensive. But it is NOT an expensive tool. The standard plans start at just $49 per month.
What's more – there are never any hidden costs or commitments; simply sign up today with no strings attached to experience it absolutely FREE during their two-month trial period!
Are You Looking For A Social Media Management Tool That Will Do MORE For You?
About 4+ years ago, I was asked to test out the Agorapulse app by my friend Mike Allton. While I had been happy with the Buffer app for almost 8 years, the app was starting to have a few issues with images and Instagram posting.
With this in mind, I decided to give this tool a try. After all, I knew and trusted Mike after knowing him for years through his blog and on social media.
Today, Mike Allton is a leading ambassador for the company.
What's New And Exciting At Agorapulse?
TikTok Integration
Now you will be able to schedule your TikTok videos ahead of time with the Agorapulse app. What else can you do with TikTok integration?
Respond to TikTok comments within the app.
Manage one or more TikTok accounts with the app.
Content approval with other schedulers on your team for easier collaboration.
Show clients fabulous reporting of the work you've done. Shows the metrics and content performance in these reports.
Learn more about why TikTok is one of the most popular apps in the world right now.
Instagram Carousel Posting
What this means for you:
You can upload up to 10 photos to Instagram, and they will be posted automatically on your Instagram account. How easy is that?
How you can activate this new feature:
This feature is ready for you to use it! Just head to the publishing composer, and start creating your content as you usually do.
Agorapulse Pricing with Free Plan
They now offer a FREE plan for individuals!  Yes! This is huge now. Previously they only offered a 30-day FREE trial for all.
So if you are an individual you can try and use the Agorapulse app regularly for FREE. 
If you manage social media for several accounts you may need a Pro or Premium version.
As a friend of mine, you're entitled to 2 FREE months! Sign up for a free trial below, then when you're ready, subscribe to any monthly plan* and use this code to get your first two months free: lisa2free.
New Canva Integration With The Agorapulse Dashboard
If you haven't tried the Agorapulse dashboard in a while you may have missed their Canva integration. Now you can create your images in Canva and schedule them right into your account. This really offers more time-saving tasks for you!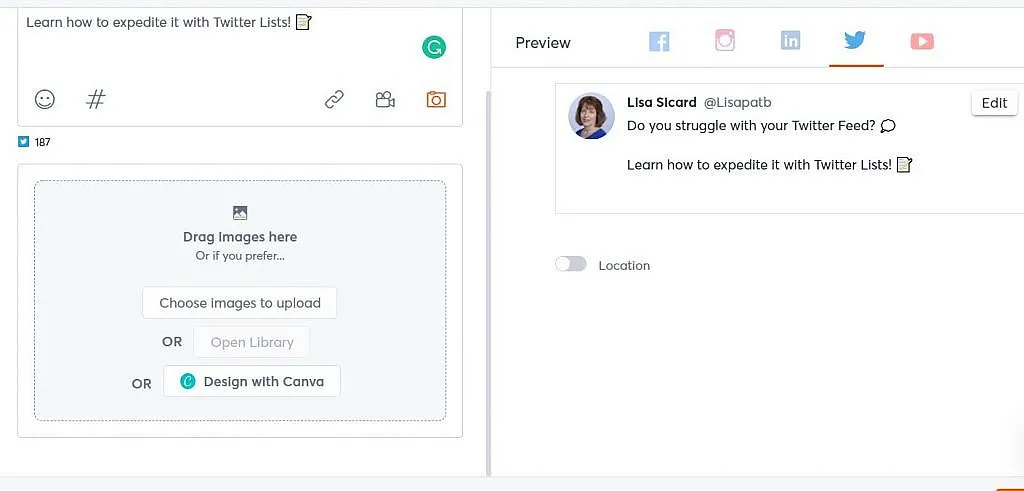 Do note some limitations with Agorapulse and Canva integration:
⚠️ Animated graphics created in Canva will automatically be transformed into static PNG images in Agorapulse.
⚠️ The integration utilizes Free Canva, some Pro features may be unavailable such as the brand kit one-click design resize and 100GB storage space.
Reporting Updates
Last year Agorapulse updated the reporting and it's fabulous! Take a look here at my recent Twitter report.
Not only does the report show my Logo for my clients but it also shows the posts that performed well. It is much more visual than it was in the past.
Watch for RSS feeds updates coming soon as well.
What Does Agorapulse Mean?
The name, Agora, is Greek for a place where people meet, such as a marketplace or square. And Pulse refers to vibrations of energy.
So Agorapulse is where your social energies and vibrations meet and come together.
Isn't that an awesome name for it? Thanks to Mike Allton for explaining where the name came from and what it means.
About Agorapulse For Social Media Management
This company has been around since 2014 and is a French company with a worldwide staff. Surely, they are always eager to help you if you have any questions. (If you know me, you know I did!) 
However, they offer 24/7 chat support on their website and of course by email too.
As many of you who have been following me for years know I loved Buffer. I would buffer all my social media shares up until practically the cows came home.  Over the years, I had tested out other social media management tools like Hootsuite, Sprout Social, Nuzzle, Dlvr.it, and MissingLettr. (I do use MissingLettr for my own blog as well.)
My friend Cori Ramos loves Hootsuite and you can read why here. Then I tested out others like Missinglettr which I like a lot. However, Buffer always ranked #1 with me.
That was until Agorapulse came along 4+ years ago.
I was amazed and happy after using this tool for 4+ years.  In the first place, the reporting is what first got me so excited.  That is why I fell in love with using it for social media management.
What Else Can The Agorapulse App Do For You?
Reporting – This is what got me hooked!
Labeling – A great way to gather more insights for your posts.
Scheduling for Social Media Content- Easy once you get started using this tool.
Social Inbox – Unique way of keeping you on track and engaged with your audience via comments.
Share from Feeds – A great way to share other content along the way. (But it is clunky to use!)
Monitoring / Listening – Know what's being said to you, and your clients on the social channels so you can respond fast!
And NOW Facebook ad reporting!
Canva Integration for graphics.
Mobile App for on-the-go.
Social Media ROI – Great in-depth reporting for your clients.
Furthermore, sharing from other blog feeds is a great way to share content across your social media channels. As they say, sharing is caring!  It makes your content marketing efforts easier and seamless.
The only thing I wish is that the feed feature was more automated 🙁  They are working on it! 
I've just started to use this feature and wanted to show you HOW to get started with this image below:  Once you have this set up it's easy and automatic. How nice is that? 
What Agorapulse Reporting Can Do for You
Social Media Reports That Matter!
I now show clients how their social media pages were tracking and show RESULTS. That was huge! No more going into each social media network and checking analytics. Then copy and paste into PowerPoint and add graphics and logos. Consequently, it is all done within the fabulous dashboard now.
Then, I was able to generate reports for my clients that could show what the social media management work resulted in. Finally, you can easily share social media results with their awesome reporting. 
Below, you can see the first page with the basic key metrics for my Facebook page. The other pages go into more detail with charts for easy reading! (Video really made a difference for me this past month!) Don't expect to see results month after month like this, there will be some down months.
Facebook Ads Report Make It Easy
Agorapulse has an easy Facebook ad reporting tool. I instantly fell in love with this tool.
If you use the Facebook ads manager or business manager you know how complicated it can get for digital marketing results.
Look How Easy To Generate Reports For A Facebook Ad or Boost:

How The Agorapulse For Social Media Management Reporting Works
All you have to do is click a button and a PowerPoint report is sent to you via email from the Agorapulse dashboard. You can then add your own logo at the bottom of the report. Nice, right? It already comes with your client's logo from their social network profile.
Or you can wait until Monday morning and they sent a weekly report to you. I like to look at those weekly reports but do my own monthly reports to send out to clients.
Now, they send them out monthly as well. You can change the frequency in your settings.
Not only are these reports great for my clients but for me in helping them. I oftentimes change up the days and times I post the following month after looking through these valuable reports.
More On Social Media Reports
Today you can view five categories of metrics: Audience, Content (Global and Performance), Community Management, Competitors (Facebook only), and Stories (Global and Performance for Instagram only).
Next, these reports will tell you the best days and times to post based on your audience on that particular social network. Furthermore, they do change from month to month.
Lastly, did you notice less posting on Facebook in this instance above meant a higher engagement?
There are a few social media channels that this report does not cover – those include LinkedIn personal profiles, Pinterest, and YouTube. (But Pinterest may be coming, stay tuned!)
Another cool feature I recently learned by answering a question on Quora is this!
They recently removed PowerPoint exports and added an option to export reports in PDF format. This saves YOU time when you want to send reports to clients. The Agorapulse dashboard has updated its reporting too for your convenience.
You can now pick out which type of reports you want. Hence, you can pick and choose by social media account or by your account with several social media accounts.
Try the time saver app for FREE for 2 months – you will LOVE it!
What Labeling Can Do for You
With labeling, you can add what type of post you are scheduling. Whether it's an image, a quote, a link, a post, etc.
Why is this important with a social media management tool? So, you can better track what types of posts are working for you on the various social media channels!
You may even label them by topics for your posts. A great way to learn what topics your readers want from you!
How Scheduling Works For Your Social Media Accounts
At first, I was overwhelmed by their calendar. But once I started to use it and was able to schedule tweets out 5 times I was hooked. I rarely use Buffer from time to time but the incredible dashboard has become my go-to source now for scheduling social media posts.
You can actually schedule your posts out longer by putting in an end date, how easy is that? Of course, I'd recommend you change up those tweets along the way so you don't get a Twitter suspension for posting the same stuff over and over again.
With this tool, it's easy to make a change on a post along the way. You can easily go back to it and hit the edit button, puff, and you are done!
You will love how this social media management tool works with Instagram. Easy to type from your desktop instead of on your mobile device.
You can take your time and write up a nice, grammatically correct (: 400;">use Grammarly if you have to, description with the appropriate hashtags.
Agorapulse App For Twitter To Save You Time On Twitter
Now that I've been using it for over 4 years I started to use the Twitter inbox to help manage my Twitter account. Wow – I was amazed at the information provided.
You can see WHO follows you or NOT. There are not many programs out there that do that today for Twitter! Many companies that did go out of business after Twitter's API did not allow this function.
You can then decide by their Twitter profile shown in the inbox if you want to follow them. You can respond to them and use emojis or images right from their dashboard.
How nice is that feature? It's the perfect social media management tool for many social media networks.
Find Your Brand Ambassadors
You can find who is most engaged on your social channels and who shares your content enough to be considered your brand ambassador. This is great to know who is really sharing your content.
Be sure to thank them right from your inbox.
This is a huge Twitter time saver for me as I often can be swept into the feeds or lists for longer periods than I have scheduled. With one click of a button, I can retweet any tweets via the review box. (Do note, with the new API costs, it will cost more with Agorapulse today.)
Another great feature is you can have a team member assigned to your account to reply for you. This is great especially when you go away on vacation.
There is an Agorapulse approval button to easily double-check before submitting it on the Agorapulse dashboard.
Instagram Scheduling With The Agorapulse App
Did you know that you are able to schedule your Instagram stories here now too? Mike Allton did a detailed post on how to set that up.  
Heya! You can if you choose to send to mobile. Your phone will prompt you and you can then share that content to Feed or Story for Instagram.

There's no FB option at all but you can have IG automatically post to FB Stories.

— Mike Allton (@mike_allton) June 6, 2019
I used to struggle to post to Instagram on mobile. It was hard at times to see the tiny text on my mobile device and I have a large Galaxy Note 9!
Plus looking up hashtags with hashtag tools is easier on the desktop vs. from a mobile device.
Instagram Videos via Agorapulse App
Now you can also schedule VIDEOS for your Instagram account. I'm LOVING This one! The features just keep on getting better all the time when you use the Agorapulse app for social media management.
Videos on Instagram can really post your engagement level and lead to more followers. The videos are so hot today on the platform.
Though recently Instagram said starting in February 2023, they will concentrate more on photos.
Other Things You Can Do Scheduling Your Social Media Posts:
Post to Multiple Social Networks Simultaneously.
Customize and Schedule Post Per Network and Profile.
Queue Posts Per Network and Profile.
Add to Beginning or End of Queue.
Multiple Queues / Profile / Campaigns Per Network.
Shuffle Your Queue.
Repeat Post X Amount of Times.
Schedule Your Post Until A Particular Date.
Repeat Post Unlimited Times – Be Careful with Twitter!
Post Preview. – A great way to proofread your shares before sending them.
Profile Lookup on @mention.
Facebook Audience Targeting.
Schedule posts to Facebook Groups.
Custom Shorlink / bit.ly Integration.
Browser Extension / Integration.
Bulk Uploads / Scheduling.
RSS Feed Monitoring / Publishing.
Message Templates (Saved replies).
UTM Parameter Integration.
Content Reporting and Tagging.
Mobile Application for On The Go!
And YOUTUBE Scheduling too! 
Agorapulse Dashboard For YouTube
You can add your YouTube thumbnails as you schedule your YouTube videos in the Agorapulse dashboard!
Not only that but you can:
See all of your comments in one place and respond to them.
Manage what comments need checking and which you've already gone through.
Assign comments to different members of your team.
Save common replies so that you can save time by responding to comments with just a couple of clicks.
Stop trolls in their tracks by finding them fast.
As soon as you sign up with Agorapulse app you'll be able to monitor your brand on YouTube right out of the box. We do the tough work for you — just bring your eyes and ears.
And lastly, don't forget to pin your best comments on your YouTube videos!
And There Is MORE You Can Do With The Agorapulse App
The social inbox merges all your mentions, comments, and messages for a particular platform. Hence, it's easy to look at and switch from one account to the next.
You can respond right to comments from this inbox on the Agorapulse app so you don't have to go on to Facebook or Twitter and get lost! With Facebook, you can also respond to comments that came from ads. Loving it!
You know how that goes once you get live on Facebook to check something. That is where your day can get sidetracked for hours – no more with Agorapulse!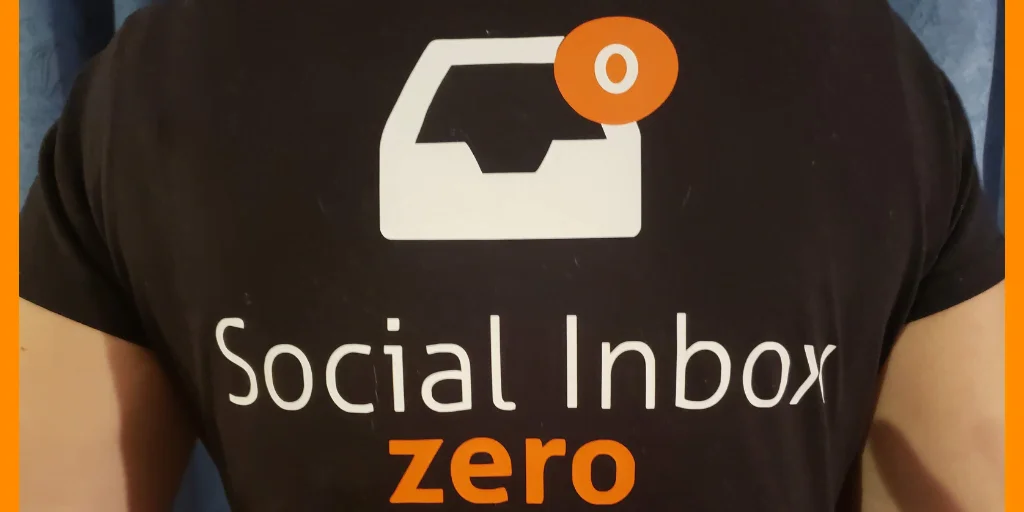 Or you can also allow it to automatically review and 'hide' activity. This is great for Twitter Direct Messages as you can easily filter out and never see all of the common Auto DM spam!
The Inbox Feature Of The Agorapulse Dashboard for Social Media Management Tool
Therefore, this inbox feature helps keep you engaged with your audience. You may have remembered in a recent post where I mentioned Agorapulse as a tool to help brands to keep engaged with clients
Engagement is what it's all about today on social media. You can easily reply to comments to delete them.
Social Media Channels Available With This Tool
Facebook Pages (However your website needs to be set up right for images to show when pulled from Agorapulse)
Groups for Facebook
Twitter
Instagram
LinkedIn (no reports with personal account)
LinkedIn Pages
Google Places, formerly GMB
YouTube
Now TikTok
On the other hand, the only social media channel not available is Pinterest.
But, stay tuned as Agorapulse app may be adding Pinterest in the future to this awesome social media management tool. For retailers, I do recommend Pinterest with shoppable pins.
Who Should Use Agorapulse for Social Media Management?
Solopreneurs like myself, small businesses, agencies, and large companies all can benefit from this social media tool today. You can try it out for FREE for 60 days with their free trial. Use Code lisa2free. There is no credit card needed for their free trial either.
Sign up for a free trial above, then when you're ready, subscribe to any monthly plan* and use this code to get your first two months free: Use code lisa2free for your 60-day FREE trial.
As can be seen below, the plans start at only $79 per month if you pay annually. In fact, you can save big with any of the plans you choose annually. They give you 4 different options to choose from as you can see below including the new FREE plan for individuals!
Not to mention, you do NOT need to input a credit card to start your FREE trial! Not many other tools and services offer that for you. I know I don't like to enter a credit card for a trial offer so this was a major plus for me!
First, estimate the time you could save by having a social media management tool like this. Then, think if you need to add any team members. Therefore, knowing this beforehand will help you to decide which Agorapulse plan is best suited for you or your company.
In any event, you can always go up or down with your paid plan once you have one in place (unless you paid annually for the discount).
If you want to compare pricing with other social media tools click here for the online calculator.
You really will love Agorapulse for social media management! ♥
Bonus: Customer Service Rocks
Furthermore, a real bonus for using this tool for social media management is the support you receive from them. I've had questions recently and they have responded promptly every time. (Both on chat support and email.) Their help is superb!
Several months ago, I made inquiries to the Buffer tool and they never got back to me. Then, they replied by a canned email saying they were behind on responding.
Therefore, that did not make me feel good. ☹ I ended my paid plan with them back in 2020.
Social Listening For Social Media Management
Yes, you can even hear conversations said about your name or brand on the Agorapulse dashboard as well now.  For example, you can see one of the Twitter accounts I manage in the screenshot below from the dashboard.
Social listening works on all the channels you have available with this social media management tool. Another reason to try their FREE trial today!  Use code lisa2free for 2 FREE months.
What Are Others Saying About This Tool To Manage Social Media?
As can be seen below, read what others are saying about why the Agorapulse dashboard for social media management is their choice too!
How to Power Your Social Media … Social media connections lead to conversations, collaborations, and clients. #SMM #Agorapulse https://t.co/QQe9Y5Wrpk via @SueAnnBubacz

— Sue-Ann Bubacz (@SueAnnBubacz) September 3, 2021
One of the best social media management tool of 2018. Do try their mobile app and you will thank us later.

Take their free trial: https://t.co/A1jid5x2YV@AgoraPulse #SocialMedia #SMM #AgoraPulse pic.twitter.com/MmIsi0TsxF

— ShoutMeLoud – Changing lives (@shoutmeloud) April 23, 2018
We are very excited to announce that our company @HarnessDM has officially moved our clients over to @AgoraPulseFR. I want to thank @mike_allton for the referral.

The team at #Agorapulse have been incredibly supportive during our migration.#socialmedia #CustomerExperience pic.twitter.com/sTzVtFv69q

— 🇺🇸Tom Harness🇺🇸 (@iTomHarness) September 5, 2018
What happens when you are really excited about a great product….my blooper!

#Agorapulse (Making video for future post on Inspire To Thrive). pic.twitter.com/8oQqL5Y7pF

— Lisa Sicard 👩‍💻 (@Lisapatb) November 26, 2018
What Is Agorapulse For Social Media Management Missing?
After all, nothing is perfect, right? The one thing I wish the Agorapulse dashboard had is the ability to store blog feeds.
For example, I used the Buffer app for storing feeds of content that I want to share out on social media. I've inquired to Agorapulse and they say it's on the radar. I can't wait!
Another feature I wish it had is the ability to auto-create social postings for me, something akin to what Missinglettr does.
I see my friend Nikola Roza promoting his Jasper AI review page, and I know those Twitter posts are auto-generated by Missinglettr, and I want that handy feature too:)
Because sometimes I'd like a shortcut once in a while. You can read the latest comparison of these social media tools here. I do prefer MissingLttr for a single business social media account. But if you are working with multiple ones, Agorapulse is the best.
Another issue I recently found was posting from certain websites to Facebook. The images don't show. You need to have your website developer make changes. For some clients, that may not happen.
In Conclusion
I'd love to know in the comments below if you have tried the Agorapulse dashboard for social media management recently. (They made major updates in 2022 along with a new website! So if it's been a while, do check them out again!)
Another recent update is a course where you can be certified by Agorapulse!)
Now, I'm sure they will be adding more great features to Agorapulse in the remainder of 2023 and beyond.
Your Turn
If you are not using the Agorapulse dashboard, what other tools are you using to manage your social media? I'd love to hear about them.
Lastly, please click on one of the share buttons below to share this post about this tool for social media management today. Thank you!
*I have become a "partner" for them and will receive a commission on the links above with any purchases. A partner is a selection by Agorapulse and you can no longer sign up just as an affiliate anymore.