Many Instagram business account owners dread getting Instagram spam comments on their posts. The reason isn't far-fetched because these spam comments are usually unrelated to the posts made and, in most cases, mislead genuine commenters and followers. These spam comments affect the account owner's reputation and often cause a loss of followers and customers.
They often wonder "Should I delete spam comments on Instagram? Or should I ignore, block, or delete spam comments on my Instagram business account? Can you view the private Instagram account if they are posting comments?
Let's find out all about Instagram spam comments, how you get them, how to delete a comment on Instagram, and how to handle them on your business account instead of deleting your account.
What Are Spammy Comments?
Spam comments are unsolicited, unrelated, and fishy comments users get on their posts. Bots often post these comments to get users to follow an account or click on a spammy link. You may notice these spam comments on Facebook pages from time to time.
There has been a big scam going on over at Facebook where spammers are threatening page owners of page deletions.  Never click on any links from someone you don't know. If it is real you won't be able to post on your page.
They come in different forms. Sometimes they're harmless comments from regular users attempting to gain followers for their account, and other times they're naughty words accompanied by suggestive emojis.
They can also be in the form of financial investment advice or similar comments designed to draw users to a Ponzi website. The goal of spam comments is always to persuade Instagram users to follow an account or click a link to a scam website.
Everyone gets spam comments on Instagram, but celebrities, influencers, or top businesses are more at risk. Small businesses and new accounts are also targets, depending on how much they attract spammers to their profiles.
Read: How Your Emails Can Avoid Being Flagged As Spam.
Why Do You Get Spam Comments On Instagram? Should You Be Worried?
You may get spam comments on Instagram because you use popular hashtags to promote your posts.
Spammers monitor these hashtags to boost followers or scam people through fishy links. They use bots to monitor and drop comments on posts with popular, targeted hashtags.
Also, sometimes these spam comments might be from harmless bots that engage with random Instagram posts to prove they're not bots.
As harmless as these comments look, you should not allow them on your posts because they are usually unrelated and out of place and, most times, contain fishy, misleading links. Spam comments are enough to make genuine commenters avoid your posts so they're not scammed or misled.
Should you be worried about spam comments on your Instagram business account? The answer is YES.
Should You Ignore Or Delete Instagram Spam Comments?
Ignoring spam comments is a wrong move for your business's growth on Instagram. Ignored spam comments make you look incompetent at managing your account. Furthermore, these unwanted comments can get so bad that finding and responding to authentic comments on your posts would be like retrieving pins from a haystack.
Ignoring your customers' comments on your post is not good for your business; you'll likely miss out on product/service inquiries and give off a bad customer experience.
To handle Instagram spam comments, delete them as soon as they show up and block the commenters to prevent future spam comments from them. This might be stressful and time-consuming, but it is worth it. It gives you the space to see and respond to comments from real people.
Alternatively, you can avoid the stress of deleting spam comments and blocking the commenters by taking proactive steps to turn off commenting altogether.
Easy Method on How to Automatically Avoid/Stop the Annoying Comments on Instagram Posts?
Deleting comments manually can be annoying, but ignoring them adversely affects your business account and business. That's why you need to know how to delete comments on Insta.
The best way to handle spam comments on Instagram is to block them ahead of time and prevent the bots from seeing or commenting on your posts. Here is a proven method to stop the annoying spam comments on your Instagram posts:
Visit your Instagram Profile.
Click on the three dots, usually in the top right corner of your profile, to go to settings.
Click on "Privacy."
Click on "Hidden Words." This is where you can hide comments and message requests and even filter out custom words and phrases.
Click "Manage custom words and phrases." This is where you add all the spam words or phrases you don't want to get in your posts as comments. Ensure to separate each word with a comma.
After you've added the spam words and phrases, click "Hide Comments" to turn on the feature on your account.
This method only hides the spam comments from your followers; it doesn't delete them completely.
To avoid getting the spam comments completely, you can block the sender from commenting on your posts:
Visit your Instagram profile.
Tap on the three dotted lines in the top right corner, then Click on "Settings."
Click on "Privacy" and proceed to tap "Comments."
You'd see the option "Block comments from."
Click "People," which is right beside it.
Enter the name of the account you want to block and click "Block," which is next to the name.
Do this for all the accounts you want to deny access to comment on your posts.
Note: Blocking comments from these accounts doesn't automatically remove their previous comments on your posts. You have to delete previous spam comments from your posts manually.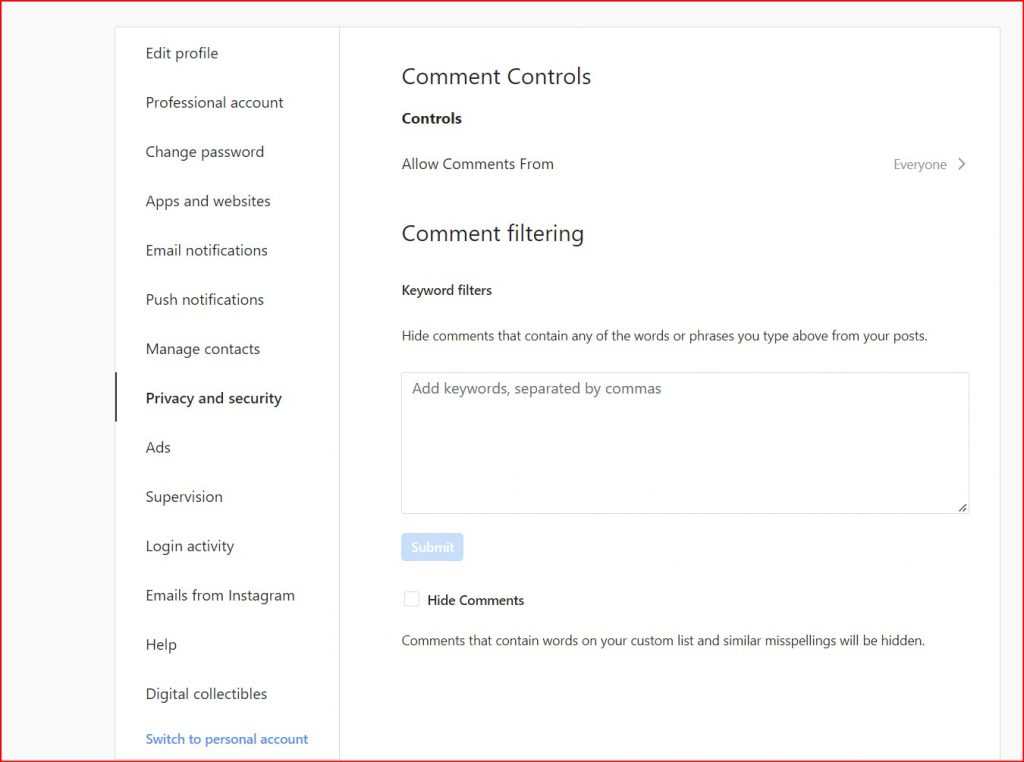 Does Deleting Comments Affect Instagram Engagement?
Yes. Deleting spam comments affects engagement on an Instagram post.
Engagements are the activities you get on a post, such as comments, likes, and saves. Thus, deleting spam comments reduces the number of comments on your Instagram post.
This is for the better because a few quality comments are better than too many spammy, useless ones.
Deleting spam comments increases your engagement in some way. It encourages genuine people who were initially discouraged from commenting on your posts because of the spam comments to engage with you finally.
Should You Report Spam Comments on Instagram or Delete them?
You can report or delete spam comments on your Instagram posts, depending on who makes them. You can delete the comments instantly and block the account if the comments are from a bot. Be sure to use the trash can icon as you delete them.
However, if it's from a real person, you can reply to the comment; state your mind, explain why you don't tolerate such comments on your posts, and ask them to delete it. If they don't, go on to report the account and do the same to all future spammers.
This is the polite thing to do and shows your followers that you're active and constantly monitoring activities on your Instagram business account. However, you would want to hide offensive comments on your account.
Frequently Asked Questions About Instagram Spam Comments
How Can I Stop Instagram Spam Followers?
The best way to stop getting spam followers on Instagram is to set your account to private. That way, you'd review and accept only genuine followers. Although there are ways to view private Instagram accounts, non-followers can only view and not like or comment, and spam accounts will never follow you.
Another way is to stop using excessive, non-relevant hashtags to increase reach and engagement. Spammers have bots set up to follow certain hashtags automatically and will be onto you immediately when you use such hashtags.
Finally, ensure you report and block every spammer you encounter on Instagram. That way, Instagram will fish them out, disable their accounts, and reduce the noise on the platform.
How Can I Stop Spam Likes on Instagram?
Spammers won't like your posts if they can't see them. Therefore, the only way to stop getting spam likes on Instagram is to set your account to private, then report and block every spam account that follows you.
Also, watch where you post your own comments.
How Can I Stop Spam Comments on Instagram?
To stop getting spam comments on your Instagram posts, you can:
Put your account on private, so spammers won't be able to follow and comment on your account.
Block comments from spam accounts.
Hide certain spam words and phrases from your posts.
Filter your posts from certain words.
Does Marking a Comment as Spam Delete It?
When you mark a comment as spam on Instagram, you will no longer see it in your post. But that doesn't mean the comment has been removed. It simply means the comment has moved to the spam folder.
If it is against the community rules, Instagram will review the comment and delete it from your post.
And if there are many reports about the same account, Instagram will restrict or deactivate it.
How Can I Stop Spam Tags on Instagram?
To avoid being tagged in a spam post on Instagram:
Visit your Instagram profile.
Tap the three dots at the top right of your profile.
Click "Settings."
Click "Privacy" and proceed to tap on "Tags," which is right below the "Comments" icon.
On the Tags page, there are options to allow tags from everyone, people you follow, or no one
Since you're sure the people you're following are not spammers, you can choose to be tagged by them.
You can also allow tags from everyone but manually approve them before they can appear on your profile.
How Can I Stop Spam DMs on Instagram?
To stop unsolicited and irrelevant DMs:
Visit your Instagram profile.
Click on "Privacy," then "Messages."
Choose to receive DMs from only people you follow.
Should I Ignore Instagram Spam Likes?
Getting lots of spam likes is a sign that many fake accounts follow you. It's not something you should ignore, as it would eventually affect your credibility.
To stop/reduce spam likes, fish out the spam followers on your account and block them all. You might also want to restrict your account from spammers' access by making your account private and using unique niche hashtags.
Wrapping Up on Instagram Spam Comments on Your Business Account
Keeping your Instagram business account free of spam comments shows you take your business seriously and value your customers' trust. This eventually pays off when your customers feel free and safe to engage with your posts.
The more genuine engagement you get on your Instagram business account, the more the Instagram algorithm sees that you're dishing out real value to your followers.
This triggers Instagram to show your posts to more people. I'm sure you've already figured out that the more your Instagram reach, the higher your chances of lead generation and conversion.
Hopefully, you now understand what Instagram Spam Comments are all about and the ideal step to take when you start getting them. Have you been receiving a lot of spam comments on your Instagram business or creator account? Do you delete Instagram comments when you realize they are spammy?
We'd love to hear about it in the comments below so we can discuss it.
Instagram Spam Comments - How To Delete A Comment Click To Tweet
Latest posts by Christopher Iwundu
(see all)