Reddit for B2B is often overlooked as a digital marketing platform. It's time for this to change.
What does Reddit have in store for B2B companies? How to implement Reddit marketing into a B2B brand growth strategy effectively?
Some businesses see it as a tricky, unsolvable enigma to crack. Let's uncover its secrets together. (Spoiler: there's nothing too complicated or enigmatic about it, you'll see that yourself.)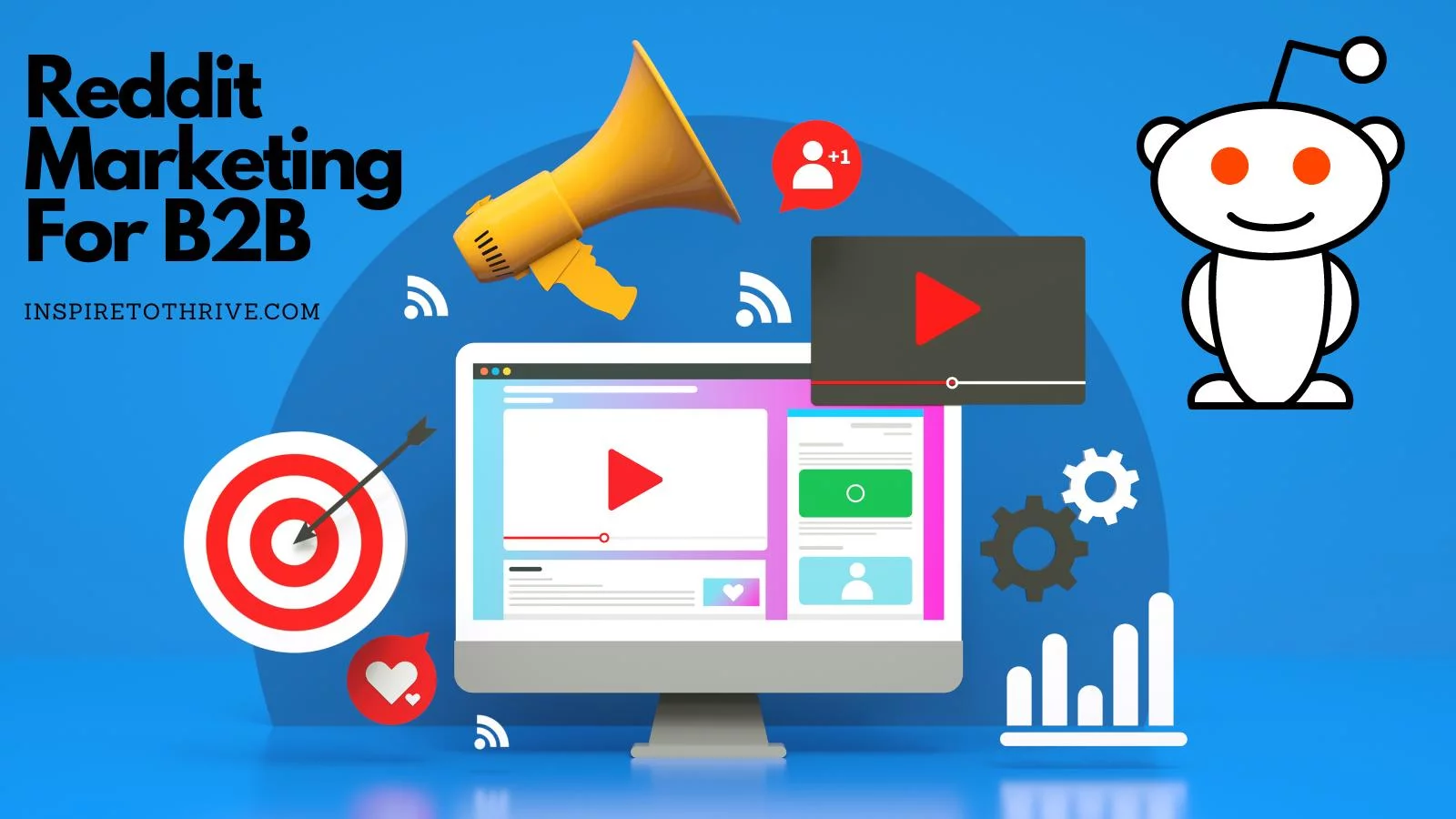 What's Reddit and Why B2B Marketers Should Care
First, get acquainted with Reddit and then move on to the importance of using it for promotional purposes in B2B.
What Is Reddit? Definition and Key Terms
Being the third most visited website in the US after Google and YouTube, Reddit is a social sharing network with a forum-style structure. It consists of theme-based communities where people can share and discuss content.
Before diving into the "juice" of the article, there's a short glossary of Reddit jargon you should learn:
Subreddit is a user-run community dedicated to a certain topic for discussion.
Redditors are registered users on Reddit.
Upvote (arrow pointing up) allows Redditors to mark content as a positive and valuable contribution to the conversation or network as a whole. Upvoted content gets to the top and is seen by more people.
Redditors use downvotes (arrow pointing down) to show that content doesn't contribute to the subreddit, looks spammy, or is off-topic.
Karma is a specific points system that quantifies users' contributions. There are two types of karma: comment karma and post-karma. They both add up to your total karma level. You earn karma when people upvote your post/comment and lose it when it gets downvoted. Gaining more karma is important for your reputation in this community.
AMA (an acronym for Ask Me Anything) is an interactive Q&A interview post.
Why Bother About Reddit Marketing for B2B's?
Here's why you need to include Reddit in your B2B marketing strategy:
The platform has 50 million daily active users and above 1 billion unique visitors per month.
90% of consumers trust Reddit's recommendations of new products and trends.
Users on Reddit make a decision to buy nine times faster than on other social networks.
69% of people say they respect brands that make an effort to be on Reddit, and 61% of users are more likely to trust a company that establishes its presence on this site.
How to get the most from Reddit marketing for your B2B brand? What should and shouldn't you do? Read on.
How to Use Reddit in B2B Marketing (Dos)
So let's demolish the wall of secrecy and learn the best marketing tips that work on Reddit.
I. Identify Your Target Subreddits
Effective lead generation starts with determining the target market and picking the right channels. In the case of Reddit, you can be overwhelmed by the number of sub-communities. Currently, the platform has over 2.8 million subreddits.
What to focus on when choosing the ones for your B2B's reach?
Give your ear to what Greg Heilers, Co-Founder of Jolly SEO, has to say on this matter:
"Firstly, targeted subreddits should be related to your brand. Secondly, they should go in line with the particular keywords you have picked for your B2B digital marketing strategy. Thirdly, pay attention to the number of users and their activity. And finally, find information about moderators and learn the rules of each niche community.

For example, among others, we give priority to the following subreddits: r/SEO, r/localseo, r/TechSEO, r/bigseo, and the like."

Reddit comment thread.
Greg summarizes his pieces of advice into a checklist for business-to-business marketers who search for dedicated subreddits:
Brand and keyword relevancy
Interest category
Number of Redditors
Level of engagement
Moderators
Rules
In addition, check this guide for subreddit targeting.
2. Choose The Best Posting Time For Reddit Marketing
Improper timing is one of the primary reasons for social media marketing failures.
If you google "the best time to post on Reddit", you'll get something like between 6 am and 9 am on Mondays, Saturdays, and Sundays.
"The suggested hours are based on the average statistics. They can't be applied as a rule of thumb, because different topics get different user engagement levels," highlights Mark Pierce, CEO of Colorado LLC Attorney.
"What you need is to know when exactly your subreddit gets the highest traffic."
For this, Mark suggests a tried-and-tested tool used by his marketing team: "A subreddit traffic analysis tool developed by DelayForReddit is our go-to. When you need to check the proper time for a post, you indicate the subreddit's name, for example, LLC, press Analyze, and voila – you get the best time to post on r/LLC."
Try the tool here and on you go choosing the appropriate time for your B2B advertising posts.
3. Produce Relevant and Well-Researched Content
Content without any value and relevance becomes an obstacle that doesn't let you engage with your customers in a meaningful way.
"On Reddit, the essence of content lies in its quality and significance," says Colin Palfrey, CMO of Crediful.
"Striving to deliver significant and informative content, you should offer how-tos, attach screenshots, mention your personal experiences, provide numbers, stats, facts, etc. At the same time, it's important to spell out complicated matters in a simplistic manner so that everyone could understand you," Colin emphasizes.
4. Post External Links
External links are the most popular and desirable type of Reddit content, because Redditors are hungry for news, in the first place. What's crucial, they generate more upvotes than texts, the study shows.
How should you approach the link-sharing strategy?
You can follow the example of Jake Hill, Founder of DebtHammer, who prioritizes links in Reddit marketing:
"We often share links to our blog articles that contain case studies, research, or survey results. These go very well with our Reddit audience and have a 20%–30% higher user engagement rate than any other type of content."
But don't just rush to spam the platform with your blog content. Jake recommends the following:
"Publishing external links, stick to the 80/20 rule: 80% of links should be shared from third parties and only 20% – be from your website."
5. Boost Community Engagement with Questions and AMA
A question is a surefire way to increase your viewership and raise audience engagement. In fact, questions get 2x many comments as regular posts on Reddit (Foundation Marketing, 2018).
As another option for engaging with the community, host an AMA, aka an "Ask Me Anything" session (r/IAmA is a subreddit for those).
Ben Michael, Practicing Lawyer and Founder of Michael & Associates explain how his colleagues practice AMAs and how beneficial they are:
"Our criminal defense lawyers get such Q&A sessions going with: I'm a criminal defense lawyer at Michael & Associates, AMA. Such AMAs usually get heaps of upvotes and comments, help us learn our audience better, and enable human-to-human interactions."
You can also schedule your AMA ahead of time on the r/IAmA's scheduling and verification site.
Take a glance at the scheduled AMA by Reuters, a news agency.
6. Take Advantage of Sponsored Ads
In 2016, Reddit introduced a new type of advertisement called Promoted User Posts.
See what one looks like in the feed. Below is a promoted post by Lumen Technologies, Inc., a provider of security, cloud solutions, and other network services.
If you also want to promote your service or product with a paid ad, take these steps:
Step 1. Register an ads account
Step 2. Define the objective of your campaign (brand awareness, conversions, traffic, video views, or application installs)
Step 3. Add details about your advertisement (audience type, ad placement, budget, and timeline)
Step 4. Select the post type (video, carousel, text, or image) and make the actual post
Step 5. Send it for approval (it takes around two days)
Once it's approved, it starts running instantly or on the preferred date you've set.
It's also worth mentioning that Reddit allows adding one of the 13 different call-to-action buttons for ads that can help boost your conversion rates and increase business sales.
7. Capture User-Generated Content (UGC)
UGC is one of the content marketing trends worth following in 2023 and beyond.
And Reddit is a perfect digital location to search for it.
Here's how B2B brands can do it, according to Anthony Martin, Founder, and CEO of Choice Mutual:
"You can look for mentions or reviews of your company on Reddit by typing the brand name in the search bar. It's a superb advantage if Redditors talk about your products or services and express their opinions. You may spot some satisfied clients who tell you about their experience of using your product and then share their reviews on other social media.
If there are no reviews so far, like in my case, you can find discussions that simply mention your company or contain links to your website, go to the discussion thread, communicate with the audience on the topic, and carry on the conversation."
How NOT to Use Reddit for B2B Marketing (Don'ts)
There are some bad and ugly things that can damage your brand reputation and ruin your B2B marketing campaigns on Reddit. Follow the below tips to keep at arm's length with those:
Don't Go Over Promotional
Or else you may face a shadowban or account suspension.
Shadowbanning is a measure taken by admins and moderators majorly to fight spammers on the site. Check r/ShadowBanned and r/ShadowBan for more information.
It's always better to ask for a moderator's permission if you want to post a link or text that seems too promotional.
Don't Do The Post and Leave Thing
Or else your reach and karma will always stay low.
Instead, participate in subreddit discussions, interact with users, answer their questions, and react to their comments.
Don't Be An Upvote Beggar
Or else your reach and karma will always stay low.
Instead, participate in subreddit discussions, interact with users, answer their questions, and react to their comments.
Bonus: Best Tools for Reddit Marketing and Analytics
Bonus: Best Tools for Reddit Marketing and Analytics
Grab the list of tools that will help you navigate Reddit like a pro:
Wrapping Up Your Reddit Marketing Tips For B2B
There you have it – the mysterious Reddit is cracked. Doesn't seem so intricate anymore, does it?
Now you can reach your business objectives and goals in Reddit marketing more successfully.
Which of the above ideas have you already implemented or are planning to try?
Do you have your own tricks on how to use Reddit for B2B marketing?