SEO vs social media – which is your favorite method to use for blogging? Have you ever thought about where you should spend your time getting traffic to your website?
I joked a few years ago with Robert Caruso from Fandola on Twitter as some would say "Social is the New SEO", but is it really?
Have you thought about the differences between SEO vs. social media to drive traffic to your blog or website?

In the beginning (back around 2010) I focused on SEO only for the retail website I used to manage. Then I got started with tweets and RT's and social media became the focus as sales were coming from both. Once the SEO was done, it was done, right?
Well, Google began to work at a much faster pace with changes as time went on. So then the focus shifts to SEO to clean it up to Google's liking.  Then, I wondered, "Should the focus go back to SEO vs social media?"
Knowing when to change lanes is key on any business highway.
Social Media Or Search = Search Everything Online
When one searches online for something they are ready to purchase or read about something. If they find what they are looking for you are golden, right?
That's what you want when you build a website or blog. Have people search and find your stuff. That's the perfect scenario. 
The SEO Benefit – SEO vs Social Media
SEO lasts much longer online. Remember the time frames of a tweet or a Facebook post? (24 minutes for a Twitter post and 5 hours for a Facebook post.)
Well, a great post or website will last much longer than those social posts any day hands down. Your website will last as long as you own the domain name and continue to host the website.
Even Google likes to see your domain name registered for 10 years vs just one or two years. They want to be sure you will be a staple online, not just a fly-by-the-night type of website.
When Google recommends you, you will be found!

9 Reasons Why Is SEO Hard!
It takes a lot of time and patience.
SEO takes testing, and re-testing, over and over.
It must be consistent – you have to continue to build quality content and links. You cannot do it once and forget about it. If you do, Google will forget about you too!
You must read up on the latest SEO techniques and changes via Google and other search engines. What worked last year may not work this year. Check out bloggers' passion posts about where to learn more about the ever-changing SEO landscape today. 
Then, you need to analyze stats often and re-adjust SEO techniques.
Once you learn, you must re-learn it and re-do it.
It's like housework, it is NEVER done.
SEO can be a real downer when your stats sink and they can sink fast.
Finally, SEO can be expensive. If you do PPC ads you will quickly run through hundreds of dollars.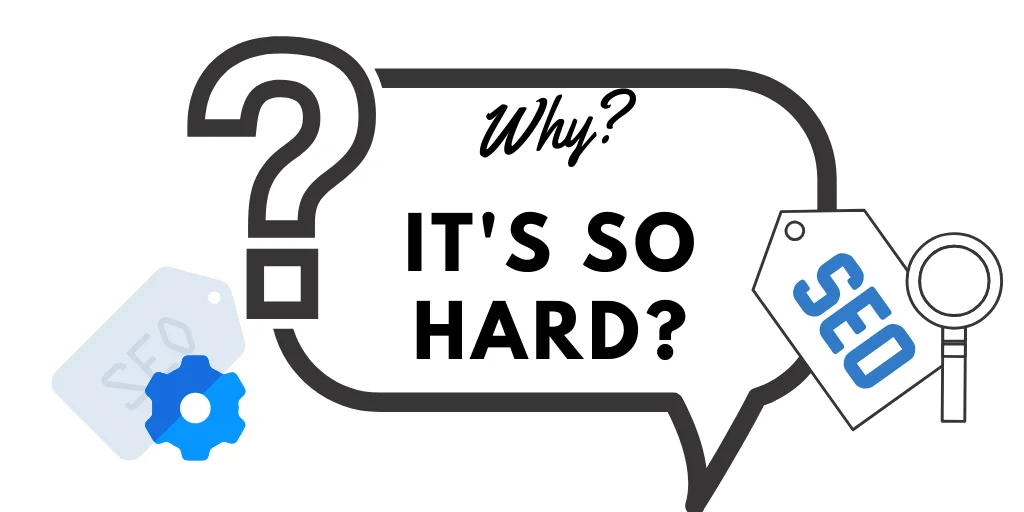 Why is SEO Great for Your Blog or Website?
Why Do People Love Social vs SEO?
What Is Hard About Social Media?
SEO vs. Social  to Drive Traffic Today
We saw it once with Facebook when they decided which likes on pages were fake and took them away. Then they made the algorithm for Facebook pages go down to 2-3% of your entire audience. Today we have to use their Creator Studio just to post to our pages!
Others have been put in Twitter Jail and lost their Twitter accounts. That's why I believe we can never put our eggs, social or SEO, in any one basket.
The debate will rage on- SEO vs social media. Social media specialists will say social is the new SEO, and SEO specialists will say SEO is the main driver of traffic.
I believe one must have SEO in place before they do social to gain traffic to their blog or website.
A perfect combo of the two methods would be the ideal situation for your blog or website. I'd love to hear your thoughts on SEO vs social media.
How to Gain More Traffic via Seo vs Social
Your Input: SEO vs Social Media
Which method do you prefer for driving traffic to your blog or website, SEO vs. social media? Please let me know in the comments below.