Relationships or Quality Links – Must We Choose?
Do you care a lot about quality links and about being careful what you link to from your website, blog, or even comments? Do you risk do-follow links for the relationships that you have built and come to know and love online?
Or, do you have to shun those blogs not in your own niche to make the Google gods happy?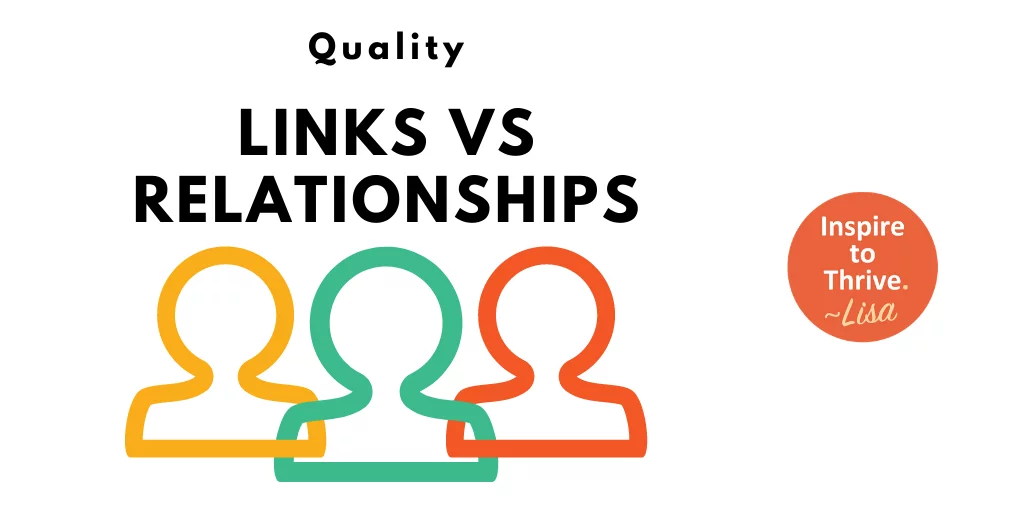 Do you risk do-follow links for the relationships that you have built and come to know and love online? #bloggingtips Click To Tweet
The Beginning of Links
When websites first appeared online in the 1990's backlinks were easy and hot. These links helped websites get to the #1 page of Google fairly easily. Webmasters did link exchanges and paid links were a formidable business.
You found pages on websites called "links" or "resources". This was a common page filled with links for many websites at a time on the same page.
Oftentimes, these links were sometimes relevant to the websites or were local to the website hosting them. Many webmasters had also submitted their websites to thousands of web directories for more link juice.
As the years went on and blogs become more common others began leaving comments on blogs. Others joined forums just for the extra link juice. The more links the merrier the website would be in search results. It wasn't all about quality links back then.
Quality Links Today
Now fast forward to today and ALL this has changed. Google now considers any link that is intended to manipulate a website's page rank or Google ranking in the search results are considered as a link scheme and a violation of their webmaster guidelines. What does this mean for you?
 4 Quality Links Guidelines For You
Does it provide value to the reader? If it adds additional information it may be added.
Is it relevant to the subject or page you are linking from?
Is it really necessary? This one can be hard to judge. Put yourself in your reader's shoes.
Is it worthy of your linking to? May you just source them without linking?
Would you believe I still get emails from other website owners asking for links? One must be only reading retail-related material and not SEO or blog commenting, etc and not realize how much has changed in the past few years. Knowledge is power. It is a continuous process to keep learning today.
When To Add "NoFollow" Attribute To Your Links – Not All Quality Links Have to Be "Do Follow"
Affiliate links and ads. Most affiliate programs have them built-in to be no-follow. Always double-check.
Any paid advertisements. Banners, info links, pop-ups, etc.
Links that are not relevant to your niche.
Press release websites.
It is a healthy SEO practice to have a good balance of "do follow" and "no follow" backlinks on your website or blog.
How To Make Your Links No Follow
So do you stop linking out? Or can you add the "no follow" attribute and be all set? Adding the "no follow" attribute will prevent passing Page Rank thus keeping the Google gods happy.
The search engine crawlers will ignore those "no follow" attributes on links.
<a href="http://www.yourwebsite.com/"rel="nofollow">Link Text</a>
We don't want to upset that Google gods anymore. Staying within your niche shall have your site's quality links looking more natural and we know that Google loves that natural look.
How To Make Your Links No Follow #seotips
Click To Tweet
Sponsored Links
What about sponsored links? First, what is a sponsored link? A sponsored link is an advertisement that is displayed on the search engine results page after a user searches for certain keywords.
The best advice is to make these sponsored links no-follow and sponsored together. Therefore, It looks like this code below :
<a href="http://www.yourwebsite.com/rel="nofollow sponsored">Link Text</a>
Quality Links and Comments
So what happens when you leave your links by commenting on other blogs? Must you always comment on niche-related blogs? What about your friend's blogs and those with that you have built relationships?
Many bloggers recently have applied the "no follow" attribute to their blogs. I had written about the SEO effects of comments a while back. Some recommend not even leaving a comment if a blog is not in your niche.
It may be hard to develop relationships via social networks and then not comment on someone's blog because it is out of your niche.
It sounds a little too clicky for me. Of course, on social networks, you should try to network with those in your niche. But time changes and people change their niche along the way.
It's a balance one must work out. You may expand your niche to be a little broader. A tighter niche is always tougher. I am tougher on accepting comments here and going through some old ones that were spammy. Spammy comments may really hurt your blog.
More on Quality Links via Matt Cutts
See what Matt has to say about "do follow" attributes on your widgets and infographics – are you using them now?
Where To Find Your Quality Backlinks
Google Webmaster Tools – Under Search Traffic, Links to Your Site. Click more and a page will pop up where you can download it into a CSV table (Excel)  This table gives you the link, how many links to your site, and how many linked pages.
Bing Webmaster Tools – Go to Reports and Data and then InBound Links. From there you hit export ALL and it downloads a similar file for you as Google.  If you choose the other report you won't see where the incoming links are from.
Majestic SEO – You can use the FREE version and see how many backlinks you have along with their anchor texts. Majestic SEO does it in an easy-to-read pie chart – easier on your eyes. You may also get more information by downloading the report if available. (it was not working today)
With the FREE version, you can download your own website's reports. It was interesting see how many empty anchor texts I found here. (33). This report also shows the deleted backlinks, more interesting reading! If you want more information on your site or your competitor's websites the plans start at $49.99 to $399 per month.
More Places to Find Links
Ahrefs site explorer  – This tool is even easier on the eyes with the colorful charts they use. You can find out easily how many .org or .edu backlinks your website has. Very nice. Ahrefs shows you how many backlinks are from social shares via your homepage.
This link tool provides an anchor cloud for you to easily view your anchor texts. I really liked this tool as I viewed it via the FREE version. This tool has premium plans that start at $79 to $499/mo.
Ubersuggest – This FREE Tool is another way to check for your backlinks. It shows you your backlinks by DA ranking. Ubersuggest even gives a spam score for your backlinks.
Where To Find Your Quality Backlinks - Where do you begin? #seo
Click To Tweet
In Conclusion of Quality Links and Relationships
There are many more quality link tools out there. Which do you use the most?
Have you stopped linking to other blogs or adding the "no follow" to your links and or comments?
Do you comment anymore on blogs outside of your niche? I'd love to know more from YOU in the comments below!