Twitter analytics can provide you with a wealth of information about your tweets and how they are being engaged by others. By taking the time to read your Twitter analytics, you can learn more about your unique audience and what kind of content is resonating with them.
Here are some key things to look for in your Twitter analytics:
Read Twitter Analytics – Made Easy For You
Twitter analytics is a great way to know more about your own Twitter audience. You can learn what they like on Twitter. It will help you to tweet better so your audience will stay engaged.
You need to have Twitter Cards or used Twitter ads to see your analytics. Here is some of what you can see:
Engagement rate: This metric measures how often people are interacting with your tweets. A high engagement rate means that people are finding your content interesting and valuable.
Tweet reach: This metric measures how many people saw your tweets. A high reach means that your content is being seen by a lot of people.
Engagement per tweet: This metric measures how often people are interacting with each of your tweets. A high engagement rate per tweet means that people are finding your content interesting and valuable.
Read Tweet Analytics – Home Section
This is where you see how many tweets you have made in the past 28 days. The home area shows you how many impressions your tweets received. It also shows you how many people clicked on your Twitter profile.
You can also see how many mentions your tweets are receiving and how many followers you have. The analytics also show you percentages for each of these categories.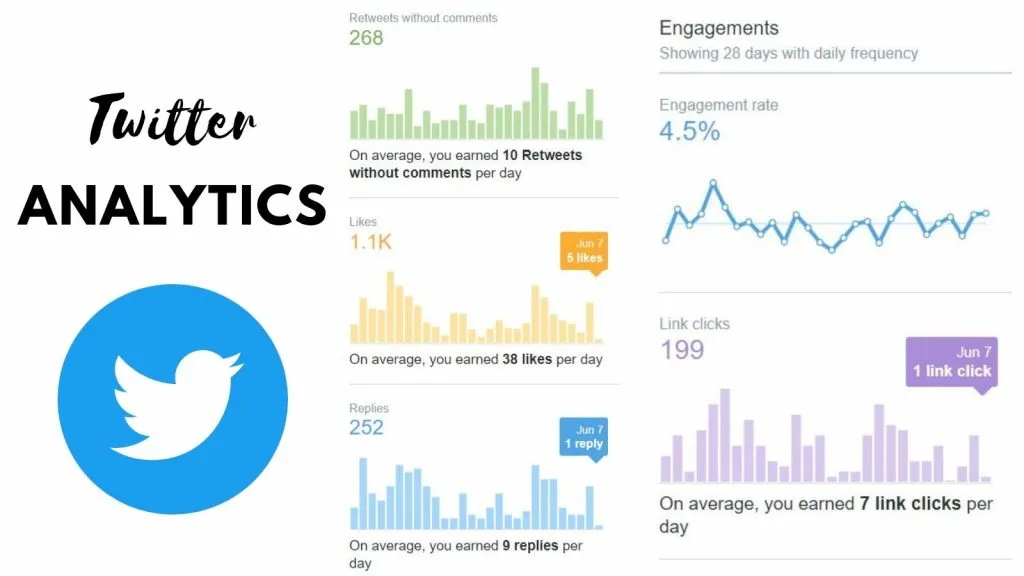 You will also see a green or red arrow. Green is for doing better, red is for doing worse in the past 28 days. Furthermore, you can also view your top tweet, top mention, and top follower. When you scroll down you can view all of this day by day for the past 28 days.
Notice you will also read your top media tweet. Your top media tweet includes your tweets with photos or videos that received the most impressions. You may remember how using images can increase your Twitterness!
Your Activity in Twitter Analytics
When you read Twitter analytics this area shows your impressions. Impressions are how many times your tweets were seen by others. It also shows your engagement rate which is very important today.
Engagement ranks high on all social networks. Engagement is when others respond to your tweets and when you respond back. It is what social networks should be all about, talking with others on the network. (Not screaming out your offers or just lurking around others.)
Your Twitter activity will also show your tweets links get clicks, retweets, likes, and replies. Getting clicks is more related to ROI – if when they click they continue to click at your website or blog.
However, be sure what they click is relevant to your tweet. People do not like clicking on links to be led somewhere else. Not good!
Your Twitter Audience Removed from Analytics
Twitter has removed this popular feature back in 2020. However, if you use a business account or Twitter ads you may be able to see this in your Twitter ads account. I was not able to.
So instead, I found a tool that can do it for you called Followers Analysis, it does cost $55 for a report on your Twitter account's demographics.
And of course, my favorite Twitter tool Tweepsmap also offers a paid service as well for audience demographics.
Twitter Events
Twitter events can be cool for eCommerce and retailers. You can see what events are coming up and how you can purchase ads around them. It tells you which countries the events are popular in and their start date and duration of the event.
These are something to explore when you read Twitter analytics. It can give you ideas for marketing via Twitter. This information can be used to give you ideas for future blog posts as well.
Did you know National Photograph Day is June 15? In addition, you can read about unique events from throughout the world.
Conversion Tracking via Twitter
Twitter allows you to track as well by adding code to your website. In order to do this Twitter guidelines say you must have an updated privacy policy on your website. On Twitter, it states: "Make sure your privacy policy is up to date.
Twitter's policy requires that your website provide legally sufficient legal notice about how you are using third parties to collect website traffic data."
Your Turn on How to Read Twitter Analytics
Do you read Twitter Analytics to see if your tweets are being engaged with and clicked on? I'd love to know more in the comments below from you.
FAQs
What can Twitter analytics do for you?
You see which tweets are working best for your audience. Which get the most engagement and clicks.
Can you find your audience demographics on Twitter analytics?
No, you cannot find them on them anymore. You may see more of it on Twitter ads.
What is your top media tweet?
The top media tweet consists of an image or video. Anything besides just text on a tweet.
What are impressions?
Impressions are how many times a tweet is seen in the Twitter feed.
What tools can you use to find your Twitter audience demographics?
Followers Analysis and Tweepsmap.
What are Twitter events?
By knowing special holidays and events coming up you can tweet with the hashtag to be seen more in the Twitter feed. It helps you to market better.