Learn How Twitter GIFS Can Make You MORE Tweetable
Do you want to get noticed more on Twitter?  I recently started using the Twitter GIFS image option after I noticed Ryan Biddulph on Twitter using them to thank me for sharing his tweets.
The images were awesome and really got my attention. Then Sam Hurley got my attention with his GIFS to me and I began to use the GIF feature. WOW!
People really respond to them and it shows you care. You have taken a little extra time to find something that they can relate to.
What Are GIFS?
GIFS are bitmap (CompuServe) GIF, or Graphic Interchange Format, is a file extension for an often animated raster graphics file and is the second most common image format used on the World Wide Web after JPEG. GIF uses the LZW compression algorithm and is owned by Unisys. Twitter GIFS look very catchy in the Twitter feed. You can't help but notice them.
How To Use The Twitter GIF Feature
It's easy and is available both on desktop and on mobile. You can create GIFS in a jiffy on the go with your mobile or on your desktop. You can see the example below on how easy it is to insert a GIF into your tweets.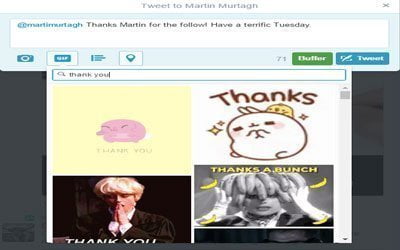 Another Reason To Use Twitter GIFS
A recently article by Steve Olenski on Forbes illustrates why images are so vital to brands. Think about this one:
Our brain processes visuals 60,000 faster than text - Steve Olenski #marketing
Click To Tweet
If that doesn't make you think why using images in social media and blog posts are a must, nothing will! Images can tell a story and invoke emotions. Someone once said "A picture is worth a thousand words" – Tess Flanders back in 1911. 
Some Examples of Fun Twitter GIFS
@Lisapatb @skyrocketsearch @Mitch_M @Ileane ??? pic.twitter.com/K7at2PF9dF

— Sam Hurley ➤➤➤➤➤➤➤➤➤ (@Sam___Hurley) August 20, 2016
@Lisapatb Lol I love the gifs! pic.twitter.com/22Dv6GFOTt

— Brenda (@Virtual_Bren) August 20, 2016
@Mitch_M lol pic.twitter.com/EohYyni2q8

— Lisa (@Lisapatb) August 18, 2016
Thank you for helping @Lisapatb pic.twitter.com/XnSz2U6SIX

— Bryan G (@circlecast) August 16, 2016

See How Some of the Stars Use Twitter GIFS In Their Tweets
So stoked to see @katyperry's #RISE video #Rio2016 pic.twitter.com/V3t6QYLfPs

— Lindsey Horan (@Lindseyhoran11) August 5, 2016
BIG Congrats @justinbieber! Number 2 +1 in @romankemp's #Hot7at7? +the man himself is NEXT! https://t.co/Le2skB2APn pic.twitter.com/hUNifDMDXA

— Capital (@CapitalOfficial) August 22, 2016
POP MUSIC EMERGENCY @ladygaga #PerfectIllusion pic.twitter.com/SdlW8ypfnC

— iHeartRadio (@iHeartRadio) August 17, 2016
Stickers overboard! #StickTogether with @EthanDolan, @GraysonDolan, and crew. pic.twitter.com/tUzu8Am73e

— Twitter (@twitter) July 31, 2016
Other Ways To Make Your Tweets Pop Out
Besides GIFS you can also try the new Twitter Stickers. They are another way to generate some fun attention in the Twitter feed. This tweet below shows off the sticker feature with a video. Video's are another great way to stand out in the Twitter feed. One word of caution – don't get too carried away and use GIFS, video's or stickers in all of your tweets. Use them when you want a tweet to pop out to your followers or to a special follower when you are engaging with them.
Ahead of Friday's #NationalDogDay, add some bark to your photos with pawsome new featured #Stickers. Go mutts! ?https://t.co/ZFPOwT07qy

— Twitter (@twitter) August 22, 2016
What ways are you trying to make some of your tweets pop out in the Twitter stream?
Have you tried the Twitter GIFS yet?