Digital marketing efficiency can often feel like an uphill battle.
With ever-evolving algorithms, fierce competition, and the constant need to stay ahead of the trends, it's easy to feel overwhelmed and unsure about what steps to take next.
However, amidst all the chaos, there is a solution: efficiency.
In this blog post, we'll dive into the challenges of digital marketing. We'll explore why it's essential to create digital marketing efficiency.  And finally, we will look at a few of the best ways to optimize your digital marketing strategies to drive better results.
Let's get started.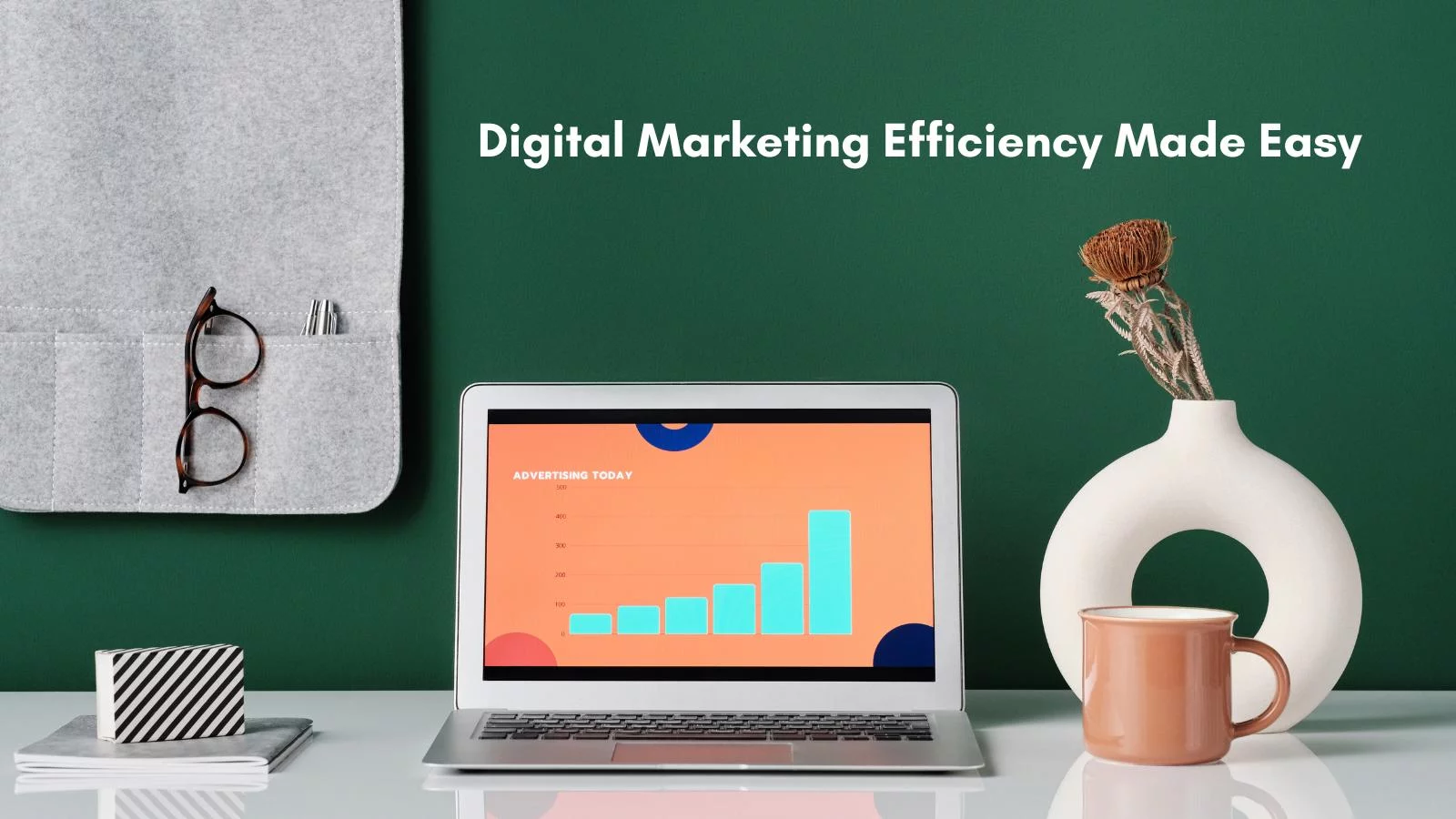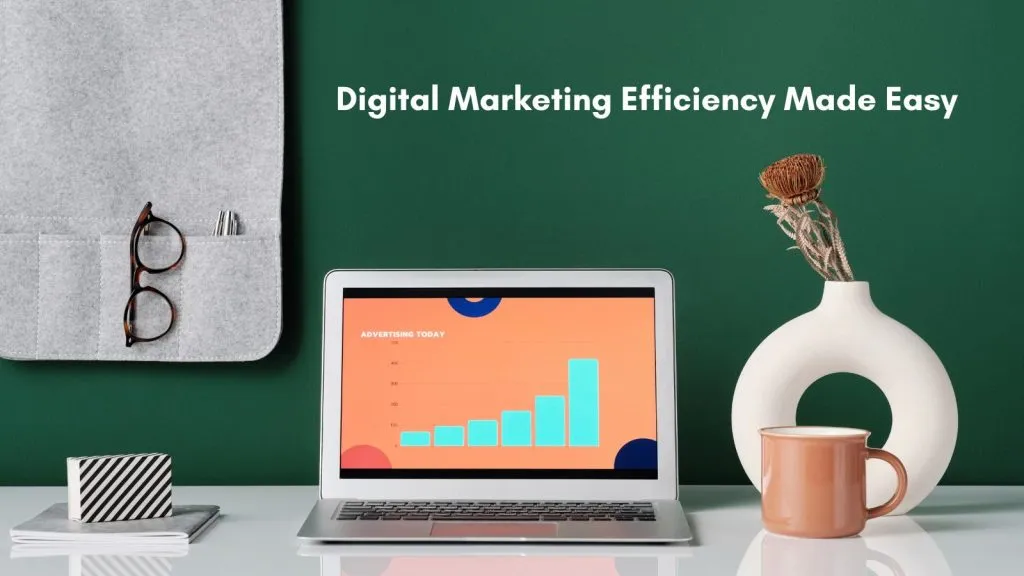 What Challenges Arise in Digital Marketing?
Digital marketing can be notoriously challenging. One of the most significant obstacles that marketers face is the sheer amount of competition.
It can feel like everyone is fighting for the same customers, and with so many businesses vying for attention, it's easy to get lost in the noise.
Algorithms update and are constantly evolving and technologies change on a seemingly daily basis. This can be challenging to keep up and adjust your strategies accordingly.
All the changes, new tactics, and other updates to the digital marketing space can leave your head spinning. – Anthony Gaenzle
This is where efficiency comes in.
By streamlining your approach, you can stay ahead of the curve, even as the landscape shifts.
Why Does Digital Marketing Efficiency Matter?
Creating efficiency should be a top priority for anyone working in digital marketing. By optimizing your processes and strategies, you save time while still delivering high-quality results.
Plus, as I mentioned earlier, digital marketing can be incredibly competitive.
By operating more efficiently, you can stand out from the crowd and establish yourself as a reliable and effective marketer. This, in turn, can lead to increased engagement and conversions, making your efforts more impactful overall.
As a digital marketer, you're likely asked to wear multiple hats, and your role sees you switching tasks and flipping those hats every few hours (or even more quickly many times).
To keep up with all of the requirements of today's digital marketers, you need to find ways to save time. Let's take a look at a few of the best ways to create efficiencies and improve the results of your digital marketing.
To keep up with all of the requirements of today's digital marketers, you need to find ways to save time. #digitalmarketing
Click To Tweet
The Best Ways to Be More Efficient
Now that we've established why efficiency matters, let's dive into some of the best ways to streamline your digital marketing efforts.
Automation
First and foremost, there's automation. Automation software can help set routine tasks on auto-pilot, such as email responses, content posting, and social media updates, freeing up time for more critical tasks.
Think about email, for example.
Platforms like HubSpot or Marketo can help you become more efficient by scheduling emails ahead of time, setting up things like lead scoring so prospects automatically receive contact when they take a particular action, or updating contacts without lifting a finger.
You can also automate things like data collection, social media publishing, blog scheduling, and so much more.
Leverage the power of automation to seriously increase your productivity and rock your digital marketing.
Target Your Efforts
Another key strategy is to focus your efforts on your target audience. By honing in on the people who are most likely to become customers, you can ensure that your message is received by the right people.
Many businesses market to the masses without regard for who sees the message they send. That simply doesn't work.
If you craft marketing messaging for "everyone", you're really crafting it for no one.
Dig in and research your target audience. Understand their wants and needs and what drives them, as well as what challenges they face and how what you do can help them face those challenges head-on.
Then make sure you craft any digital marketing you do with your target audience in mind and target only those members within that audience to save money, time, and headaches.
Optimize Your Files
How many times have you gone to send an email with an attachment, but when you click send, the email never goes through?
Either your file was too large and it was never sent, or the recipient's email couldn't handle the file, and thus they never received it.
Or, have you ever uploaded unoptimized images or video files to your website? If you add files that are too large, it can really bog down your site, killing the speed (and business along with it).
To combat issues like these, you can use technology to optimize your files. If you're sending large PDFs, you can use a tool like SmallPDF to easily compress PDF files without compressing on quality.
To reduce the size of a video file, you can use a tool like Adobe Media Composer to compress the files.
Measure and Improve
Additionally, it's essential to measure your results. By keeping track of how your campaigns are performing, you can make adjustments as needed.  This ensures that you're getting the most out of your efforts.
If you want to avoid wasting time and money on campaigns that simply don't work, you need to be sure to measure and analyze each of your efforts.
When something isn't working, it's time to switch up your approach. If you never measure, you'll never know what's failing. This means you'll keep spinning your wheels with the same losing tactics.
Instead, you need to understand what's going on under the hood of your digital marketing and be flexible so you can make adjustments and generate better results each time.
If you never measure, you'll never know what's failing. This means you'll keep spinning your wheels with the same losing tactics. #digitalmarketing
Click To Tweet
Increase Collaboration
When we work together, no matter what industry we're in, we grow and generate results much more quickly. This is true with digital marketing just like it is with any line of business.
The key is to create an idea-sharing culture where everyone on your team is empowered to stand up and chip in to help the brand grow.
When you do this, you avoid missing out on some of the best ideas that could help boost your digital marketing. If you fail to create this type of culture, however, you'll end up doing digital marketing in a silo, and that's never good.
Putting this kind of effort in place can increase workplace collaboration, which, in turn, can hugely improve the results of your digital marketing.
Final Thoughts on Digital Marketing Efficiency
Efficiency is the key to success in digital marketing. Streamline your processes. Focus on your target audience, and measure your results. By doing this, you can create an effective and impactful digital marketing strategy.
While the landscape might be ever-changing, by prioritizing efficiency, you can stay ahead of the curve and drive better results.
So, if you're struggling with digital marketing, take a step back and focus on efficiency – with a little optimization, you'll be well on your way to success. We'd love to hear from you about how you have created digital marketing efficiency in your business today.
Latest posts by Anthony Gaenzle
(see all)