Did you know that only 9% of tweets mentioning businesses actually tag the business in the post using the @? What this means is that 91% of people talking about your company on Twitter won't actually tag you in the post. This is one of the many reasons why you need to monitor and analyze brand mentions of your brand on Twitter. The best way is to track your brand mentions on the social media site.
If you don't, you won't understand the general feeling surrounding your company so you can make improvements where required.
With that being said, continue reading to discover more about automating the analysis of your brand's mentions on Twitter, including why this is important and how to do so.
Stop and think about how long you've been in the McDonald's marketing funnel. Since early childhood?

That's why they still run commercials despite everyone knowing who they are.

Branding.

— Shawn (@shwnhll) February 28, 2023
Why Should You Assess Mentions On Twitter?
Before we take a look at how to automate analyzing mentions of your brand, it's important to delve deeper into why this activity matters so much for businesses in the first place. 
Find endless content ideas – If you assess brand mentions on Twitter, you can easily find out what customers and potential customers are talking about. What do they care about? This helps you to come up with heaps of original and highly relevant topic ideas for your audience.
Create more links to your brand – A lot of companies use brand analysis so that they can find unlinked company mentions of their company and reach out to the author to ask them to post a link to their business. This is a great way of creating more backlinks to your business, which is something every business can benefit from.
Build a community around your brand – Twitter brand analysis also enables you to locate brand advocates in your niche. Thousands of tweets go live every second. It's important to be a part of them. However, you won't be able to do this if you've not got a complete handle on your brand's presence already.
Manage your online reputation – By analyzing company mentions, you can understand what your customers need so that you can better serve them. Making your current customers happy can help you to sell more than if you were to find new customers. If there are negative mentions of your company, brand monitoring enables you to rectify them as quickly as possible. At the same time, you can promptly share positive business mentions to boost online visibility.
Learn more about your competition – Finally, if you run an in-depth analysis of competitive brand mentions on Twitter, this can help to make sure you don't overlook any effective strategies that are proving hugely successful for your competitors. By understanding the strengths and weaknesses of your competition, you can make improved business decisions. You can discover how to create brand evangelists, provide excellent services, what niche you should be focusing on, and how to make improved decisions.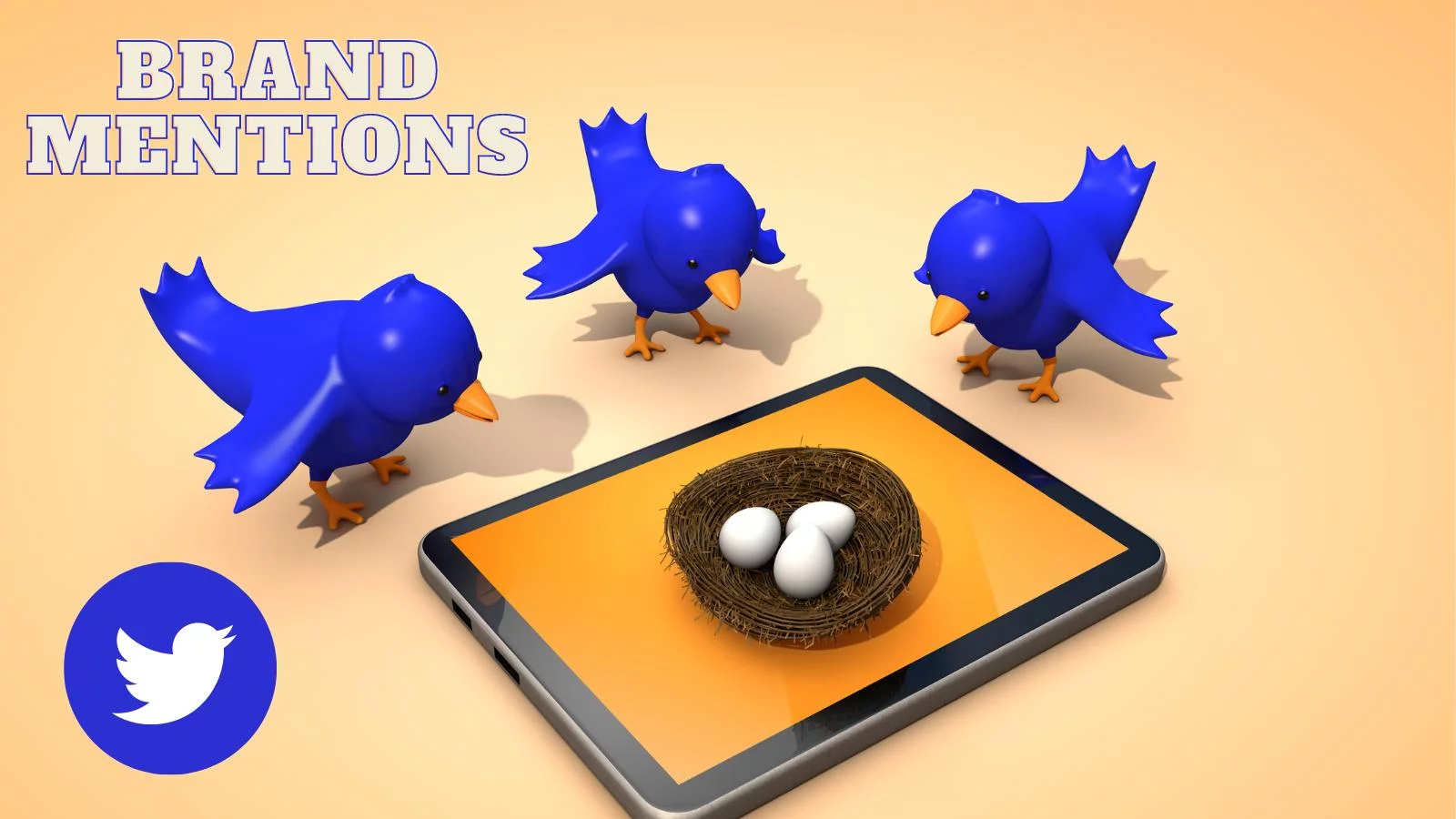 How You Can Automate Analyzing Mentions For Your Brand on Twitter
Now that you have a better understanding of why it's critical to automate brand mentions on Twitter, let's reveal how to do so.
1. Use Levity AI For Your Mentions
One of the best ways of automating brand mention analysis on Twitter is to use Make with Levity AI. For those who are unaware, Make is an intuitive no-code platform. Therefore, It enables you to automate, build, and create workflows across thousands of applications. You can connect workflows with sheer ease via the simple drag-and-drop interface.
With the power of Levity AI, you can automate workflows that utilize unorganized data, including Twitter mentions. Not only can you automatically analyze brand mentions on Twitter, but you can automate notification workflows and reactions.
The great thing about going down this route is that it's not only designed for social media mentions but you can automate many workflows. This includes identifying leads from outbound email campaign responses and alerting the Sales team via Slack. Plus, you can categorize incoming email attachments, routing them to relevant Dropbox folders.
2. Use Microsoft Power Automate
Another option to consider is using Microsoft Power Automate. All you need to do is open Microsoft 365, head to the app launcher, and then select Power Automate.
There are many different ways you can effectively monitor and track your brand on Twitter when going down this route. One of the easiest options is to simply search for "Twitter" in Power Automate, and then you'll be presented with a number of different ways you can monitor your brand on this social media platform.
We'd also advise using Templates so you can easily establish integrations and create flows. The template that's right for you will depend on your style of working and the tools you use for company mentions.
A lot of people opt to save a .CSV file with tweets to their Dropbox account. Doing this gives you an excellent degree of flexibility for reviewing and assessing the data you've collected.
All you need to do is select "save tweets to a CSV file in Dropbox." After this, sign in, and connect both your Twitter accounts and Dropbox accounts to Power Automate. It really is that simple to track brand mentions.
3. Quintly To Track Brand Mentions
If you're looking for a Twitter tool that leads the way in terms of analytics, Quintly is the software for you. You can uncover insights that enable strategic decisions and changes in your social media strategy.
There are 350 metrics to select from and you can even add your own custom metrics too.
Quintly's dashboard is very flexible, so you can ensure that everything is presented in a manner that works well for your business. Dedicated support is on hand, and there's no limit in terms of the number of dashboards you can create.
This platform provides you with automatic social media reports that can be shared with everyone on your team.
You'll also be able to perform in-depth analysis. You can gather valid data-backed conclusions from your marketing performance on Twitter. With this information in your armory, you'll be able to make the best decisions to boost your Twitter marketing performance.
Finally, the comparative insights feature enables you to beat the competition. You can compare your business with others, showing how your company measures up. Nevertheless, you won't be able to go in-depth into your competitor's performance.
4. Warble For Brand Mentions
If you're looking for the best tool so you can receive tweets by a topic, Warble should certainly be at the top of your list. Warble emails your tweets based on any search criteria you have established. No matter what sort of topic you want to monitor and stay up-to-date with, you'll be able to with this tool.
It has a simple and clean interface, meaning you can easily see all active alerts and navigate through the dashboard. You can amend settings to filter alerts based on language and location. Also, if you don't want retweets to be included in your results, this is another helpful option.
Furthermore, it's free to use, which is always a bonus. Some people do find the notification feature a little bit challenging at first. However, once you get to grips with this, it's a pretty efficient solution.
5. Social Bu For Company Mentions & Hashtags
Last but not least, SocialBu is certainly one of the most effective social media management tools available today. It's easy to use and comes with a wide range of features.
You can schedule across a multitude of platforms, including Twitter. Not only that but you can also benefit from in-depth tweet insights. You can learn what your top-performing tweets are and calculate engagement rates with ease. You'll also be able to discover the times when your followers are most active.
Social media monitoring features are highly popular. They enable you to keep a track of every hashtag, account, keyword, and social conversation relating to your business. These features help you save time while boosting performance.
Therefore, by automating brand, hashtag, and trend monitoring, your team is freed up to work on strategy and how to move your business forward.
Elevate Your Brand To New Heights by Automating Analyzing Brand Mentions on Twitter
So there you have it: some of the different ways that you can automate analyzing brand mentions on Twitter.
No matter which approaches you choose there's no denying that analyzing brand mentions is critical in terms of managing your online reputation, finding new content ideas, beating your competition, and dealing with any negative comments quickly and effectively.
Finally, when you consider how important online reputation is for businesses today, it's not hard to see why this is something you cannot ignore.
Your Turn
Do you track your brand mentions on Twitter? Have you analyzed your brand mentions on Twitter? I'd love to hear how you have been finding your company mentions on Twitter.