My friend Sally is still not ready to tweet yet. She like others I've met along the way finds Twitter difficult to understand. I was with another customer yesterday who said "That will be the day I tweet." (He just got started with Instagram).  The Guardian wrote a little while ago about why normal people struggle with Twitter. Many folks are not using any Twitter tools or their own Twitter analytics tools thus not seeing or feeling a good Twitter experience or results.
Twitter X is the one social network that has so many tools to help you improve your experience on Twitter X. Since 2009 there have been thousands of different tools. Some have gone and a few have stayed. Many new Twitter X tools come out almost every week.
Everyone is trying to make a buck off the Twitter X network. I'm only sharing 7  Twitter tools so you don't become overwhelmed.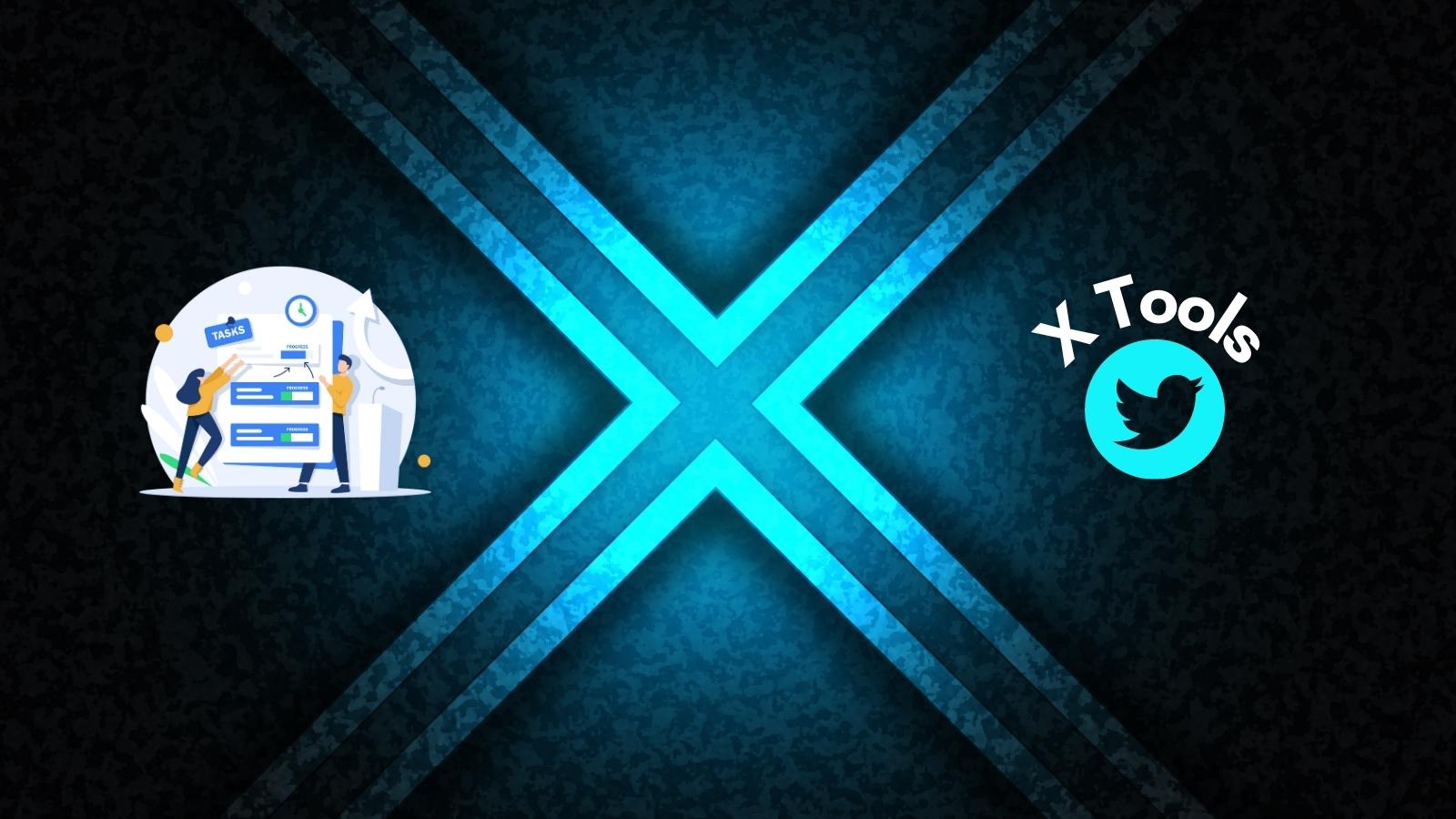 Twitter X Tools
1. Twitter Analytics Tools
Twitter's own analytics have come a long way if you haven't checked them out recently. You can find out many things about your followers and how your tweets are working.
You don't need to advertise on Twitter to have access to these cool reports although it is under the creator section of your account.
It will show you how your Twitter cards are performing. It will show you which tweets have the most clicked links. This can help you see which types of tweets your followers are engaging with.
You can also see which followers are your most influential. These Twitter analytics will show you which source you got the most clicks from. I was pleasantly surprised to see Triberr was my #1 place. And Viral Content Bee was climbing a few years ago.
Twitter Analytics will tell you which countries your followers are from and give you hints on the best time to tweet to your followers.  There is no one magic time to tweet – it all depends on your followers!
Twitter X's own analytics have come a long way if you haven't checked them out. You can find out many things about your followers and how your posts are working. #Twitter
Click To Tweet
2. Twitter X Unfollow Tool
My favorite unfollow tool is Fedica hands down. You can use this tool for FREE or you can invest in their professional account which will do more for your Twitterness.
This program is easy to use and you can receive emails weekly to unfollow those who have unfollowed you or unfollow inactive peeps on the social network.
3. Click to Post Tool
For a click-to-tweet plugin for your website, I love Better Click-to-Tweet. You can see the embeds Inspire To Thrive here for this plugin. It's an easy way for users to share specific tweets on your blog posts or web pages.
This is a great way to promote your specials and draw attention to specific topics and hashtags.
Not only that, but with Click To Tweet you can analyze the results of each tweet from the plugin. They now offer a pro and expert plan with more features for you to use.
For a click to tweet plugin for your website or blog, I love Better Click to Tweet. #TwitterTools
Click To Tweet
4. Agorapulse – Twitter Management Tool
This social media management tool is great for Twitter as you can schedule tweets, and update old tweets by re-scheduling and responding to tweets all from the dashboard or the Agorapulse app on the go.  It can be a huge Twitter timesaver for you!
You can also see your top engaged users and ambassadors on the social network network. You can get a FREE trial to test it out. However, you need a paid version for the X features to all work since the API change took place under Elon Musk.
What else can it do for you?
Schedule multiple tweets
Use templets for tweets
Assign team members to reply or check on tweets
Delete spam comments
Use Chrome extension with the app for easy applications
This tool is great for Instagram users too.
5. Twitonomy
Another great tool to try is Twitonomy. You can sign up for free or use their Pro version. Below is a screenshot of some of the features that are available. I like seeing the mentions so you can spot who mentions you the most quickly and easily.
You can also see your mentions on a map to know where people are from, that's a very cool feature!
6. Twitter Lists
Where would you be without those valuable Twitter lists on Twitter today? I find this the best organizing tool for Twitter. You can search tweets by your lists and not even look at your main Twitter X feed anymore.
It makes being on Twitter quick and easy. By creating lists of clients and other folks you engage with regularly you will not miss another tweet.
You could use notifications but who wants to be interrupted by those on your mobile device?
7. Tweepi -The Oldie But Goodie
What I like about this Tweepi Twitter unfollow tool is the ability to see recommendations of who to follow as well as to unfollow. You can also analyze your competitor accounts.
Furthermore, you can see which lists you may want to follow as well on the Twitter network. They do make you go to the Twitter app to follow accounts so do not mess with the API that was changed back in 2017 and again in 2023.
Notice below the force to unfollow you feature. That is a great way as you don't want eggheads or with no bio to be following you.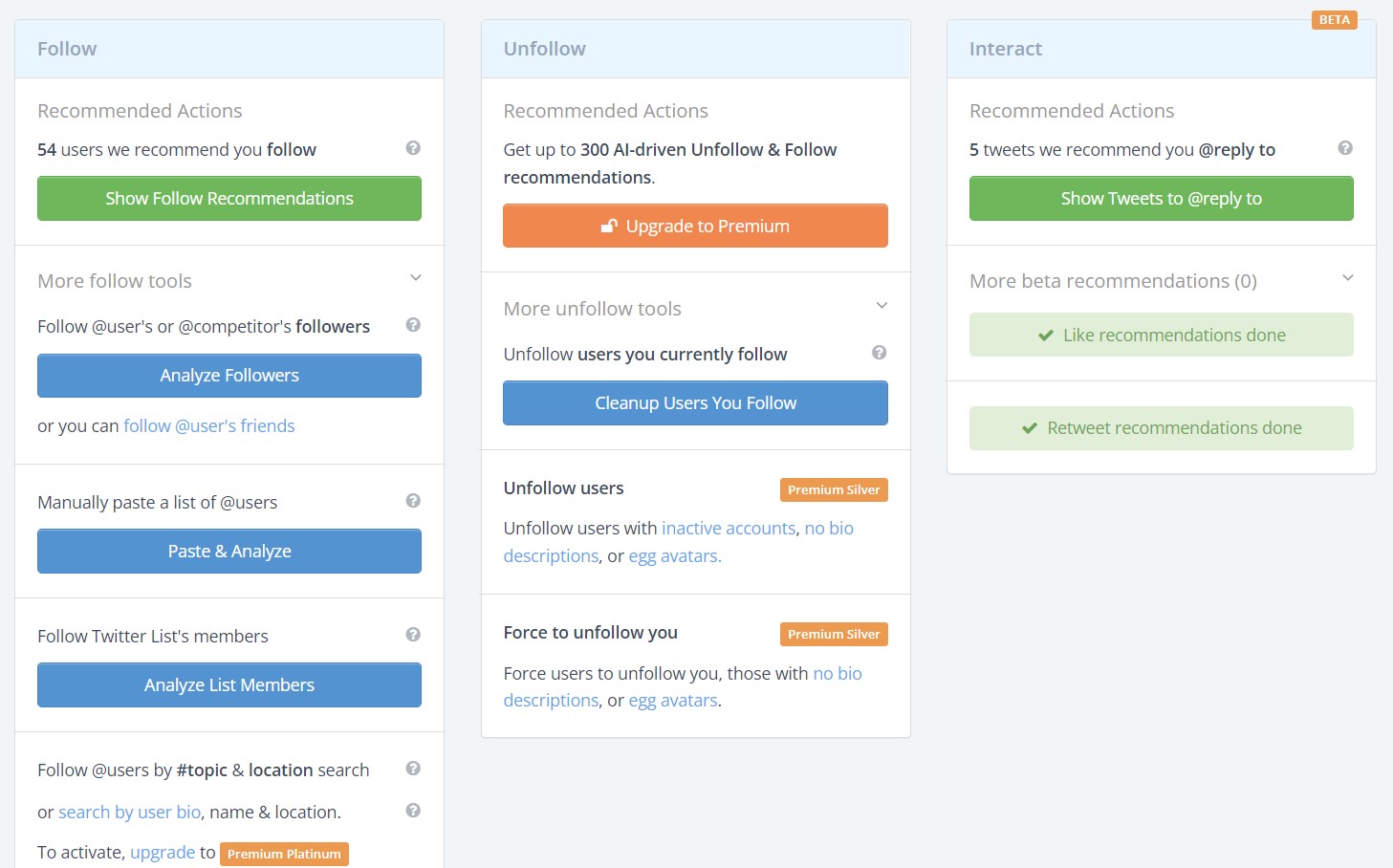 Here Are Some of Your Favorite Twitter Apps and Tools From Years Ago:
@Lisapatb I dig Tweet Deck Lisa with Hootsuite Pro 2nd. And yourself?

— Ryan Biddulph | Blogging From Paradise (@RyanBiddulph) April 13, 2016
@Lisapatb Hi Lisa, I guess that today it would be TweetDeck. I use so many Twitter tools for different purposes, but I use TweetDeck a lot.

— Ron Sela (@ronsela) April 13, 2016
— Ron Sela (@ronsela) April 13, 2016
RT @Lisapatb: @blogboy2 Mike what is your favorite Twitter tool to use today? < Hootsuite 🙂

— Mike C (@blogboy2) April 13, 2016
@Lisapatb depends on what the use is. Hootsuite streams are great for organizing your feeds, engagements, and lists.

— Ross Quintana (@Ross_Quintana) April 13, 2016
Twitter X Tools Updated
Without the use of some apps or tools, it's like tweeting in the dark. You can't see what you are really doing or the results your tweets may be achieving. I believe that is why many new users quit right after they sign up for Twitter.
A little tool here and there will certainly make the Twitter experience a lot more fun and tangible. It will be like you turned the lights on while driving at night. I hope you have enjoyed this updated post.
Bonus Twitter Tip of the Day:
A5: This is my "secret sauce" for growing your Twitter following. Try it & let me know how it works out. #BufferChat pic.twitter.com/sRkNzQIXLe

— Madalyn Sklar (@MadalynSklar) October 7, 2015
Conclusion of 7 Tools For X
What are your favorite tools or apps today? Are you using your own Twitter analytics tools or any Twitter unfollow tool? Do you use them daily, weekly, or monthly?
I'd love to know more in the comments below. Don't forget to get my eBook on the basics of how to tweet and thrive below.