Harness the power of Triberr to skyrocket your blog's visibility and engagement! Take advantage of its many features, such as Triberr reader –  reading blogs from a variety of sources while also connecting with other bloggers. It can be tough at first – investing time in sharing without getting any reciprocation.
However, it will lead you towards major results like increased website traffic if you keep going. Unlock even more value by using Triberr for optimal blog consumption too!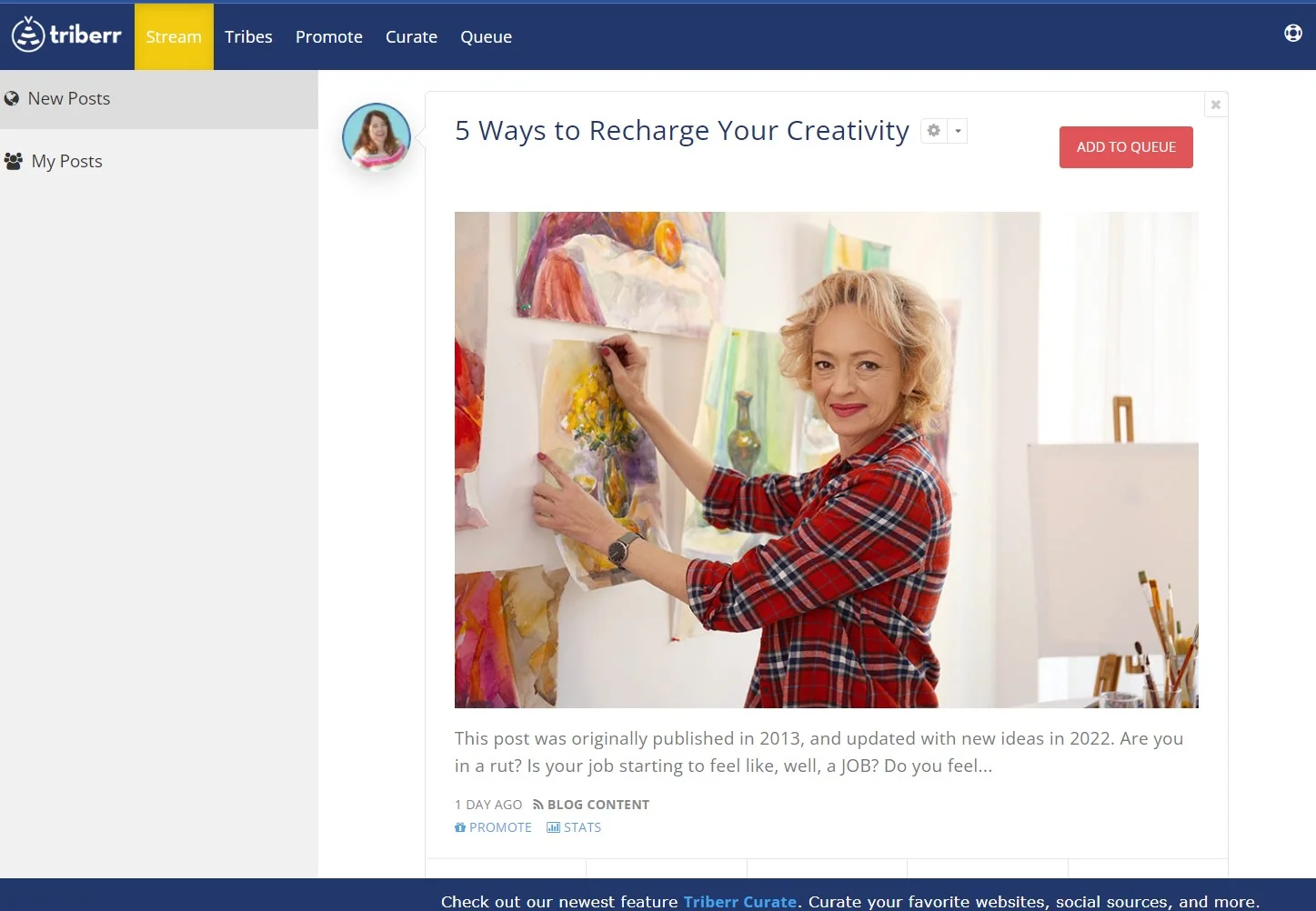 Triberr Reader
It's easier than ever to become part of tribes with invites and you no longer need those bones. The old bones are gone. Simply click on visit and decide if you want to be part of that tribe. Check out the tribe's activity and members easily. If you don't like it you can ignore it. I now belong to 55 tribes with a reach of 42 Million.
However, I do go back and occasionally clean some of the groups up if they are not active or the content is irrelevant. I want great content in my Triberr reader to read, discover and share over on Twitter.  
Some Great Tribes To Follow & Be A Part Of
Bloggers Roadmap Tribe – This one is by Tim Bonner and has many of my favorite bloggers in the tribe. There are 31 members in this vibrant tribe of bloggers.
Blogger Beat Central – This one is chuck full of informative bloggers by Mark Hari who is an active blogger on Triberr.
Blogging Wizards – A tribe that focuses on internet marketing, SEO, social media, and blogging by Adam Connell.
Ileane Smith's Blogging Tribe – I just got the nudge of this one today and love it as Ileane is one of my blogging mentors. She is starting with 19 members but I can see this one growing very large soon.
SEM and SEO News Tribe – A great informative tribe on SEM and SEO – what else right? Rameez Ramzan is the chief of this tribe.
All Things Pondered – By David Snape. This tribe is a varied tribe with health topics and business tips along the way in a family-friendly atmosphere. All topics are welcome at this tribe.
My Tribes For Your Triberr Reader
You may also follow or join my tribes Build A Tribe which covers tips and tricks on blogging, writing, SEO, and social media. My other tribe is  Inspiring Bloggers with topics about your blogging.
Triberr Reader
You can see how Triberr can be a Triberr Reader by going through the tribe's activity with the reading blog after blog on various niches. However, you can spend hours there searching and reading blogs on topics you want to read on. There are now 37+ categories of groups to check out.  There has got to be at least one for you.
6 More Reasons to Love Triberr!
You can use Triberr as a reader.
It drives lots of traffic to your blog.
You get to know like-minded bloggers.
Explore new blogs and connect with new bloggers.
The owners are always available if you have questions or technical questions.
You can make money via their new Triberr campaigns. If you have a business you can run a campaign there or if you are an influencer you can make money doing the campaigns for companies. I see a new one there for Godiva as I'm writing this post today. You can spend as little as $5 or as much as $15 per campaign with this blogging tool.
Your Turn On This Blogging Tool For Bloggers
 Are you using the Triberr reader as a blog reader? Do you engage with others on the network? I'd love to hear more about your experience using this blogging tool today in the comments below.