Have you thought about how to start an SEO company recently?
An SEO company is a company that helps businesses get their websites or blogs to rank higher in search engines. High rankings usually translate into increased website visitors if the visited page is properly optimized to convert.
Hence, a larger percentage of these website visitors end up becoming paying customers.
Starting Your Own SEO Company
Like any other business, starting an SEO company is not that easy. An SEO company has its ups and downs.
However, the fulfillment and the profitability of the company, once it gains ground, is something that will inspire you. It drives you through these challenges.
I have done the heavy lifting for you and compiled a breakdown of the various steps which you need to take if you are thinking about starting an SEO company. These will act as useful pointers.
These steps can help you significantly reduce the trial and error phase.
These tips will also help you gauge if starting an SEO business is the thing for you. If it is,  it will give you beneficial tips on how to start and run an SEO company. Many people do not have the time to do their own SEO.
These tips will also help you gauge if starting an SEO business is the thing for you. #SEObiz
Click To Tweet
Choosing a Brand Name for Your SEO Company
Your brand name is what the clients will use to identify your business. Go for something which is memorable, descriptive of the nature of the business, and short. You need to be careful at this stage. Choose something which you will not need to change in the coming years.
Remember this is the name that clients will associate with your business. Thus changing it may mean that you will have to engage in new promotion projects to get this new name stuck in the minds of your clients. It's hard enough to build a brand as it is. The last thing you want is to have to build it twice.
The nature of your business may be a sole proprietorship or even an LLC (Limited Liability Company). I would recommend that you choose LLC since it protects your personal assets from loss in case of bad business debts or even court cases.
Your company name may double as your brand name or you can choose a different brand name and register it under your company. If you are planning to create different brands under the main company name, then it's advisable that you register a separate brand and link it to your company.
Before applying for company registration, ensure that the domain name is available. Preserve at least several domain suffix names such as .com and .org to ensure that nobody else operates a website that has a similar name to your business brand.
Building Your Website
With the arrival of CMSs (Content Management Systems) such as WordPress, Drupal, and Magento, it's easy to build a website these days even when you don't have any coding skills. The most popular CMS is WordPress with 27% of all websites on the internet now being powered by WordPress, which is huge.
When designing your website in WordPress, you can install different themes to change the appearance on the front end. There are thousands, if not millions of free and paid WordPress themes available.
You can go for a free theme, but the drawback of the free themes is that their design is not quite as stunning as paid ones. The creators have a tendency to leave their logo and a link back to their website in the footer area.
This can make your website look a little bit unprofessional and tell everyone that you used a free WordPress theme. With a few basic tweaks on the footer.php file of the theme though, you can remove these annoying footers and put them in your custom footer.
Premium Themes
With that said, I would strongly advise you to invest in a premium theme from somewhere like ThemeForest to give your company a very professional look. Remember, your website is your storefront and if it doesn't look inviting then people will move on pretty quickly.
You can buy premium themes for around $50. You'll soon make this back if you are serious about your business, so there's no excuse for being cheap.
Remember, your website is your storefront and if it doesn't look inviting then people will move on pretty quickly. #onlinebiz
Click To Tweet
Custom WordPress
If you want something more custom and unique to your business, there are many WordPress developers out there who can create something awesome out of these themes. WordPress developers have a deep understanding of how WordPress works and know how to customize the appearance and functionality of the theme to make it unique to your business.
If your budget is limited but still you want something that looks professional and trustworthy, purchase a premium theme. Then, have a programmer make some changes to it. That is a great way to get a professional-looking website on a budget.
This prevents having to go to the expense of having an entire website designed and coded from scratch.
More on Premium Themes for Your Local SEO Company
The premium themes are preprogrammed with shortcodes and features, so if you would like to tackle customization yourself, it's not that difficult. You can follow the documentation that comes with these themes to achieve your final design.
If you are looking for something completely unique, with lots of custom functions, and don't mind spending the money, then the best choice for you is to hire a developer to code the website from scratch.
You will spend more but you will get something completely unique and tailor-made to match your specifications. However, this option will take a lot longer than purchasing a prepackaged theme and using it as a template.
Content For Your Website From An SEO Company
A website is never complete without content. If you are not a copywriter, it's wise to hire a copywriter to help you develop compelling and engaging sales copy for your website. It should tell the visitor how your services can help them how to increase their search engine visitors and rankings, as well as represent your business as an authentic and credible SEO company.
In addition to your services pages, you should ensure that you have the basic website pages such as the "Home" page, the "About" page, and the "Contacts" page. You will also need to create a "Privacy Policy" and "Terms and Conditions" pages as they will go a long way in protecting your company from legal issues.
A website is never complete without content. #contentmarketing #seo
Click To Tweet
How to Integrate Payment System On Your Website
There are many different payment processors that you can integrate into your website. Most of these systems are automatic and need no human intervention for them to process transactions.
My favorite payment processors are PayPal and Stripe. PayPal is good as it has a lot of users and is recognized as a trusted payment processor. Stripe is also a very popular payment system as it has a simple interface with transparent pricing.
Integrating these payment systems on your website isn't as hard as it seems. If you chose the WordPress CMS when building your website, you will find plugins that you can use to verify and process payments.
Payment Systems for Your SEO Company
These payment systems also have an API (Application Programming Interface) that can communicate with your website plugins if the plugin has been designed to do this. It's usually just a case of entering an API key into your plugin to tell it which payment account to process payments.
APIs offer programmers a lot of flexibility which also allows them to develop their own tailor-made payment apps from scratch. If your website does not run on WordPress or you wish to have a tailor-made payment system, then getting a qualified API system developer will be the best option for you.
Hiring a developer isn't the only way to set up payments though, there are plenty of ready-made solutions. If you don't have the finances to fund custom development, you can use a shopping cart system like WooCommerce that already has PayPal, and Stripe integration built into it.
Again, it would just be a case of entering a few details such as your API information into the system to tell it to communicate with your Stripe and PayPal accounts.
If your website does not run on WordPress or you wish to have a tailor-made payment system, then getting a qualified API system developer will be the best option for you.
Click To Tweet
Social Media Promotion
In order to promote your business on social media, you will need to create company accounts with the leading social media platforms. You should have a Facebook page and a Twitter profile as a bare minimum.
Depending on your marketing strategy you can expand your social media presence by creating accounts with even more social media platforms such as Instagram, LinkedIn, and Pinterest.
You should take a value-based approach when promoting your company on social media. Remember that those who use social media platforms are not there to buy and be sold to. They are there to connect with friends, learn tips, and catch up on the latest social media trends.
Pack your message in a value-loaded post to increase your engagement. To save time be sure to use a social media management tool for scheduling and tracking like Agorapulse.
Another method that has been proven to work is by prompting the prospects to give you their email in exchange for a freebie. This gift could be an e-book, a webinar, or even access to certain parts of your website with valuable information.
You can then send out a newsletter and autoresponder sequence to provide them with useful information and eventually sell to them once they have gained your trust.
Remember that those who use social media platforms are not there to buy and be sold to. #socialmediatip
Click To Tweet
Paid Advertising Campaigns
If you run a paid advertising campaign to promote your SEO services, either through social media ads or search ads such as Google Ads, it is important that you manage the campaign closely to ensure that it performs optimally and you see a return on your investment.
It is very easy to spend a lot of money fast with paid advertising and not see an ROI if you are not careful.
When creating ad campaigns, create several different ads before even launching the campaign. Monitor the performance of each separate ad campaign and progressively remove those ads which are non-performing and allocate such budget to those ads which are delivering results.
Fixed Budgets
It's also quite crucial that you allocate a fixed budget to your campaigns, start small, and increase the budget as you gain results. By starting with a small budget and progressively increasing this budget, you will easily gauge the effectiveness of the whole campaign.
Then you will be able to determine whether to continue or stop the campaign if it isn't profitable.
SEO Outsourcing
Hiring permanent staff, especially when you are starting out is quite risky. At this early stage, you are usually not sure how the business will perform. It is therefore wise for you to outsource most of the work, especially the tedious link-building tasks, to a company that specializes in link-building.
Outsourcing is not only affordable, but it also helps you quickly connect with industry experts and get quality results. There are companies out there that have spent years building relationships with bloggers.
You can leverage that to your advantage for a reasonable price and start getting solid results for your clients from day one so you can grow fast.
You can use hiring websites like Freelancer and Upwork to find link builders to help you but don't just jump into hiring the cheapest and the first freelancer you find. In my experience, I've found that you often get what you pay for when it comes to link building.
If you are looking at hiring a freelance link builder, speak to many different candidates, interview them, and look for previous work history, references, and so on before deciding to hire someone.
Recommendations
My personal recommendation would be to use an established link-building company like Linkredible that specializes in supplying white- label SEO services for agencies.
They have a team of blogger outreach experts that have spent years building relationships with bloggers so you can be sure to get quality links from real, high-authority websites.
Outsourcing is not only affordable, but it also helps you quickly connect with industry experts and get quality results. #biztips
Click To Tweet
Communicating with Clients
Communication is key to ensuring that you build a healthy relationship with your clients. You should establish a method of keeping in touch with them to solve queries and complaints whenever they arise.
As your business grows, you will need to create a specialized team to manage your clients. It's a good idea to have things set up correctly from the start so you can easily scale your team.
A great way to professionally manage your client communication is to install a support ticket system on your website. You can also install a telephone line or an online live chat system. These will help to communicate with your clients if they require a faster response.
Brand Building Through Blogging
This guide could never be complete without mentioning the importance of creating a blog to help you build your brand. If you chose WordPress for your website, this is also the number one blogging platform used by bloggers.
You have everything you need to get started. Your blog's design will match that of your sales website. That way you don't need to install a separate blog on your website.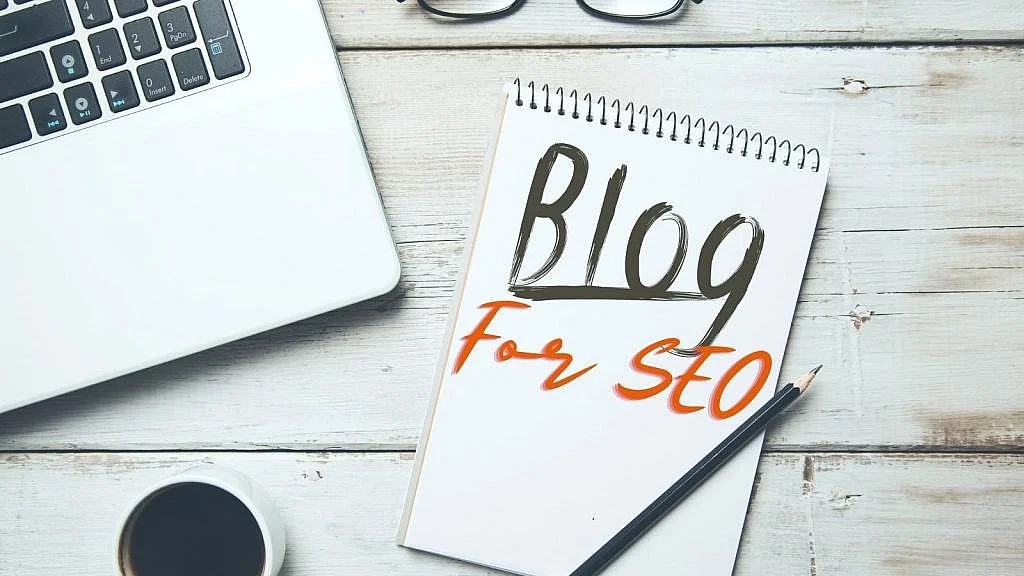 Your goal should be to provide value to your visitors through blogging and the content that you put out. Address their pains, their challenges, and offer to help them whenever they need your assistance.
By doing this, you will gradually grow your trust with prospects and authority in the marketplace. This makes it easy to convert these prospects into paying clients.
You can leverage social media to get more from your blogging efforts. You should create a Twitter profile and a Facebook profile for your SEO company.
Your goal should be to provide value to your visitors through blogging and the content that you put out. #bloggingtips
Click To Tweet
Result Tracking and Analysis For Your SEO Company
You can never know how your business and those of your clients are performing without having a tracking system in place. A tracking system will quickly analyze the business performance and highlight the essential indicators which need to be worked on.
It is also key in proving to clients that your SEO services actually bear fruits.
You can start with simple and free analytics and tracking software to track your client's results. Then, you can use Google Analytics to track incoming traffic for each of your target keywords.
Finally, you can use WordPress plugins like Yoast SEO to analyze your on-page SEO. This will make sure the content is properly optimized for the keywords being targeted.
Tracking Ranks
You'll also need to track your client's keyword rankings on Google. There are many different keyword trackers out there to choose from. Some of them are quite expensive if you are just starting out. A great simple and affordable rank tracker is Serpfox.
It has a clean and simple interface and has everything you need to track your client's results. It doesn't have all the bells and whistles that come with more advanced keyword trackers that have a $99/month price tag.
As time goes by, you will need to invest in more sophisticated tracking systems like Ahrefs to help you keep track of your results.
Conclusion of Starting an SEO Company
Starting an SEO company is doable once you learn the fundamentals of how such a business is operated. Many new SEO companies start out by outsourcing their link building. It pretty much cuts the workload by half or more.
You'll vastly limit the speed of your company's growth along with the quality of the services you provide. So try not to be a control freak and learn to outsource tasks.
Use the above pointers and combine them with your personal strengths to create your SEO company.
However, the fruits of success far exceed the difficulties in the long run. If you want to sell your SEO company be sure to check out these tips too!
Have you thought about how to start an SEO company?  I'd love to know more in the comments.