You have a passion for blogging, and you started a blog. Now it's time to prove your expertise by dishing out valuable content. But unfortunately, you run out of content ideas, right? It's not easy to consistently brainstorm blog post ideas.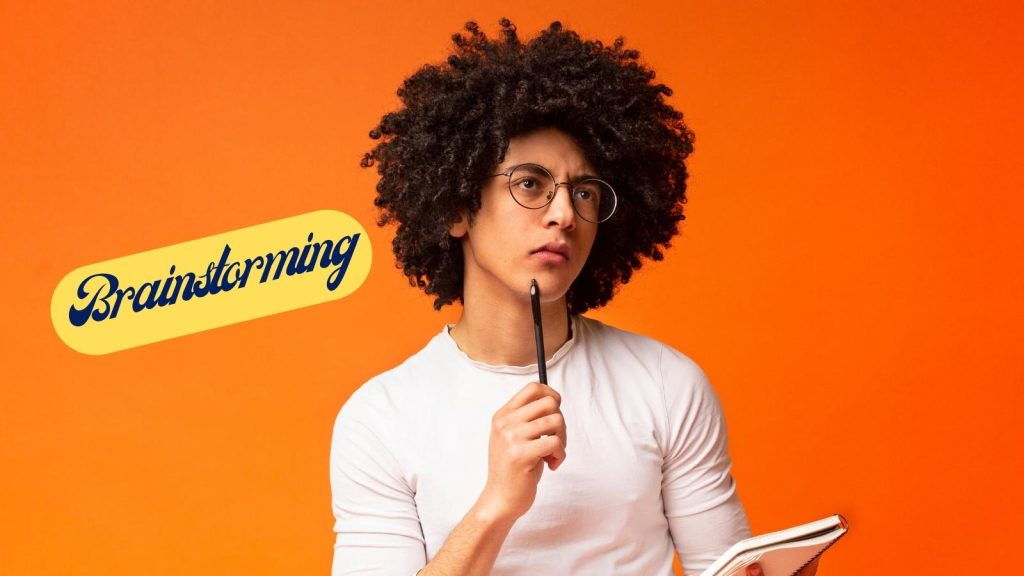 Is that you, my friend?
How To Brainstorm Blog Post Ideas In 8 Superb Ways
Good, you've found a solution, I will show you How to brainstorm blog post ideas in 8 different ways!
The 8 Ways How to Brainstorm Blog Post Ideas:
1. Look Inside the Forums
One of the best places to find great content ideas is forums. The majority of forums have questions left unanswered. As a content creator, you must learn to utilize niche-related forums.
Browse your niche-related topic, find questions that are gaining much attention, and list them down on your WordPad or Evernote.
The juicy part of forums is that you will have enough trending topics to add to your list. People ask questions on issues they are currently battling.
I am an active member of the Warrior Forum, I contribute there and also find hidden content ideas. See blog topics I encounter just by scrolling through.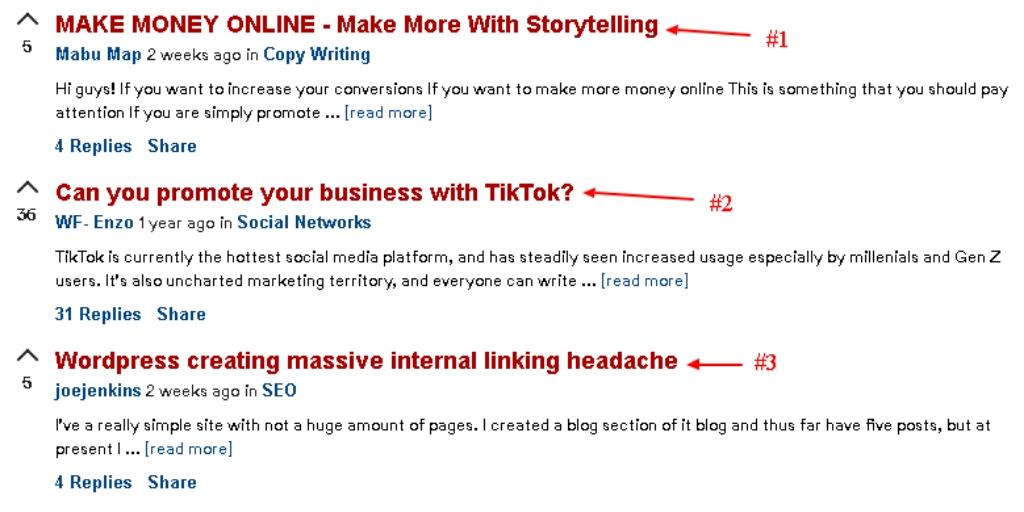 Those are ideas I will have spent quality time brainstorming. You can utilize any forum of your choice. Warrior Forum and Quora are suitable for a start. Just make sure to browse your niche, regardless of the forum.
The majority of forums have questions left unanswered. As a content creator, you must learn to utilize niche related forums. #bloggingtips
Click To Tweet
2. Use Google Auto Suggest
Google is the biggest search engine. Guess what? They have an underutilized tool you can leverage to uncover many blog post ideas. It's called "Google Auto Suggest."
It's easy, start typing a few niche-related words, Google will provide you with ideas you probably would not have thought of.
For instance, Typing in "weight loss," Google did me a solid by suggesting the most search topics around weight loss.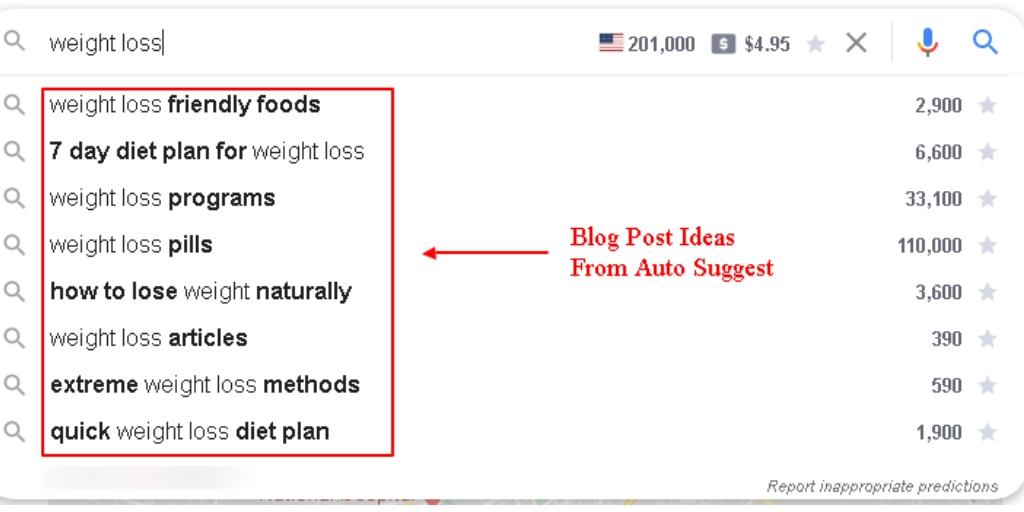 Google Auto Suggest will provide you with topics people are continuously searching for. You don't need to check if it's trending or not. Once the suggestions are Google, They are topics worth writing on.
3. Repurpose Old Content
Repurposing old content is a trend among pro bloggers, newbies too can leverage it. It simply means re-using old content to create a new one.
It's easy to re-produce content in another format. I am not talking about duplicate content (that's a spammy practice).
Assuming you publish a post on "how to promote your business on Twitter," You can repurpose it to brand new content, "13 Twitter tips for Marketers." The idea of repurposing content works well for creative minds.
That doesn't imply that you overthink it, but it's possible to use a single content in more than different 8 ways. You just have to be creative.
Repurposing Old content is a trend among pro bloggers, newbies too can leverage it. #bloggingtips
Click To Tweet
4. Take Notice of Blog Comments
Another way to brainstorm blog post ideas is to pay attention to blog comments.
Blog comments play a significant role in every blog. They are indications that your content solves readers' problems. However, if properly utilized, they can serve as a means of gathering hundreds of content ideas.
As a content creator, you must engage and respond to comments on your blog. It helps to understand your readers better. You will also get blog topic suggestions that can improve your blog's value. 
See the below screenshot: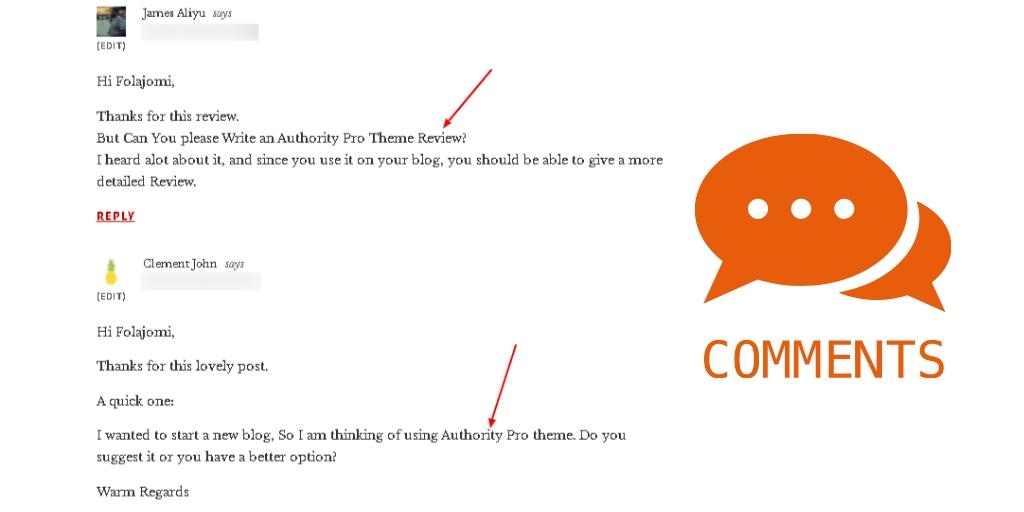 I noticed these comments from my readers, persuading them that I write an Authority Pro Theme Review. It's a topic I otherwise will never consider (not anytime soon). Comments are powerful; they do a lot and should be considered a vital blogging tool.
5. Steal Competitors' Ideas
Even Pro bloggers steal content ideas from other bloggers. It's a legit act in as much as you are not stealing their content (you don't want to face copyright issues). One way to do it correctly is to link back to the original content. They will appreciate that!  
You probably have top bloggers you admire in your niche, browse through their blogs, and list down topics you can cover extensively.
There is no use in this approach if you will end up producing mediocre content. You are racing with top bloggers. You must make sure your content is not sub-standard.
6. Turn a Poll into a Blog Post
You can conveniently run polls from your blog or social media. It's more comfortable to do on social media platforms and can easily reach tons of people in no time.
One of the best ways to brainstorm blog post ideas is by using polls. Do you know how to use a poll to get your next post idea?
Just ask users to vote, turn their results into flexible data, and publish it, so they read. Lisa does this frequently on Twitter whenever she wants to release a new blog post.
Do you like seeing SHARE buttons before AND after content OR just after content?🤔👩‍💻

#sharebuttons #socialmedia #contentmarketing

— Lisa Sicard 👩‍💻 (@Lisapatb) May 15, 2020
However, a more relatable example is asking users to vote, which they prefer between Google Meet and Zoom. It's a trending topic at the moment.
They will also drop comments backing their vote. Now, a new blog post idea just landed on your list.
So I did a new Google meeting yesterday. It doesn't compare to Zoom in quality or with options. #zoom 💻📺

Has anyone tested the new Facebook rooms? 🧐#videomeetings

— Lisa Sicard 👩‍💻 (@Lisapatb) May 16, 2020
7. Leverage a Content Idea Generator
This is the most straightforward approach. First, type in seed keywords. Then, a content generator tool will help you unleash hundreds of ideas you can capitalize on.
The most recent free tool I use is Ubersuggest, looks like it's now a premium tool. Although, you can still get a few content ideas with an open plan. Register with your Google account and you are all set to get started.
Head over to Ubersuggest, Click the tab for content ideas. Let's run an example with "Content Marketing." See below the list of excellent post topics it generated: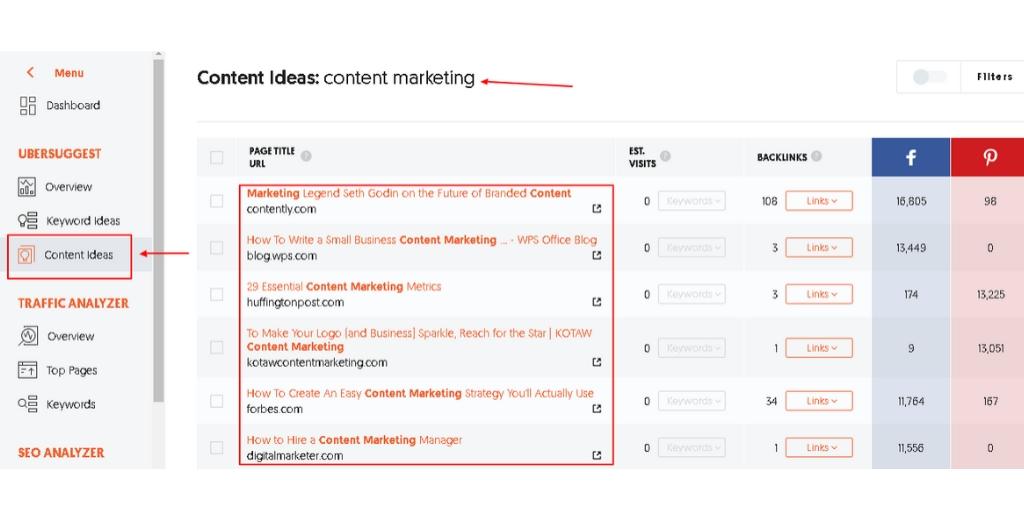 By all means, you should filter the topics and remove unrelated ones. Then, create a neat topic list and add them to your content calendar.
A content generator tool will help you unleash hundreds of ideas you can capitalize on. #contentmarketing
Click To Tweet
8. Leverage Answer the Public
Answer the public is more like a keyword research tool to get an unlimited amount of keywords by inputting a seed keyword. But it can also serve as a tool to brainstorm hundreds of content ideas.
For instance, Assuming your niche is about sales funnels and you are stuck with zero content ideas, you can head over to Answer the public and input 'sales funnel', you will get tons of content ideas you can save for the future.

If you are a content creator and you are not leveraging this tool, then you are missing out on tons of content ideas your competitions are already milking.
If you did an experiment and you get amazing results, you can turn that story into a case study. A case study is a more popular way of summarizing how a certain success is achieved. Since your audience is interested in getting solutions to their problems, a case study will go a long way to intrigue them.
The idea of a case study is an easy one, you need to document everything you did to achieve a certain result and turn it into an interesting case study (usually in a storytelling pattern).
For instance, If your audience cares about growing their Instagram followers and you recently gain over 1000 followers in 7 days. You can write a case study to show how you achieved that.
The content title will be like 'How to gain 1000 Instagram followers in 7 days [Case Study]'.
Check 'People Also Ask'
'People also ask' is an easy way to get tons of content ideas people are already searching for. If you search for a keyword on Google and scroll down a bit, you will see a lot more content ideas that most sites are not targeting (they are easy to rank for).
Since Google's algorithms listed those content ideas themselves, you can be sure they are topics people are searching for. For example, if you search 'dog' on Google, you will see a few ideas of what people also search about dogs in the 'people also ask' section.
"Generating blog post ideas is the first side of the coin, you need to also plan the content creation. It makes sense that you use a content calendar tool to plan your content so you know your next line of action.
If you do not have a solid strategy for your content ideas, they might vanish into thin air."
Conclusion of How To Brainstorm Blog Post Ideas
Of course, blogging is like a marathon, not a sprint. If you get things right from unset, you have a higher chance of staying long in the game. I have just shown you how to brainstorm blog post ideas in 8 different ways and I hope you find them useful and take action.
Lastly, do you know any bloggers struggling with content ideas? Please share this content with them.
We'd love to know if you have more ideas to add to this one. Do leave a comment below and share it on social.
Latest posts by Folajomi Ballo
(see all)