Have you noticed your blog getting any less traffic in the summertime when the weather gets hot? The lazy days of summer will soon be upon us. Is your blog summer-proof?
Several website owners answered the question on Quora about summertime web traffic. Most website owners agreed their web traffic did decline during the summer months. They noticed the traffic drop beginning in May. Bloggers and ready get into vacation mode.
Blog Traffic Dips In The Summertime When The Weather Gets Hot
Several website owners answered the question on Quora about summertime web traffic. Most website owners agreed their web traffic did decline during the summertime when the weather gets hot. They noticed the traffic drop beginning in late May. Others commented it was in July that their web traffic began to drop.
Holidays like Memorial Day and July 4th are another time when web traffic may take a nosedive. Read on how you can summer-proof your blog and still have readers come and read your latest posts.
What Is It About Summer That Makes Us Lazier?
Summer weather may reduce both our attention and our energy levels. According to Discover Magazine, our brains do change in the summertime. It is a time of reduced productivity. Hence, when the sun is shining and the skies are blue people tend to think of leisure activities. They find it harder to concentrate on mundane tasks.
Likewise, any thought-provoking activities take a dive into hot weather. Studies from Harvard University and in Japan found similar patterns. On bad weather days, people tended to work an extra half-hour per day than on good weather days.
On good weather days, people were thinking about what they wanted to be doing instead of concentrating on work. Some call it Spring Fever. But it happens more during the summertime months.
5 Ways To Make Your Blog Summer-Proof In The Summertime
1. Pre-Write Your Blog Posts for Blog Summer-Proof
Have your blog posts ready in advance for the days when you are ready to shut down the computer. You may want to head to the beach or park. Or, you can get a blog post scheduler from co-promote to keep you on track. You never know when you will get sick as I did with Lyme one summertime. That summertime I did not post as often as I wasn't prepared.
2. Plan Time to Promote Your Blog
Save a little time each day to promote your posts and others. Remember the 80/20 rule. Only share 20% of your own stuff, the other 80% should be others.
For this reason, use a social media tool like Missing Lettr to help you schedule ahead. It will take the pressure off you on days that you just don't feel like it. For instance, the heatwave we are experiencing now makes us all just want to rest as the heat can wear you down and out.
3. Give Yourself a Break from the Blog
As a result, don't let yourself burn out this summer. Give yourself a little vacation and time away from online activities. You will feel refreshed and better able to get back into the groove.
Too many bloggers have quit over the years after getting burned out from turning out posts daily. It becomes too overwhelming and many just quit blogging altogether.
4. Post More Often to Make Your Blog Traffic Increase
Yes, of course, post more often. If you are posting more often Google will reward you with more traffic over time. Google will see that your blog is being refreshed and you know how much Google loves that more than ever.
Likewise, be sure to write a blog post your readers will love to read.
Some top bloggers, like Ryan Biddulph from Blogging from Paradise, even recommend blog posting several times per week. Ryan claims to post several times per week helps to build more traffic and thus generate more sales from the blog. Of course, as long as you can keep the quality of your blog posts up.
5. Mobile Ready Your Blog
Be sure your website is mobile-friendly. This is an important blog summer-proof tip.
Therefore, more people will be using their mobile phones to access your website or blog this summer. More people than ever before! At least 69% of web users today use mobile to access the internet. (via Comscore)
Notice below how many folks access the site here via their mobile devices. It's 55%, double the traffic from 2018 from mobile devices!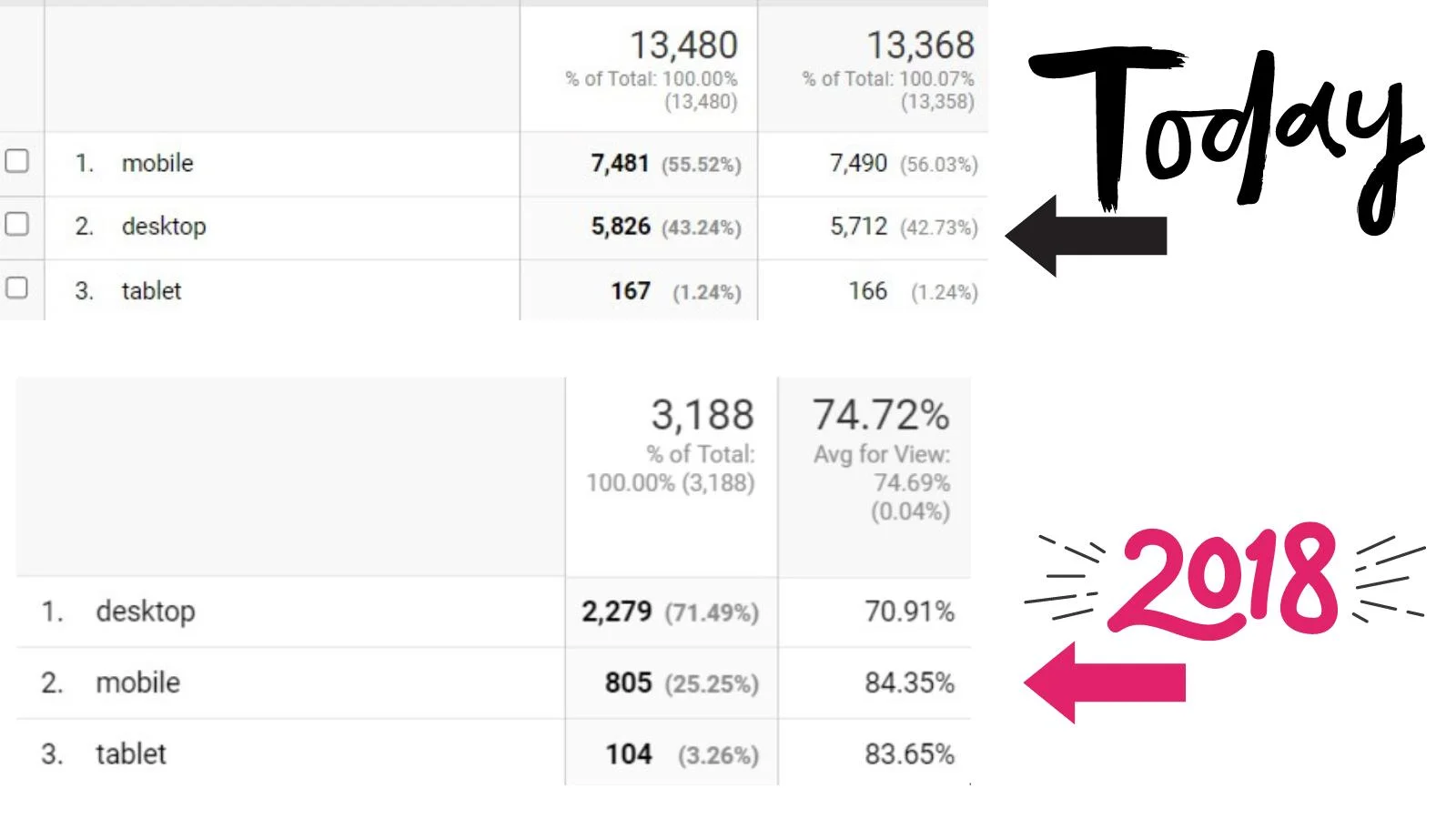 Does Mobile Make A Difference?
Finally, mobile devices have made a big difference in the summertime. You can see it all around you as you go about your daily activities. No matter where you are people are on their mobile devices. (Even when they should not be as they are driving!)
Did you know that the cell phone is the most quickly adopted consumer technology ever in the world? What an amazing stat. There are even more mobile phones than people in many countries today. That's a frightening stat to read.
Voice Search Ready to Ensure Blog Traffic In The Summertime
Last but not least, voice search is now gaining traction and getting hotter than ever before. Today 93% of all searches are done via voice per day. It is believed there are over a billion searches done a month via voice.
I've found that out myself with our new hands-free law and my Android phone. I'm always asking Google for this or that. (Hey Google!)
Does your website or blog come up with voice activation?  You can start with featured snippets to get your site ready for voice. Forbes explains in this post how what you should know about voice activation.
Now is the time to get working on your featured snippets and be found via voice search before summertime is here.
Your Turn On Your Summer Blog Traffic
What are you doing to make your blog summer-proof this year? What would you add to the list today? I'd love to hear about in the comments below.