How can you create an effective content strategy for your small business blog? What content strategy for the web are you using in growing your online business?
One of the top three content marketing strategies for B2B marketers is blogs. That is why 90% of marketers are using content marketing for business growth.
In fact, according to research, 78% of marketers say content creation is the primary contributing factor to their consistent successes.
Source: Content Marketing Institute
High-Quality Content Focus
Notice that what is vital to these marketers isn't the ability to create numerous content pieces, but to create high-quality and more efficient blog content that adds value to the reader.
Having to produce high-quality content can be your business savior. It is a surefire way to build brand trust and credibility with your target market.
Although it can be time-consuming, from the research process to developing the actual material, the efforts you put into your blog are worth it. These steps will also help you build a loyal community around your blog.
But, how can you create a sustainable content strategy that will allow you to produce blog content that stands out from the noise?
In this article, you will learn six practical steps to create an efficient content strategy that will boost your (ROI).
1: Find Your Ideal Reader
Who is your ideal reader? Do you know your target audience? These are the people you're targeting to bring to your website regularly to engage with your content. For example, your buyer persona could be:
First-time moms
Work-from-home moms
Beginner freelance writers
Newbie bloggers
Content managers
Business executives
Etc.
Your ideal reader can be anybody depending on your niche market. However, what matters is your ability to identify your perfect reader and create content that connects with your audience.
Your ideal reader can be anybody depending on your niche market. #contentstrategy
Click To Tweet
Why It Matters To Your Content Strategy
It matters because providing materials that resonate with your audience is a critical element that will enable you to build lasting relationships with your readers. It will become easier for them to buy what you offer.
If you can find your target audience, you will be able to identify their interests and needs. You will also learn how and where to reach them with your posts at the right time. And when to figure that out, you will be better equipped to produce blog content that works for your business, your audience, and your marketing objective.
In other words. It is a component of a successful content marketing engine that can grow your business several folds. Your buyer persona can quickly detect that you're an authority in your industry.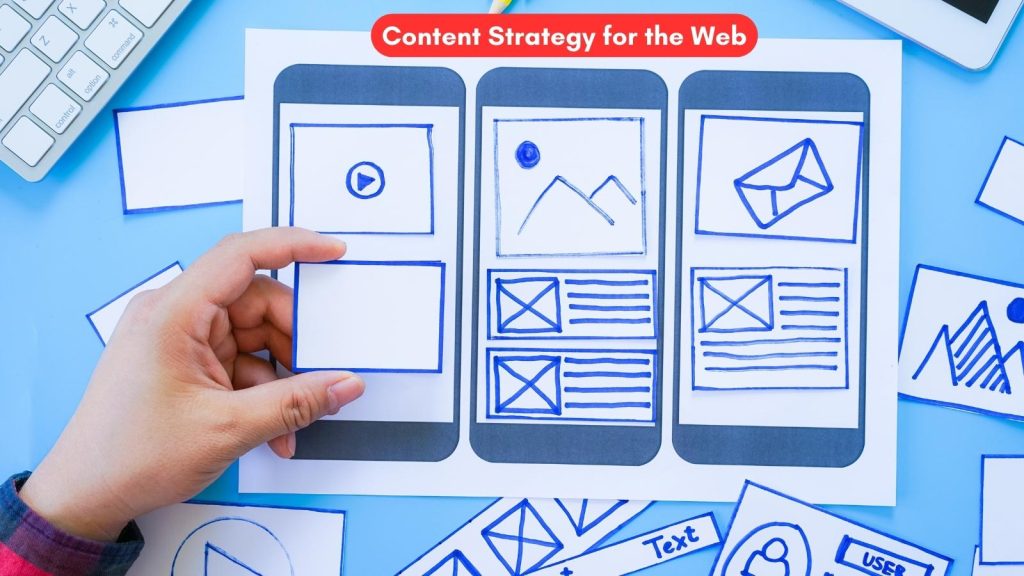 2: Establish Your Content Objectives
Why are you creating blog after blog? Why are you spending time and energy producing new blog posts and other content pieces? The answer relies on your blogging and content marketing objectives.
So to make your content marketing strategy work for your business, you need to establish your goals. Your content objectives will enable you to come up with a sustainable content marketing plan that works.
Even though creating brand awareness is the most common goal for marketers, producing new blogs could also be your aim for investing in blogging.
Fresh Content
Why is that so? Because Google loves fresh blog content. Moreover, it will help to present you as an expert in your niche since your audience and prospective clients find value in them.
So what is your target? What do you want to achieve with your content? Be clear about your intent for a successful content marketing strategy.  The following are better ways to start:
Create brand awareness
Generate more leads
Nurture blog users into leads
Convert site visitors to leads and paying customer
Grow email list
Drive more web traffic
All these are vital goals you can set for your business. It gives you a clear view of what you want to achieve and how to accomplish it. However, don't make the mistake of setting targets that are not realistic.
Set attainable goals. It will help to make your small business great.
3: Create A Stable Content Strategy
The reason for failure in content marketing for some brands and small business owners is the lack of a solid content strategy. The report by the Content Marketing Institute and MarketingProfs mentioned above also revealed that only 37% of businesses have a documented content marketing strategy.
It means that 63% of others do not have a documented content strategy. But you need a viable content strategy for your business blog to enable you to produce purposeful, engaging, and unified content material consistently.
You have to create blogs that will attract your target buyers. In other words, your content marketing success depends on having a stable scheme to help you create the right content for the right people.
But what is a content strategy, you may wonder.
What is Content Strategy?
Marketers have described the content strategy in several ways. According to Rahel Anne Bailie:
"Content strategy deals with the planning aspects of managing content throughout its lifecycle and includes aligning content to business goals, analysis, and modeling. It influences the development, production, presentation, evaluation, measurement, and sunsetting of content, including governance." 

— Rahel Anne Bailie, Co-author of Content Strategy.
On the contrary, she noted that a content strategy is not about the application. Instead, content development, management, and distribution are the strategic consequence of content strategy which you need to apply for optimal results.
Hence, when compared with the concept of other thought leaders, content strategy boils down to the planning, development, production, management, and distribution of content. And your primary aim is to reach your targets with magnetic materials.
As stated earlier;
78% of respondents say creating high-quality content is key to their consistent success.
72% of marketers admit that developing and adjusting their content strategy is the primary factor in their marketing successes
50% of b2b marketers declared that content distribution is paramount to their success.
So your content strategy must include the process of content distribution and brainstorming new topic ideas. It will help you avoid the challenges of writing a well-researched marketing article.
You don't want to cover the same subject over and over.
Therefore, without a solid content strategy in place, your content marketing campaign will fail.
So your content strategy must include the process of content distribution and brainstorming new topic ideas. #contentmarketing
Click To Tweet
4: Develop A Content Editorial Calendar
A content editorial calendar provides you with a platform to map out your mind and organize your thoughts. In most cases, the timetable works as a channel of communication with team members.
It will save you time and energy when developing content for your blog or clients.
Speaking of team members, if your brand has a content team, it should include editors, content planners, and creators. So with an editorial calendar, team members can quickly view and fulfill their duties on the fly.
At the same time, they can see what is up for the coming weeks or months as you plan your content strategy for the web.
An Example
For example, I'm a contributor to Neal Schaffer's blog. He uses a Coshedule editorial calendar to communicate with the entire content team. I receive updates on new projects and upcoming undertakings and view them on the calendar.
It lets me and other team members keep up to date and accomplish tasks swiftly. An editorial calendar is predominantly used to manage content creation, publishing, and delivery across different marketing channels.
Note: Content calendars can be set up in WordPress with the help of plugins. Though there are decent free options available, none can compete with a premium, but affordable choice like Strive.
I highly recommend it!
It will save you time and energy when developing content for your blog or clients. #contentcalendar
Click To Tweet
For this reason, your calendar should outline the following:
Responsibilities of each team member
Dates for creating and delivery of blogs
Content distribution strategy and channels
Lists of blog content to publish at any given time
Blog materials to develop for your website or clients
5: Apply SEO and Keyword Research
Are you applying SEO tactics and using the right keywords to optimize your blog content for search engines? Selecting and using the right keywords is the backbone of an effective Search engine optimization (SEO) technique.
It will increase your content visibility and search rankings. The higher you rank in searches, the more profitable your website will be. However, you'll need to use the right keywords your audience is searching on Google.
In that way, you will enhance your chances of appearing on top of search engine result pages (SERP). You'll also create a formidable status for your brand and position yourself in front of the right audience.
Several free and premium keyword tools can help you find the best keywords and keyword phrases for your blog posts.
Ubersuggest
I suggest you start with Ubersuggest. Neil Patel's Ubersuggest is a free SEO keyword software that shows you everything about your targeted keywords terms. It will reveal the following metrics:
Keyword search volume
Keyword SEO difficulty
Related keyword phrases with high search volume, but less competitive
Cost per click (CPC)
Competitors using the keywords
For example, I searched for "content strategy" using Ubersuggest, and here's my result:
Here is the keyword overview. From here, you can see the monthly search volume, SEO difficulty, paid difficulty, and the cost per click (CPC) for the keyword terms.
Scrolling down a little, you will see related search terms that people are continually searching online. Next, it shows your competitors who're ranking for those keywords.
It helps you make better keywords decision to rank your site higher on Google. Nevertheless, you can also use Google Trends to discover trending topics in your niche and subregion.
The idea is to assist you in creating blog posts that beat the competition and drive massive web traffic with the right content strategy for the web.
6: Create Different Content Types
Research reveals that blog posts are among the top content marketing types that drive tons of web traffic. However, the study also shows that other types of blog content, such as videos and infographics, are potent forces in the content marketing industry.
For instance, research indicates that:
Websites that include videos on product pages increase average order value (AOV) by 70%.
Website users have an increased chance of 64% to 85% to purchase after watching a product video.
Over 85% of marketers who responded to a survey indicated that videos on product pages increased conversion rates significantly.
Creating videos is not rocket science. Here is how to produce the best marketing videos for your clients and audience.
Source: Video Commerce
Video Content Strategy For the Web
Additionally, HubSpot also found that 55% of consumers want to see more video content than other types of content. It further reveals that more than 70% of worldwide web users prefer to watch videos on social media sites. And 90% of them will share the videos they watch with their followers.
Creating videos is pretty straightforward, but ensuring you have high video production quality can make the difference between you and your competitors. Video content is in demand, but as there is so much content out there, you need to find the best ways to set yourself apart.
Similar findings can be said about infographics. So ensure to create various types of blog content to drive more traffic and conversion. These steps will enable you to build a personal connection with your audience since you cater to their needs.
Wrapping Up
The steps above for your content strategy for the web are practical. Apply them and keep testing your results. Growth is a gradual procedure, so you may not see immediate progress.
Nonetheless, you cannot have success in content marketing without a viable content strategy in place.
Your content strategy for the web is the foundation of your online success. What have we missed? What tips can you recommend to your readers? Please, tell us in the comments below!
Latest posts by Moss Clement
(see all)