The ever-growing presence of social media platforms and online communities and their effectiveness in lead generation has improved lead generation for businesses. Although a crucial lead generation tool, social media is often noisy, and some brands struggle to leverage its marketing benefits. To maximize your lead generation via social media, you must cut through the noise to understand and meet your target audience's pain points, preferences, and expectations. An effective and productive way to achieve this is by adopting social listening. This strategy effectively maximizes your social media presence and generates quality leads.
To help you generate unending leads from social media, I'll give you a comprehensive guide on how social listening can help you find leads and increase your sales.
Before that…
What Is Social Listening?
Social listening involves following social media conversations to know when, why, and where your brand is mentioned. It gives you insights into what your customers and followers say about your brand, products, and services.
Social listening helps you study and understand customer and prospects' pain points and enable you to provide solutions that'll win your customers' loyalty and prospects' conversion.
Businesses use social listening for different purposes, from monitoring brand mentions to curb negative opinions to measuring estimated marketing reach and customer research. One aspect many overlooks is how to use social listening to generate qualified business leads.
Social Listening Can Help You Find Leads
Social listening is a powerful strategy for finding qualified business leads for marketers. It allows you to meet your target audience at their low points (talking about their pain points, seeking solutions online, or lamenting a competitor's service). It also gives you insights to help you provide solutions to them, making it easier to convert them into paying customers.
With social listening, you can track your brand mentions and acknowledge or resolve positive or negative mentions accordingly. Listening to positive conversations about your brand allows you to accept the accolades and leverage the moment to promote your brand and gain more leads. It also lets you discover and address negative conversations before they hurt your brand reputation. By addressing the negative mentions immediately, you win the trust of your customers and prospects.
Let's evaluate how you can use social listening to generate quality business leads.
Social listening helps you keep track of what people are saying about your brand and gives you an opportunity to drive leads from such discussions. @positiveequator
Click To Tweet
11 Ways To Generate Leads With Social Listening
Here are some critical ways social listening can help you find qualified leads:
Track Brand Mentions
Social listening helps you keep track of discussions about your brand in the social media space. It shows you where conversations about your brand are happening, what is being discussed, and who is championing the discussions.
Entering these conversations when necessary helps you control the narrative about your brand and turn negative views around. It also helps you highlight your products and services and their benefits, which will, in turn, help convert followers to leads.
Conversations around your products or services will also help you improve your offerings to meet customers' expectations, generating more leads through quality service delivery.
Track Conversations About Your Competitor's Brand
Another critical way social listening can help you gain quality leads is by giving you insights into conversations about your competitors' brands. By listening to what your competitors' customers are complaining about or praising them for, you can improve your products and services to exceed those standards and make your competitors' customers consider switching.
If you already have superior products, social listening will help you know that and enable you to address the complaints of your competitors' customers in real-time, convincing them to try your superior products or services.
Social listening helps you monitor conversations around your competitors' business. You have the opportunity to swoop in and market to your competitors' unhappy customers.
Click To Tweet
Monitor Industry Trends and Hashtags
Industry trends and discussions help brands to attract quality leads with ease. Industry hashtags are often used when these trends and discussions occur, especially when they refer to popular or novel ideas.
Smart businesses use social listening tools to monitor these trends, develop marketing campaigns, and attract brand engagements and conversions.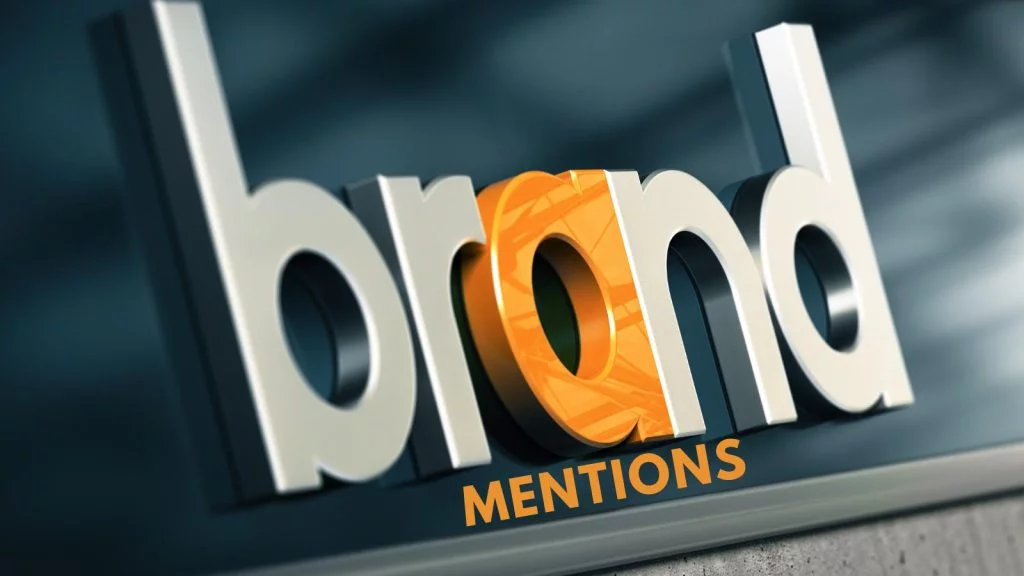 Monitor Industry Influencers
Industry influencers are valuable assets a business can use to attract more quality leads. When an influencer discusses a brand, it goes viral almost immediately, as they have many followers interested in the industry.
With a strategic and effective social listening tool like Brand24, you can monitor industry influencers to know when they mention your brand. This helps you discover influencers that speak well about your brand, enabling you to connect with them and get them to represent your brand effectively.
If an influencer comments negatively about your brand, social media listening tools will notify you almost immediately, giving you ample time to correct the narrative before it spreads.
Your ability to use social listening tools to discover and leverage industry influencers to promote your brand, products, and services is key to lead generation.
Social listening tools like @brand24 help you monitor influencers and keep you informed on when they're speaking good or ill about your business, so you can react on time.
Click To Tweet
Addressing Complaints On Social Media
Most customers prefer complaining about a product or poor service on social media to telling the brand involved directly. As a smart business owner, you should leverage social listening strategies and tools to discover and address these negative reviews immediately.
The right social listening tools will point you to the platform, thread, and even report where your products or services get negative reviews, allowing you to fix and attract new leads.
Initiating Conversations About Your Industry
You can initiate conversations about your industry on social media and use social listening tools to track your reach. This could mean challenging certain norms in the industry or stating important information that isn't obvious to most industry followers.
While your post or tweet rakes the engagements, your brand is being mentioned, leading to more people knowing about you and your products or services.
Discovering New Hangout Platforms For Your Audience
With new social media platforms, communities, and groups coming up often, social listening can help you discover new platforms or forums where prospects hang out to discuss industry-related topics.
This enables you to pitch your tent in those places, build meaningful relationships, and get them to know about your products and services.
Knowing Your Target Audience
You can't create personalized and highly targeted marketing campaigns if you don't know your target audience, what they talk about, and how they like being approached.
An excellent social listening strategy or technique involves studying the demographics of your target audience and learning how best to create marketing messages that appeal to them.
Monitoring Industry Events
Social listening tools help you follow social media conversations around industry events, conferences, webinars, spaces, and live streams.
Ensure to engage with the participants, contribute to conversations, share relevant insights, and provide answers and solutions to questions from other participants. This helps you build relationships and generate quality leads.
Offering Exclusive Discounts
If you monitor social media conversations about your brand, you'll see people expressing interest in your products or services.
Reaching out to them privately and offering them exclusive discounts will encourage them to purchase or become hot leads.
Leverage Social Listening Tools
Social listening tools like Brand24, Hootsuite, and Sprout Social will help you track conversations, set up alerts for relevant keywords, and analyze sentiments to identify potential leads effectively.
When you leverage such a tool, you'll be more positioned to learn about your prospects and drive conversions.
Top 3 Social Listening Tools for Increased Conversion
Here are the top 3 social listening tools you can adopt to increase social media marketing lead generation and conversion:
Brand24
Brand24 is a powerful social listening tool to monitor and analyze online discussions about your brand. It's an excellent tool for tracking your brand's mentions everywhere on the web, including social media, podcasts, Google Play, the App Store, Telegram, and TikTok. Brand24 is a full online reputation management system you can use to gauge sentiments toward your brand.
The social listening tool has several fantastic features, including tracking your competitors, studying their mentions, and understanding what their customers are complaining about, allowing you to provide better services and win them over.
Another essential feature of Brand24 is the ability to identify influencers in an industry, allowing you to collaborate effectively with them.
Hootsuite
Hootsuite is primarily known for scheduling and publishing posts on social media. However, it has a feature that enables it to perform social listening activities, such as brand monitoring, keyword tracking, brand mention tracking, sentiment analysis, competitor monitoring, etc.
Sprout Social
Sprout Social is a robust social media management platform with powerful social listening features. It allows you to monitor, analyze, and engage with conversations and mentions across social media platforms.
It also allows you to conduct competitor, sentiment, and trend analysis to ensure you understand what your target audience wants, further enabling you to deliver an efficient customer experience.
Effective Social Listening Tips
Here are some social listening tips to help you grow your brand, deliver excellent customer experience, and generate quality leads consistently:
Define Your Goals
You must define your goals from the onset to make the most of your social listening activities. Identify the platforms you want to monitor and the information you want to gain from the process.
Choose The Right Tools
There are many social listening tools; ensure to use the ones that deliver on their promises. Social listening tools like Brand24, HootSuite, and Sprout Social help you easily track mentions, analyze sentiment, and identify trends.
Track Brand Mentions
Track all mentions of your brand, products, and services on social media to identify potential issues and complaints and respond promptly to customer feedback.
Also, track the mentions of your brand's CEO and other notable employees to gauge sentiments and keep your brand's reputation intact.
Analyze Sentiments
Analyze the sentiment of the brand's mentions and address them appropriately and promptly.
Pay attention to your brand's positive, negative, and neutral sentiments, and leverage the insights to make informed decisions.
Engage In Conversations
While social listening is about monitoring brand mentions, it allows you to engage with your audience. When you encounter relevant discussions about your brand or industry, participate and provide valuable insights.
Engaging with your audience shows you're paying attention to them and can help you build valuable relationships and generate quality leads.
Take Actions Based On Insights
Social listening can only be valuable to your brand when you take action on the insights you gather. Ensure you use the information you get from social listening to improve your products and services, improve your marketing strategies, and deliver an excellent customer experience.
To excel in #sociallistening, you need to define your goals, choose the right tools, analyze sentiments, and more. Here are top effective social listening tips to maximize your lead generation.
Click To Tweet
Over to You – How Well Do You Use Social Listening For Lead Generation?
Social listening has become indispensable for businesses looking to generate quality leads, deliver exceptional customer experience, and increase sales. With the right social listening strategy and tool, you can get your brand to compete favorably in your industry while delivering exceptional customer service.
How well have you been using social listening for lead generation? Has it been effective? I hope the insights in this article on how social listening can help you find leads help you improve your social media lead generation using social listening tools like Brand24.
Latest posts by Christopher Iwundu
(see all)