Within recent years, affiliate marketing has literally exploded as an amazing way to earn a residual income. However, not everyone experiences successful affiliate marketing.
The beauty of affiliate marketing is that anyone, no matter their professional background, can get involved. You can really build a solid, mostly passive income if you approach affiliate marketing the right way.
If you have ever entertained the notion of getting into affiliate marketing, then the following information should prove to be extremely helpful.
In this article, I'll reveal one of the most important secrets in successful affiliate marketing that will help you take your affiliate business to a place where you're able to generate a solid, recurring income.
Before we reveal the secret, let's take a look at the basics. What is affiliate marketing, anyway?
What Exactly Is Affiliate Marketing?
A very basic description would be that an affiliate marketer contracts with a company to sell its products or services for compensation. This is usually accomplished online, and the compensation is typically a percentage of the money brought in by a sale.
Sounds like a salesperson, right? It's not.
Affiliate marketing is different. As an affiliate, your business is really all about you. The presence that you build makes you an influencer. And as you build trust with your fans and followers, you're able to recommend products and services from other companies.
That trust you've built convinces people to click on the links you share promoting various products and services, and when they click and buy, you make a small (or a big) commission.
There are literally tens of thousands of companies that contract with affiliate marketers, and if you are entertaining the notion of getting into this industry, you have probably run across hundreds of offers yourself.
It isn't difficult to find products to sell as an affiliate, but unless you know the secret to successful conversions, one product is as good as another.
Let's Start with "Residual Income"
As an affiliate, your income will typically be residual. You won't get paid on an hourly, salary, or another traditional basis, so it's important to understand this before you jump into affiliate marketing.
So, what is residual income? Residual income is money coming in long after completion of the work meant to produce that income. For example, you send out an email with content reviewing a product for which you are an affiliate. You drop links and banners into the piece, and then you send it out to your lists.
Someone clicks the link and buys the product. Your job is done. But, you won't see a penny of that sale until a few months down the road. Affiliate programs will typically pay out monthly or after a pre-specified period to ensure that the person who made the purchase stays subscribed or doesn't return it.
So, as an affiliate marketer, you need to be sure you have funds in place to keep your cash flow positive while you wait for future payments to roll in.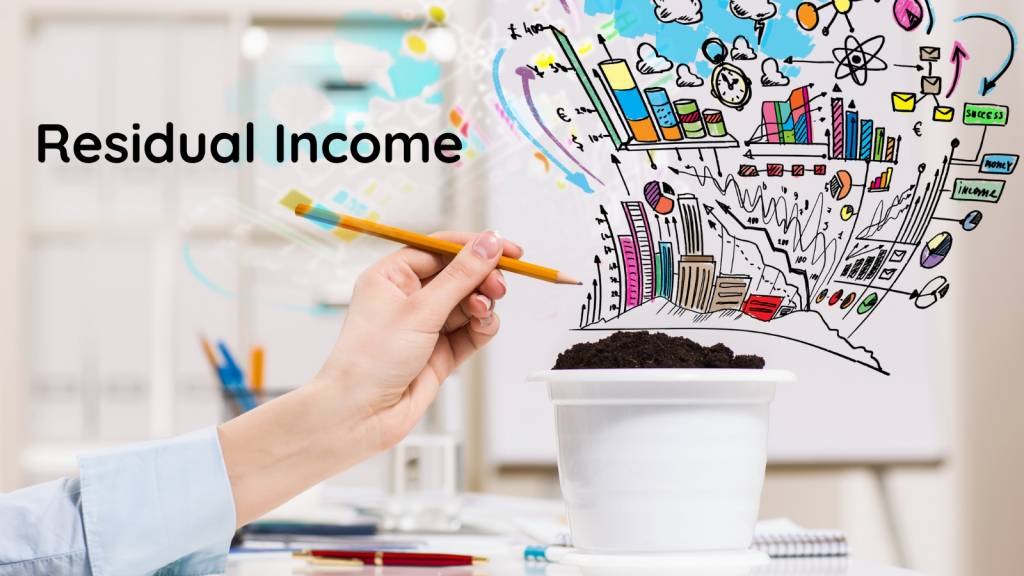 What are the Best Affiliate Programs to Join?
This is one of those "it depends" answers. The important thing is to understand your audience and the products and services they consume. If you run a coffee blog, for example, you probably don't want to join an affiliate program focused on selling WordPress hosting.
That said, if you run a blog about marketing, joining a WordPress hosting or SaaS affiliate program makes a lot more sense. And these technology-based affiliate programs can be very high-paying, making them quite intriguing for affiliates.
If you're a lifestyle blogger, or maybe you're a food blogger, one of the most popular affiliate platforms is Amazon Associates. This program allows you to add a tag to your site, and then Amazon will promote popular, relevant products to your site visitors.
Again, the programs you choose to join should be based on your subject matter and your audience. Don't join too many programs. You can get overwhelmed, and your targeting becomes too broad.
The Secret Revealed for Successful Affiliate Marketing
Ok, so I've made you wait long enough. Here's the one, the most effective secret to affiliate marketing success. If you want to be successful as an affiliate marketer, you must become a consummate blogger with a passion for blogging. Not just a passive, post-now-and-then type of blogger.
This is how interested consumers find products they are interested in. Your audience will read your blog posts, and if your content is well-written and informative readers will click through to the products or services you are 'selling.'
The keys to leveraging your blog for successful affiliate marketing include:
Authority – Make sure the content you post on your blog is relevant, accurate, and adds tons of value for your readers
Traffic – To build your revenue to a sustainable point, you need to drive tons of traffic to your site (every visitor is a potential buyer)
Following – Building a big following on the right social media channels allows you to connect with buyers beyond your website
Your blog and your social media channel then serve as places to promote the affiliate programs your join. Through each program, you'll have access to a special link that tracks affiliate clicks and purchases. This can also come in the form of banners that you embed on your site like the one below Lisa has for Brand24.
How Do Affiliate Links Work?
Your links have a unique code that tells the merchant how that customer got there. You will then get the compensation as per their payment arrangements. One thing you need to know, however, is that buyers may click but not buy immediately.
That's why affiliate programs will place a cookie on each link. Your cookie may be 30-day or more. This way, if someone clicks on your link but doesn't return to make the purchase for 15 days, you still get the sale.
Learning to Become an Authoritative Blogger
Becoming a successful affiliate marketing expert isn't easy. And since blogging is the most critical component in successful affiliate marketing, you'll want to study hard to fine-tune this art form. Fortunately, there are tons of amazing bloggers who serve as shining examples of building a powerful, authoritative blog presence.
Here are a few top bloggers I recommend following to start modeling your own blogging success after.
These bloggers have each carved out an impressive digital niche and commanded the attention of their audience. Take notes about the types of content they published, the way they interact with their followers, and how they promote various products. You'll learn a ton!
Blogging's Big Impact On Successful Affiliate Marketing
While there are so many sites that will tell you how to find products to sell and how to choose the right niche for you, it isn't often that you will hear just how important blogging is to your ultimate success.
The secret to becoming a successful affiliate marketer has less to do with selling than it does with creating informative and entertaining blog posts. Give freely to your audience in the form of information and helpful advice. As your authority grows, they will give back in the form of affiliate clicks and purchases.
It will be those links to the products you sell that will give you a residual income. However, with that being said, remember to keep content fresh and alive. It's not a one-and-done deal but rather a continual upload of posts, both on your site and as a guest on sites of authority.
Wrapping it Up For Successful Affiliate Marketing
The bottom line then is the more you post, the more you earn. Publishing content on sites that aren't your own helps by allowing you to gain a backlink (which Google loves) as well as get your personal brand and authority in front of new audiences.
So, now that you know the secret to successful affiliate marketing success, it's time to get started. Create a plan to launch your blog, and then either develop your blog yourself or work with a web design agency to get things moving.
As your affiliate presence grows, your income grows along with it. It's the perfect side hustle that can turn into a full-time gig.
Latest posts by Anthony Gaenzle
(see all)