What is social media management for realtors on Twitter? I noticed the other day a realtor tweeting away but then something strange happened when I went to follow them. This social realtor had protected tweets.
It got me thinking. Why do some people, especially those in business, protect their tweets?
Social realtors, you think, would want everyone to see their tweets, right? That's one of the benefits of being on Twitter, getting to meet new people. But how can you meet new people if your Twitter account is protected and locked tight?
I've seen it over the years with small businesses and others on Twitter as well as on Instagram with private accounts. Why be there if you are going to protect your tweets or Instagram posts?
Unless you are new to the network and want to get familiar with it first, then I can understand.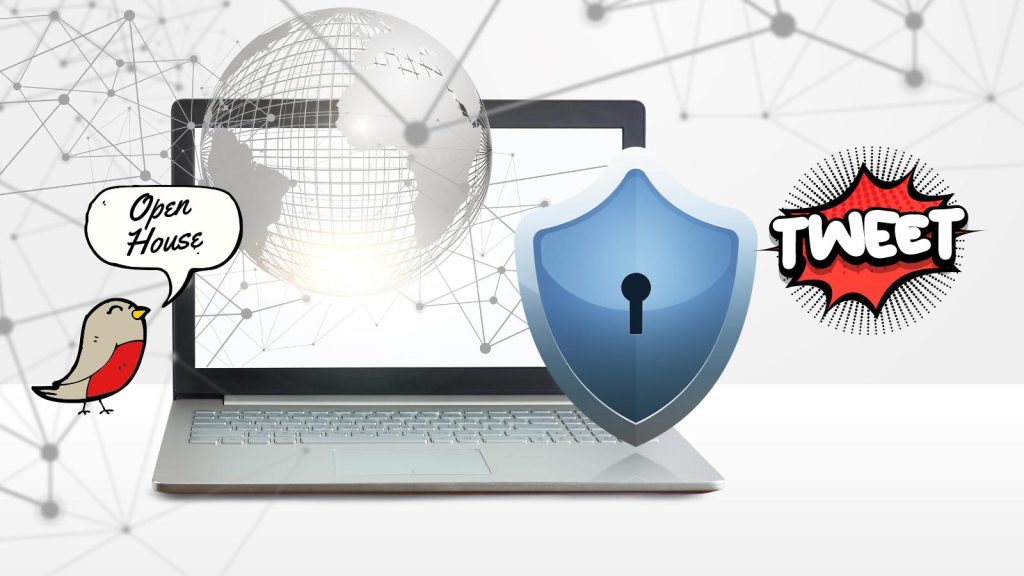 What Are Protected Tweets vs. Public Tweets?
Protected tweets are only shown to people that you allow to follow you. Public tweets can be seen by anyone even people not on Twitter if they do a search on Google.
The default option on Twitter is set to the public unless you change it to protect.

Lisa, Inspire To Thrive
Furthermore, having your protected tweets also requires you to approve who follows you. That is an extra step you would have to do to grow your Twitter following.
If you have your Twitter account set to protected and change it back to "public", all your protected tweets from the past can be displayed for anyone to see. (Just something to think about).
5 Top Tips – Social Media Management For Realtors On Twitter
Click To Tweet
Why Protect Your Tweets?
Newbie – You are new to Twitter and you just want to learn the ropes. You don't want others to see any mistakes you may make in the beginning when you tweet.
Elementary school teachers. Teachers and kids are only allowed to follow each other for classroom activities. That's smart tweeting.
Criminal activity – Criminals may hide their tweets for obvious reasons.
You are being stalked – But in that case, you could just block the one person.
Why You Should NOT Protect Your Tweets
Let other others see your tweets and get your Twitter messages out there.
Marketing – To market yourself,  your small business, etc.
Get more followers that may read your tweets.
Grow your Twitter following and reach on Twitter.
To freely engage with others on the Twitter network. Learn more from a contributor post I recently did on how to increase your engagement on the Twitter network.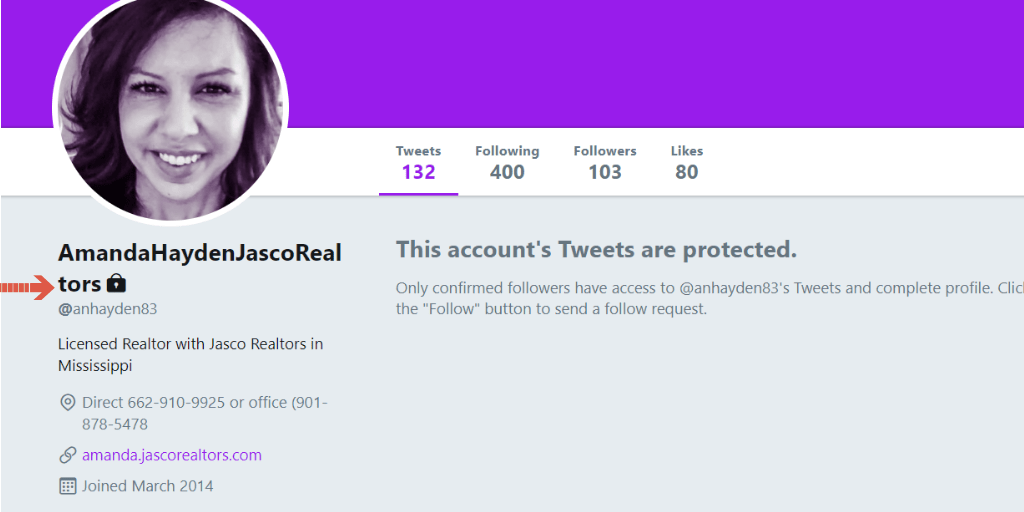 Changing From Private To Public Account
This next account really surprised me, she had a verified account with her tweets protected in 2018.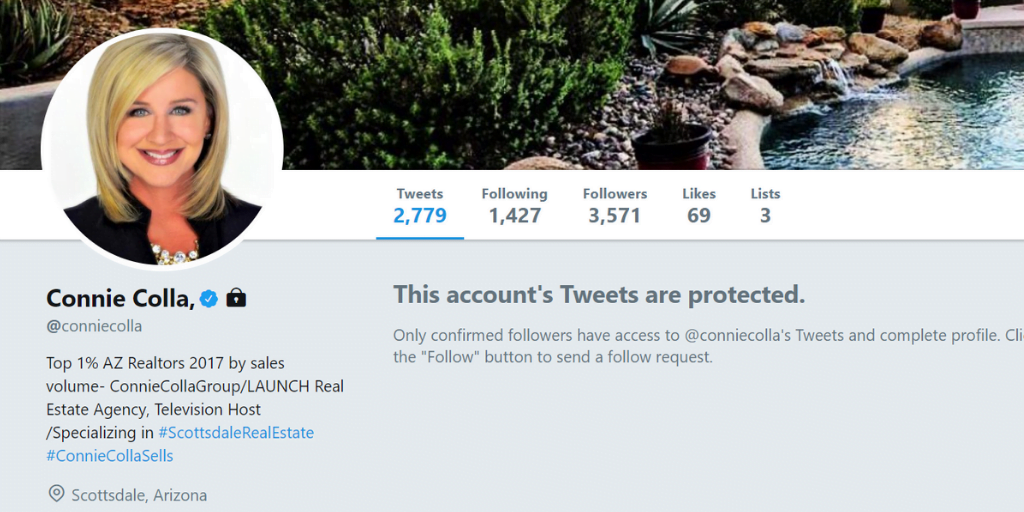 However, she now has a public Twitter account since I wrote this post back in 2018.
How do you know when it's time to sell?

According to a recent survey by the U.S.-based National Association of Realtors, these are the top 5 reasons respondents listed for selling their homes.

📲 480-599-5058
📧 [email protected] pic.twitter.com/XExTEjP0JE

— Connie Colla, Luxury Realtor (@conniecolla) June 16, 2023
Hence, some people on Twitter may forget that they protected their tweets and later realize it when called out on them. They can easily change their settings back to the default public option.
Now, here is another one that I found while researching accounts on the social network. This particular realtor seems to really specialize in high-end clientele possibly for NFL football players.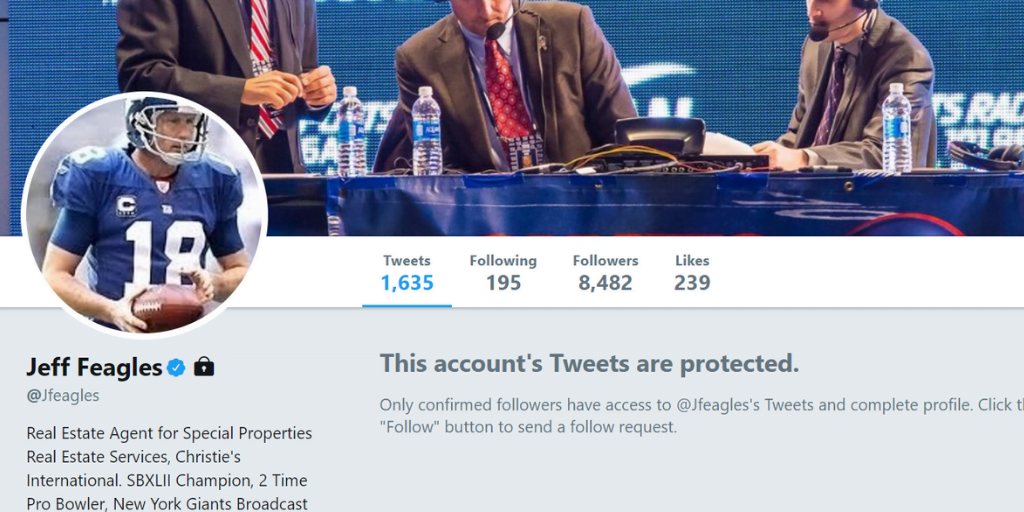 What do you think of him protecting his tweets?  I'm thinking with the type of clientele he has may be the reason for a protected Twitter account.
How To Unlock Your Protected Tweets
To unlock your protected tweets, all you have to do is go to your Twitter settings. Then go to privacy.
See the sample below to easily unlock your protected tweets. Finally, be sure to uncheck the Protect your Tweets box.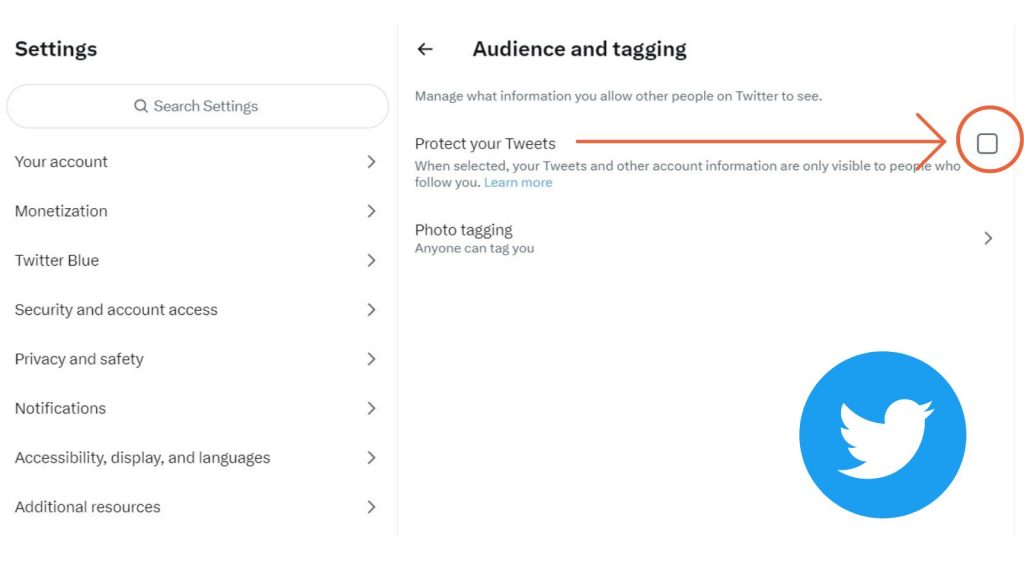 Anyone in business like social realtors should really allow others to follow them and engage with them on the Twitter network. That's really what it's all about being on Twitter.
If you are going to tweet let others see what you are tweeting about.
Likewise, it would be like going to a networking event but hiding under the table all night. Why be there, right?
Here Is What Other Peeps Are Saying About Protected Tweets
— Hey Mikie! (@stlavgjoe) January 25, 2016
What's the point of Twitter if you got your tweets protected? ?

— Maryellen☔️ (@maryellen_bxtch) January 22, 2016
Protected tweets = something to hide = shouldn't be on Twitter = social media oxymoron.

— Dinesh Balliah (@DineshBalliah) February 13, 2016
What Are Other Social Realtors Doing Right On Twitter?
Other social realtors on Twitter are tweeting consistently and not all about their listings. They are providing valuable information to past, present, and future clients.
Others are entertaining them as well along the way. They get how social media management for realtors on Twitter and other social media networks works.
Check out the realtors who are getting it right on Twitter.
Here Are Tweets From Realtors That Get Twitter Right
🌳🌸 Tired of a boring backyard? Let Tony Lanni's innovative landscaping ideas turn your outdoor space into a stunning oasis! 🏡💚

Contact me today to transform your yard! 🌿🌺

🌐https://t.co/S7RwOTNKKk
✉[email protected]
📞401-263-5281 pic.twitter.com/YLXoe2kRtr

— TonyLanniRealtor (@tonylanni) June 2, 2023
One of the first questions we ask when someone tells us they're ready to #rent is, "What's on your wish list?" Before we help you find the #rental of your dreams, we like to know what you're looking for. Today's #blog will help you put your list together! https://t.co/LXlOzGRXyg pic.twitter.com/PEOKgF4DI1

— Fitzpatrick Team (@fitzteamri) August 17, 2018
What is a Loan For Land and How Do They Work? https://t.co/Yw8AwtNsm3 pic.twitter.com/0GFRCnlvTR

— Bill Gassett (@massrealty) June 27, 2023
Why Facebook and Twitter Don't Work Together
Be sure NOT to connect your Facebook and Twitter together!  Here is what it looks like on Twitter:
Keller Williams Realty – New England Region Masterminds in Rhode Island. Tuesday and Wednesday. Masterminds group… http://t.co/JSoF3hlmca

— Sandy Bonney (@sandybonney) October 16, 2015
It is a wasted tweet when it's coming from your Facebook feed. If people wanted to see you on Facebook they would be there at that moment and not on Twitter.
It is a wasted tweet when it's coming from your Facebook feed. #Twittertip #realestateagents
Click To Tweet
Instagram Recipes With Twitter
The same goes for Instagram. But, with an IFTTT recipe, your Instagram photos can show right in the Twitter stream.
(You must have an IFTTT pro account today for this for the API fees went up.)
Went for a nice early morning walk with my son this last day of August.
Beautiful morning in #RhodeIsland #NewEngland #morningwalk #morningmotivation #nature_photo #nature #summer2018 #reservoir https://t.co/55qXYYl2tc pic.twitter.com/kStjvepBJb

— Lisa ?‍??? (@Lisapatb) August 31, 2018
Your Turn:  Social Media Management For Social Realtors On Twitter
Do you follow people on Twitter that have protected tweets? Would you for any reason protect your tweets? I'd love to know more in the comments below.
If you are looking to connect with more realtors on Twitter, be sure to check out my real estate list.  You can subscribe to the Twitter list.
Need help marketing your real estate business on social media? Check out my services page today.

FAQs Social Realtors On Twitter
Why do social realtors protect their tweets?
Some realtors may forget to change their tweets from private to public, others may be in high-luxury areas where they don't want their tweets public.
What is the best way for realtors to tweet?
To share useful information on the social network about real estate and the home-buying process.
What is social media management for realtors?
Social media management for real estate agents is managing social media from posting to responding to posts and evaluating the results.
How to introduce yourself as a realtor on social media?
Post something about you that sets you apart from other realtors on the network.
Are there social media rules for realtors?
The rules are pretty much the same as other social media users of a network. However, I like the use of the 80/20 rule, post 80% of helpful content and 20% of push marketing or advertorial content.
Why do realtors need social media?
To get their content and marketing in front of potential clients.