Do you know what automatically generated content means? There are many AI tools coming out for content that you will want to know what it all means. Recently Google stated that automatically generated content is against their webmaster guidelines. However, they explain it further: It is when the automatically generated content is intended to manipulate search rankings.
The abbreviation is "AGC" for short. (From The Search Engine Roundtable.)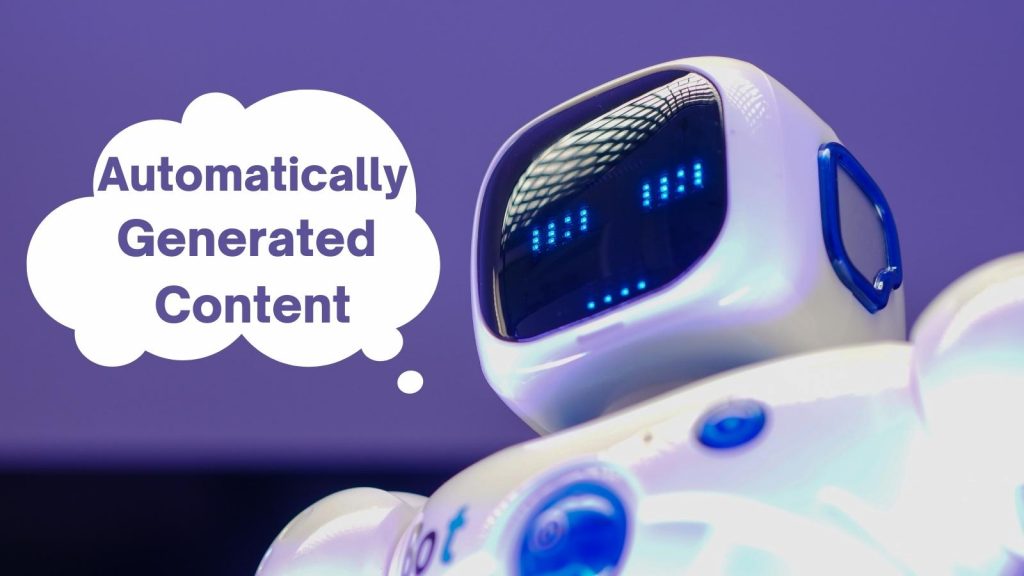 Recently Google stated that automatically generated content is against their webmaster guidelines. #AGC #Google
Click To Tweet
What Is Automatically Generated Content?
Automatically generated content is, quite simply, content that is created automatically. Content created by algorithms or bots.
This piece of content is oftentimes of low quality and appears spammy. It is something that Google specifically says they don't want in their search results.
Watch my video below on how one of these tools from Jasper AI works:
Google and AGC
Google had been increasingly cracking down on automatically generated content (AGC). When writing uses existing content and re-writes it in a slightly different way often called spun content.
Content creators use it to game the search engines and improve a website's ranking.
Other times, it's simply because the site owner doesn't have the time or resources to create original content. It helps make it quicker to produce content for their blog or website.
Furthermore, Google had looked down on this practice of writing content by algorithms or bots.
However, recently (February 2023) since Google introduced its own AI Bard, it claims that "Google prioritizes high-quality content, regardless of whether humans OR machines generate it."
Do Writing AI Tools Hurt Your Blog Posts or other Content?
For example, I use Jasper AI. According to Jasper:
Jasper AI is a powerful, innovative GPT-3 software for generating content that can be used in a variety of ways and at scale. It's a powerful new and innovative GPT-3 software that you can use to write SEO-focused blog posts, listicles, school papers, scripts for YouTube Videos, and books.
However, If you use a tool like Jasper or Quillbot, write some of the content yourself, and cite your own sources I do not believe it's considered against Google rules. Especially if you are like me and don't know how to manipulate the system.
Now that Google made the update in February 2023, we can be assured they do not care unless you are trying to manipulate the system.
Furthermore, putting your own examples into the content makes it more personal.
What Are Some of the Popular AI Writing Tools?
Jasper
Anyword
Rytr
Writesonic
CopyAi
WordTune
Adam Enfroy has a fabulous review of these various tools. Of course, my favorite Jasper AI is his #1 favorite as well.
Social Media Content
Now, another form of this content writing is for social media posts. You can generate content for various networks to improve your own or your client's postings. I've yet to read any social media network having any issue with this.
This is a fabulous tool on days when you don't feel creative enough to come up with some catchy social media posts.
These social networks also use AI for their infamous algorithms. Remember the Algorithms that make Facebook posts never to be seen (unless boosted) or the Twitter suspensions when you were caught up in the bots?
Email Marketing with AGC Help
Not only can you use these tools for writing content, blog posts, webpages, and social media content but you can use them for your email marketing.
Now you can create more creative emails with a clear call to action with the help of AI content tools.
What is Automatically Generated Content or Not?
If you are using a tool to help you write better and you are wording most of the content in your own words it is not AGC. However, if you are using the tool to write an entire blog post or webpage then it will be fully AGC content.
Furthermore, how will Google know if you are trying to manipulate the system?
According to the Search Engine Journal:
"I think the biggest takeaway from this particular Q&A is that Google's algorithms aren't able to automatically detect content generated by language models such as GPT-3," says Miranda Miller, Sr. Managing Editor at Search Engine Journal.
She explained: "Artificial intelligence is used by media, universities, and other organizations for research automation. Cross-referencing, crawling and classifying content in many languages to identify emerging trends, generating article and paper summaries, fact-checking, crunching data, and even writing full articles," she points out.
Similarly, even the Associated Press began using these AI tools back in 2014. Now, that's very interesting!
However, that is great to know about the GPT-3 Model as Jasper AI and other AI writing tools like AnyWord uses the GPT-3 model. Not only that but they write in 25+ different languages.
Google's Own AI Tools
Ironically, Google has come out with Bard. It's their own AI tool to generate content now.
Google uses AI to rank websites in its search engine. Remember the BERT update a few years ago back in 2019? The update involved a language processing technology called BERT, which can assess the way words in a search query relating to each other, and gave Google a more nuanced understanding of a searcher's intent.
The algorithms used by their AI systems have many rules that prioritize different factors, from the types of keywords in your content to your site's user experience. Isn't that interesting that they want to punish others for using tools that they themselves use?
What Happens If You Are Using an AI Tool Without GPT-3 Model?
Because of it, your website or blog receives a penalty from Google. This pushes your site down in the search rankings. It can take months or years to get your website rankings back. Many years ago this site was penalized by Google and it took months to gain the rankings back. It's not an easy thing to do!
Of course, I'd highly recommend you do your research on the AI tool you are using now. Not to mention, with the right tool, you can do anything!
Of course, I'd highly recommend you do your research on the AI tool you are using now. Not to mention, with the right tool, you can do anything! #AI
Click To Tweet
Did You Know What Is Automatically Generated Content Before Reading This Post?
Did you know what this term meant?
Finally, I'd love to hear from you if you have used this tool to help you create content faster for your content. Will this new information from Google deter you? Or will you use it smarter?
Be sure you are using a GPT-3 Model for your AI writing needs. You can now use AI tools like Jasper confidently to help you write more content faster and oftentimes, even better.
FAQs for What is Automatically Generated Content – Does Google Care?
Are all AI tools still safe to use?
If they have the GPT-3 Model they are considered safe to use.
What is the best use for AGC?
Writing blog posts and social media posts are great to use with the help of automatically generated content. They can also be used for email marketing.
How does AI Writing tools work?
You input content and they provide you with several outputs. You can then copy and paste, edit, etc.
Why is Google coming down on some AI Generated Content?
They are coming down on people that use them to manipulate the search engines.
Can these AI tools replace you?
I believe not, Think of them as your assistant. They are helping you to generate more content and making it easier for you. You still have to put YOU into the content.