Writing longer blog posts or articles is becoming more popular. Meeting the given word count for an assignment always seems to be a hurdle for students and new bloggers alike.
For most of them, the problem is that they cross the given word count, but there are also students who struggle to meet the minimum mark of word count in writing.
Maybe the intention of not writing too much results in writing less. But writing less than the given margin is equally unacceptable.
Also, another factor that leads to students and bloggers writing less than the word count is avoiding using unnecessary information in the paper or blog. Everybody knows that way too much information can sway away the reader's attention from the central topic.
To avoid any such scenario, both students and bloggers often write less. But none of these reasons will be accepted as an excuse, so it is better to increase the length rather than submit a paper or a blog post that does not meet the word count.
Writing More
Having said that, you need to remember that you cannot be writing fluff to make your papers long. Fluff breaks the flow of the readers and creates a bad impact.
Additionally, fluff in the content can even lead to you losing marks. Your added information must be aligned with the rest of the paper and not be repetitive. Repetitive content will be monotonous, and redundancy can impact the quality of your paper or blog severely.
All of this might sound confusing to you for now, so keep reading. In this blog, you will read about the tips that will help you make your paper or blog posts longer.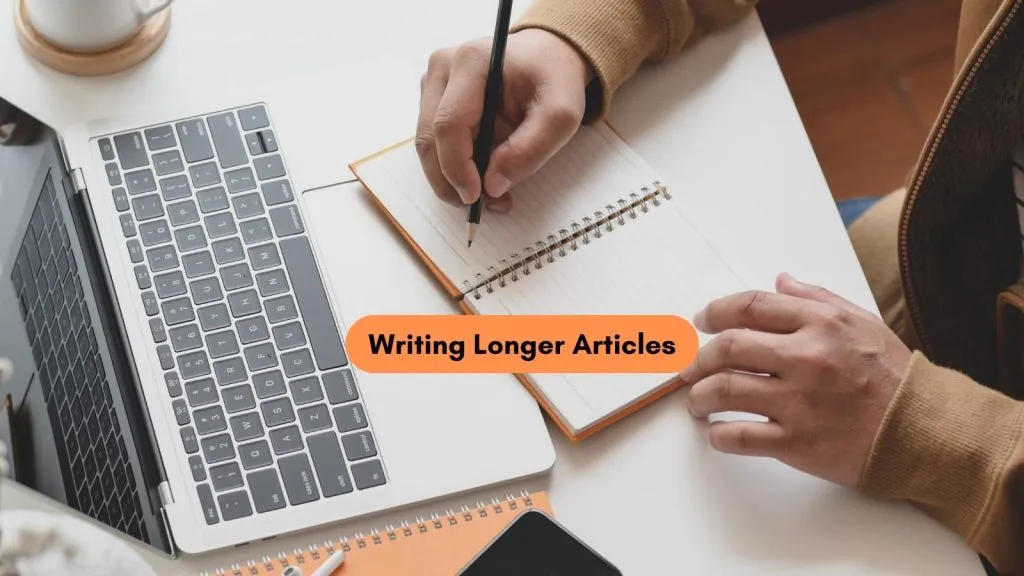 The Best Ways to Increase the Length of Your Blog Posts & Articles
The post's length is a crucial element of any quality college paper or blog post. Your editor or professor can tell you read the question and were able to meet the requirements if you adhere to the size recommendations.
Additionally, it demonstrates how much thought and effort you put into the writing process. It's important to include excellent material in your paper without being repetitive because you never want to be under the final draft's required word or page count.
It's simple to become overwhelmed when trying to figure out how to extend a blog post or an essay. Check out these simple tips to lengthen your paper if you want to write a better, longer blog posts or an essay.
Use Examples For Longer Blog Posts
The first thing you should do when determining how to extend an essay is to review the assertions you made. Go back and look for the concepts you proposed. Did you provide examples to support your arguments?
If you didn't, consider including some research that backs up your assertion. This will lengthen your blog post in addition to strengthening the arguments.
Even better, give several instances for each concept! Your work will be longer since your lecturer will be impressed that claims are substantiated.
Go through the Introduction and Conclusion
It is normal for ideas to develop as you write. If you begin with the introduction, it is advisable to review it and verify that you have included all pertinent information that would help your reader comprehend your perspective.
When you review the conclusion, ensure that you have summarized the main concepts and provided a recommendation for resolving the problem. If you think you have not accomplished this, go back and make the necessary adjustments.
Make the Best Longer Blog Posts and Articles with 8 Tips
Click To Tweet
Use Words and Phrases for Transition between Ideas
Incorporating transitional words into the prose is a more organic method to lengthen it. It enables you to smoothly transition from one topic to the next while softly guiding your audience.
Additionally, they will lengthen your text. It's a win-win circumstance. Consider including some of the following in your writing:
Of course
Whereas
Demonstrating that
As a matter of fact
With these in mind
However
Under these circumstances
Likewise
On the other hand
With regard to this
Likewise
Use Quotations
You most likely used quotes in your blog post or paper already. Although adding quotes to your work will increase its word count and strengthen your thesis, avoid doing it arbitrarily.
Check your source materials again if you're short on words to check whether you missed any insightful quotations. If you want to provide the reader with more support for your point, you can conduct a bit more research to see if there are any additional sources you can add.
Although longer quotes aren't always better, you could wish to prolong some of the already included lines if you're in a tight spot.

Lisa, Inspire To Thrive
Try Reverse Outlining
A helpful tip for improving your writing is to try outlining in reverse. After finishing your paper, create an outline based on the content you have already produced. This process can help you identify areas where you need to add more detail and rearrange pages for better flow.
If a point needs further clarification, take the opportunity to extend your writing. Also, consider breaking up lengthy paragraphs into separate ones to go into greater detail about each idea.
Take a Look at the Prompt
If you're having difficulty writing a long text, try reading your prompt again. Make sure you've addressed all of your reader's questions and used persuasive language to back up your arguments.
Take your time and ensure that you've met all of the requirements. If not, consider adding more content to increase the length of your document or blog, which will also suffice the requirement list.
Read The Post Aloud
Imagine you've written a paper that you've spent countless hours researching and writing. You think you've done a great job, but you're not quite sure if you've caught all the errors.
That's where reading your article aloud comes in handy. While it may seem like a strange thing to do, it can help you identify grammatical or syntactical errors that you may have missed while proofreading silently.
Additionally, as you read aloud, you may discover that certain sentences could be rephrased to improve their clarity or flow. You might find that correcting these errors causes the length of your paper to increase slightly, but it will be worth it to ensure that your ideas are clear and well-expressed.
Furthermore, reading your paper aloud can help you identify if you've provided enough information in a particular paragraph. If you realize that you haven't, simply add more to lengthen the sentence.
Oftentimes, I read mine on a mobile device to find other types of errors.
Discuss It with Your Editor
As the deadline for submitting your longer blog post or paper approaches, seeking feedback from your editors or professors, is essential. They are usually available to review your work, and scheduling an appointment or attending office hours is an excellent opportunity to discuss your paper and receive constructive criticism.
Your editor/instructor can provide valuable insights on how to respond to the challenge more effectively, which could also help you produce a more comprehensive and well-written longer blog post or paper.
Taking advantage of this chance to refine your work may make the difference between a good and an excellent writing piece, so don't hesitate to seek their assistance.
Wrapping Up: Longer Blog Posts
These tips are tried and tested methods. Using them, students and bloggers were successful in stretching the length of their assignment writing. In simple words, keep in mind to include more information, but they should not be repetitive and must make sense as per the rest of the assignment.
Honestly, it may take some time for you to master it, but keep practicing. With more and more practice, all these will come naturally in your writing. Have you written longer blog posts or papers recently? I'd love about the experience and the results you found from the method.