Live Photos can perform the functions of both images and videos. Today, videos are in demand on most social networks. As a result, you can create unique live photo-to-video content with fun and engage the public audience. 
Live photographs can make it simple to capture the best possible moment in a link with the best videos free app. Converting your live photos is a more effective method of storytelling.
It also has the potential to halt the reader mid-scroll. You can watch the video once converted using a computer or mobile device. 
How To Save A Live Photo As A video
Apple's Live Photos feature transforms a single photo into a short film with motion and sounds at the touch of a button. Think of Live Photos as an animated GIF with a voice automatically created from your photographs.
However, Live Photos on the iPhone are capable of so much more.
To save photos into a video using an iPhone is straightforward
You must first find your camera. Then, make sure the Live Photo icon (the concentric circle between the Flash and Timer icons) is colored yellow. 
Then, take a Live Photo. It is as easy as pressing the shutter button once activated.
After you have made your photo, you can save it. You must tap "Save Live Photo" to complete the process. You can tell if an image is Live by looking for the "LIVE" icon in the top left corner.
Find the Live Photo that you want to convert. Additionally, if you're going to style your photo, it is possible, depending on the iOS version you're using. Then you can save it as a video and find it in your gallery. 
Locate and choose the "Save as Video" menu option if you want to share your live photo video. How To Edit Live Photos Online With Wave.video
When you want to share your Live Photo with a program that doesn't support the function, saving it as a video is the best option. Live Photos are challenging to work with in non-Apple apps or need to be recognized. To avoid this, save the file as a video.
On Android devices, you can save them but they can only be used as wallpaper on your Android phone.
How To Edit Live Photos Online With Wave.video
Live photo to video makes it more exciting when created with various elements—for instance, fantastic choices of images and audio to collaborate with your business theme. In addition, you may find many platforms that offer free video services. 
Wave.video is your best tool for creating amazing live photos in videos. An online platform that assists businesses in creating more engaging live images into videos.
Following these instructions, start making professional-grade films quickly and easily
Go to the free videos after creating an account on the Wave.video website, and go to the free videos.
You can combine as many photographs as possible when you drop your file into the video editor.
Choose templates that match your photographs or videos. Wave.video offers thousands of premium templates that may tailor to your company.
Choose from hundreds of word animations to add text to your video.
Then, size and optimize your video from different formats available
Media Files
In Wave, you can include a hundred million media files, and the most up-to-date information is available. It is also possible to use a collection of songs without paying royalties. The music library features 300,000 songs perfect for accompanying promotional videos.
A collection of graphics, animated stickers, and GIFs are also available. Make your films and photos stand out with the help of a wide variety of hilarious GIFs, animated stickers, and other beautiful graphics. So, start your Live image with video content with the latest update from Wave.video. 
Tips For Converting Live Photo To Video
There are many advantages to recording a live photo and saving it as a video. If you want to include a photo in a video, you need a video editing program. Then you need to keep the Live Photo as a video—live photos are animated images, not videos.
You may do several different things to make your Live Photo into a polished and impressive video—the best tips for editing your Live Photos and turning them into professional-looking videos are here. 
Trim any unnecessary portions from video clips. For example, you can eliminate distracting elements like harsh background noise. 
Include transitions to go through clips smoothly. You can choose different video style transitions available on the platform, like in Wave.video. 
Use text to draw attention to specific aspects of your video or to explain their significance. Drag and drop to position the words exactly where you want them. Pick a color that jumps out, and select a typeface with your brand or style.
Applying video filters will make your video recordings look more professional.
Add music to inspire the audience. Again, the piece is significant for video content and engagement. Choose from the hundreds of music that will raise your video content to the target audience. 
Include a voice-over track in your video. As a result, your video will be more distinctive and fit better with the social media platforms and trends. 
The most effective videos are informative! A powerful, understandable, and compelling call to action should include at the end of your film.
Pick the ideal video aspect ratio for every platform. You can modify your video and select the perfect aspect ratio for your intended social media destination.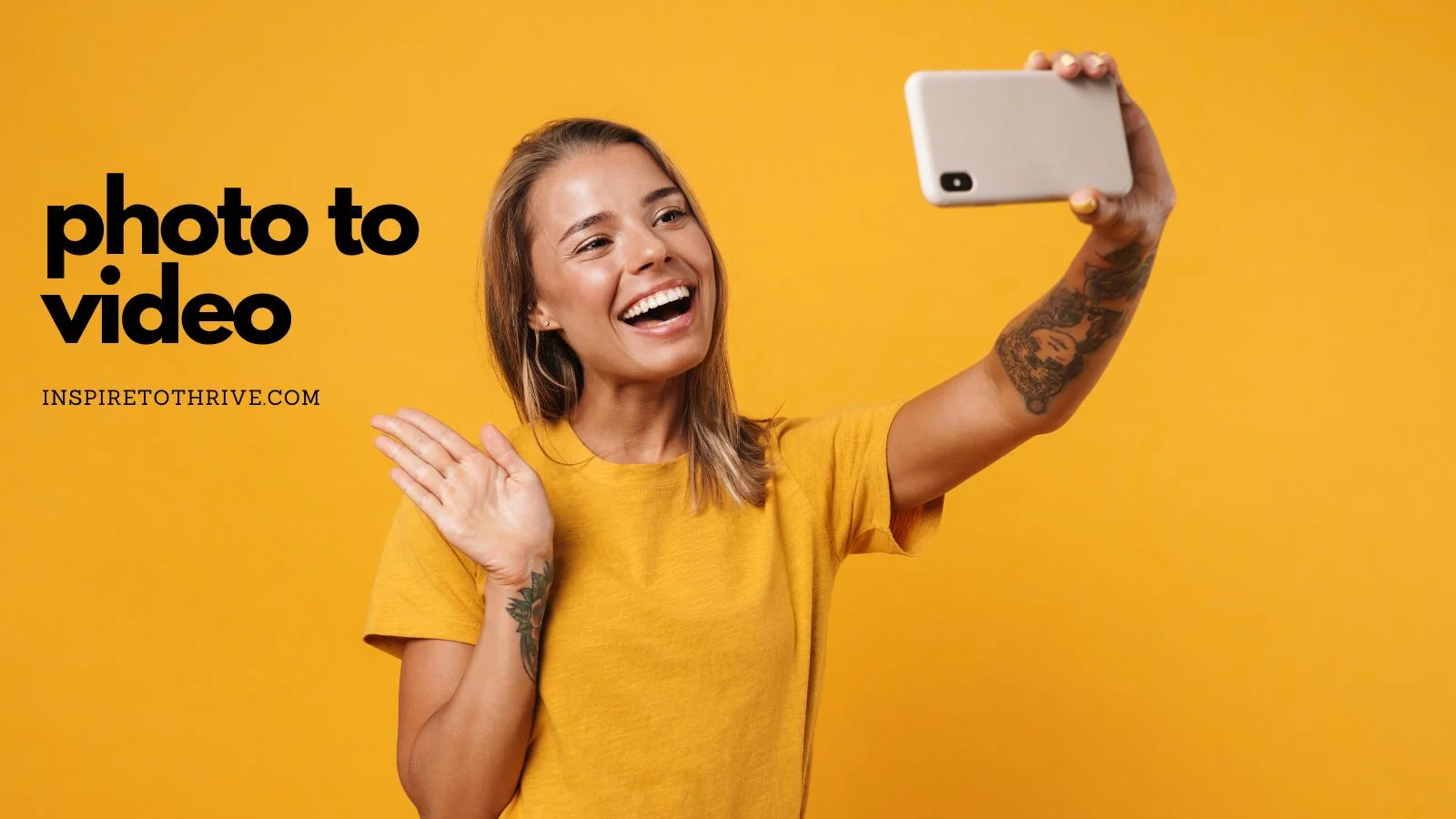 Takeaway
A live photo is one of the finest ways to make original content. You can easily upload and share professionally shot images utilizing state-of-the-art technologies. The best thing is how you can easily save it to stunning video. 
Find the best visuals for your next video with the assistance of Wave. Make captivating films using your images, animated GIFs, and sound effects. Rearrange, resize, and snip photos as you see fit. Then, convey your message effectively with the clear text available.
Take advantage of the perfect tool for creating and sharing your photos and videos with Wave.video online app.
Have you created these types of photos on your phone to generate a video? I'd love to hear about your experience in the comment section below.