Being a social media marketer, I think a lot about where social media is going to stand in the future and how to improve social media engagement.
Social media began as a way for people to associate on the web, advanced to a broadcasting channel, and is presently a place for brands to deliver a personalized and seamless experience.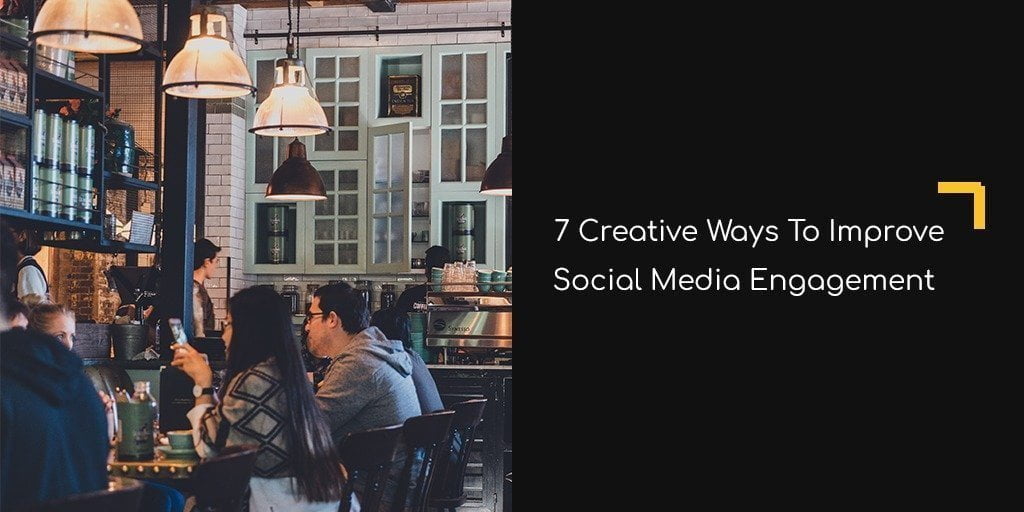 It is not only social media that is evolving, but the number of social media users is growing as well. Of the 7.7 billion people on earth, 4.02 billion have Internet access, and 3.196 billion are active on social media.
Today, 81% percent of small and medium-sized businesses use social media because they recognize its importance. While many businesses use social media, a considerable number of them struggle to get engagement.
How can you spark more engagement on Social Media? How can you get your prospects to share and comment on your social media posts? These have always been glaring issues at hand!
That's why I've compiled the following seven ways to boost your social media engagement. Then, get your audience to talk to you on social media. But first things first!
What Is Engagement On Social Media?
Social media engagement isn't just about collaborating with a single customer on social media. However, it is more about building a relationship with every one of your clients over an extensive stretch of time.
For instance, consider individuals you've met in your real life.
You tend to confide in somebody you've known for a considerable period of time than somebody you met yesterday or a week ago. Social media works in the same way.
For example see how Nike, a company that provides athletic footwear and apparel, is receiving engagement on social media.
Now, that you've known the definition of social media engagement, let's dive into how you can spark more engagement.
7 Creative Ways to Boost Social Media Engagement
Master your target audience.
Give a shout-out to clients and partners.
Encourage User-Generated Content.
Use hashtags creatively.
Work with social media influencers.
Find the best time to post.
Remember why are you using analytics.
The above tactics may look short and simple. However, once you master them, your 'Social Media Engagement tactics would skyrocket your Social Media Marketing results.
#1 Master Your Target Audience
Figure out what matters most to your audience by observing why is your audience on social media in the first place? What is it that interests them? Which are their favorite social channels? Know where you need to put your efforts. Then make sure you invest your time in the social media channels where your target audience invests their time. Lastly, optimize your content accordingly!
Do you know among internet users, a greater percentage of women use Facebook, Tumblr, Pinterest, Snapchat, Instagram, and Twitter? If your target audience is adult women, these social media channels are must be included in your Social Media Strategy.
So, once you have identified who your audience is on each channel, feed them the content that you know they will love and interact with. But, how can you learn more about your audience? Do not ignore the data! Using Facebook Insights and Twitter Analytics to routinely analyze your data can help you piece together who exactly your audience is.
So, once you have identified who your audience is on each channel, feed them the content that you know they will love and interact with.
Click To Tweet
#2 Give a Shout-Out to Clients and Partners
Spread the love when you share content on social by mentioning your super-fans, clients, and your partners in your posts. This will not only make your prospects feel special, yet will likewise increase your reach, and improve your chances of engagement.
These people are following you religiously like super-fans on your social media. Let them know that you recognize them by mentioning them by using '@'. It's true you won't be able to mention all your followers, yet by perceiving the dedicated ones, you can increase the engagement on your posts.
#3 Encourage User-Generated Content
If you want to get your fans talking on your page, User Generated Content can work wonders. If you don't draft the plan carefully, it may go unnoticed. However, you can take ideas from brands like National Geographic, Marc Jacobs, Infiniti, and Mint.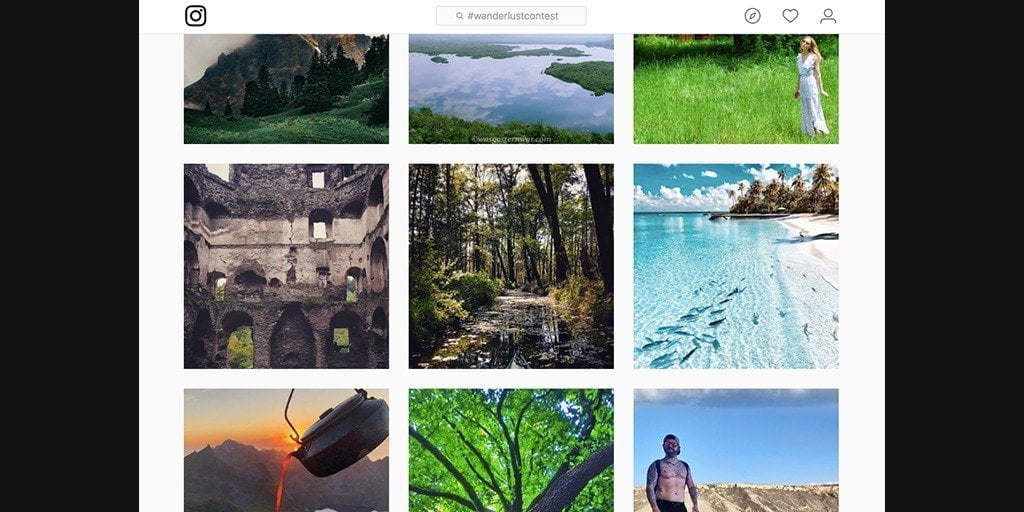 National Geographics' #WanderlustContest is an excellent example of a successful UGC contest. National Geographic tapped into a huge database of travel photography and video content from their customers. In this contest, they asked their audience to capture glimpses of unforgettable places.
These places included people and experiences from their travels around the world. They then shared those images with the hashtag #WanderlustContest on Instagram.
They are simply encouraging their fans and followers to go beyond mutely liking their photos. Instead of that, they encourage them to participate on Instagram and want them to feel a part of their journey. Followers may even save their most popular Instagram posts.
Key lessons:
Perceive why your audience follows you and use this to your advantage.
Choose a prize that aligns with your audience's interests.
"Remember, when your fans contribute to the content on your page, they're probably going to connect with and get their companions to participate."
#4 Use Hashtags Creatively
The hashtag is a  way to categorize content that makes you discover your own content and allows you to find relevant content from other people. It enables you to connect and engage with other social networking users based on a common theme or interest.
Instagram #hashtags = free advertising and engagement.
Instagram #hashtags = gaining potential clients.
Do you know Instagram posts with at least one hashtag have 12.6% more engagement than those without!
Adding the right hashtags to your campaigns can help you drive engagement on your posts. These hashtags will also help you attract new customers. At first, what started as a joke, has now evolved to be an integral part of Social Media Marketing. Now, it has become essential to keep up with the continuously evolving nature of hashtags.
Therefore, you should use relevant hashtags with your post to amplify its reach. However, while choosing a hashtag, make sure to include only those hashtags that make sense and related to your niche/industry.
#5 Work With Influencers
Influencer marketing has been in great demand over the last few years. Usually, people love to follow the individuals who are successful and highly popular. To market to the right people, businesses need these influencers. With time people are realizing the value that an influencer can bring to the table.
Normally, they have a considerable following on their blogs and social media accounts and have the trust and engagement of your audience. Tapping into top marketing influencers through partnerships or affiliate marketing is key. Finally, generating relationships with them can help extend the reach of your brand exponentially.
#6 Post Content Related to Current Events
The people who follow you are humans just as you are! They browse the internet, watch the news, and are very much aware of what is occurring in the world currently.
What is it that is happening right now?
What's happening right now?
Presidential Elections?
Mothers Day?
World Teachers' day?
New year?
Well, I am not asking you to share content about this, but at least you could try to connect the content you share to these events.
Whatever happens these days is on social media users' minds. It's essential you perceive and use that to procure a greater amount of their trust.
Few brands do this exceptionally well to improve social media engagement.
And you should also include current events and important days in your social media strategy to give a boost to your social media engagement. Moreover, sharing different types of content keep your fans on their toes and they wait to see what next you're going to do.
Always surprise your fans because social media is really a crowded place today. If you want to draw the attention of people to your content, then offer them something out of the box that they love to share or talk about!
Moreover, sharing different types of content keep your fans on toes and they wait to see what next you're going to do.#socialmediatips
Click To Tweet
#7 Dig Deep Into Analytics
No matter which channel you are active on, monitoring social media engagement is critical. While the engagement rate is important, it is just as crucial to determining who is connecting with you, when your followers are most engaged, and what type of posts work better in terms of engagement.
Utilize that knowledge to tailor your social media strategy and upgrade your endeavors. Track your efforts, measure your successes, and, most importantly, tune in to your audience.
A good social media strategy has the power to not only increase the number of followers but also the quality of followers. Your goal should be to attract and engage with the individuals who are most likely to find value in your message.
A procedure like this requires exertion and commitment. However, if you put aside time every week and focus your endeavors on your most active, significant platforms, you can effectively increase your social media engagement and lead generation.
Wrapping Up To Improve Social Media Engagement
There is a lot you can do to ignite and inspire conversations on your social media pages. You just need to get creative and come up with unique posts. Lastly, be smart enough to avoid wasting time by committing small mistakes while doing social media engagement
What do you think? How do you utilize it to improve your social media engagement? What is it that inspires your fans to talk on your page? Please share your experience and recommendations in the comment section below.
Latest posts by Elmira Assiyeva
(see all)