Cryptocurrencies like Bitcoin and other digital assets fulfill a wide array of use cases for emerging industries that are constantly evolving, of which mention can be made of the Internet of Things, Web2 and Web3, and artificial intelligence. Anyone can create a digital item, but the process requires time, money, and other resources for SEO for crypto sites.
The most difficult challenge of developing a cryptocurrency project is the marketing that comes after. People in the cryptocurrency ecosystem are picky about the projects they invest in, meaning they prefer credible brands.
Promoting Your Site
So, how can you promote your cryptocurrency project to your target audience? Have a website to show people you're offering them something useful and valuable. It will boost your image and credibility even before customers stream in.
Without SEO, your project will be lost among countless others on the same topic, so people will never be able to find you using search engines.
Therefore, it's essential to start optimizing your website for SEO for crypto sites. Continue reading to find out how to increase traffic, sales, and ROI.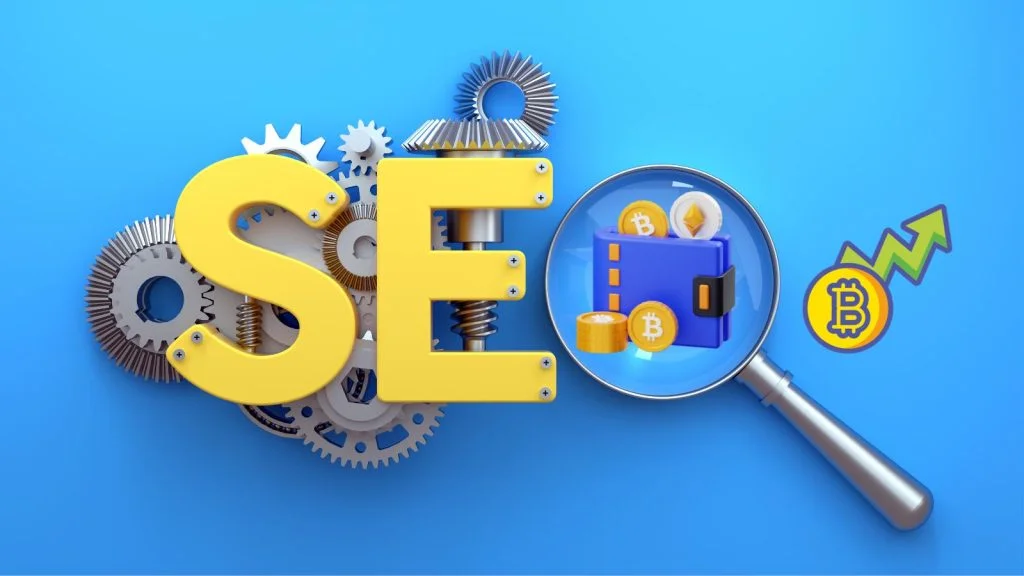 Determine How Your Key Market Competitors Are
You can hire an agency, or you can do it yourself. Conduct research and assess your competitors' market position to determine what's going on in the cryptocurrency market.
Take into account both direct and indirect business competitors. Competitor analysis involves understanding your competitors' target keywords, content strategy, backlink profile, and so forth to reverse-engineer the most successful tactics in your own SEO strategy.
You can create a custom database specifically relevant to your niche. Indeed, conducting a competitor analysis isn't fun, but it's absolutely necessary. You can spend less effort digging dirt on your competitors with the right tools.
How To Make Things Happen When Doing SEO For Crypto Site 
Click To Tweet
Identify Highly Converting Keywords For SEO For Crypto Sites
As the name suggests, highly converting keywords drive notably high conversion rates on web pages. To run a successful campaign, you must use keywords that denote interest in your products or services.
When you write an article, you use keywords or short phrases that describe your content. Examples include but aren't limited to "best cryptocurrency to invest in 2023", "how to buy cryptocurrencies", and "how does cryptocurrency value increase".
Keywords are chosen based on a combination of search volume and competitor and commercial intent. It's up to you to find and analyze search terms that people enter into search engines.
These insights can help inform your crypto content strategy for SEO.
Ranking
Once you have identified the highly converting keyword for the content you publish, you'll rank higher in search engine results and attract more traffic to your website. Content can take the form of educational pieces, how-to guides, and token reviews.
For instance, you could publish an article discussing the different cryptocurrency exchanges on the market. The aim is to add value and teach the reader essential things.
You can use the Google Search Console to find your top converting keywords, which reports on various metrics. Please disregard its non-intuitive interface and overall complexity.
Use Dedicated Landing Pages
Dedicated landing pages reduce clutter and draw attention towards a specific goal. A landing page is a page people can land on (literally) from an ad, email, or another location; it's different from a typical web page in the sense that it's not present in the website's navigation.
The landing page is the most suitable option for increasing the conversion rates of your marketing campaign and reducing the cost of acquiring sales or leads. Remember that the homepage contains too much information and invites visitors to explore, not take action.
Building dedicated landing pages requires planning and a lot of testing.
Distribute Keywords Throughout Your Crypto Content
Assign keywords or short phrases to specific pages on your cryptocurrency website. The question now is, how many keywords are enough?
It goes without saying that you can't stuff as many keywords as you like into your content and expect reliable results. You don't want to frustrate visitors or get penalized by search engines.
Divide the number of times a keyword is used on a web page by the number of words on the page. It's the most straightforward formula. Your primary keyword ought to be the focus of the article, while your secondary keywords should include a few talking points.
People look at the first page of the search results, with the average click-through rate falling considerably after position one. So, if you get keyword usage wrong, it's bad for business.

Lisa, Inspire To Thrive
Google Analytics will help you find the pages already popular with visitors, which will require a bit of tweaking. You can also use SEMrush. Using keywords in page titles, meta descriptions, subheadings, content, images, and URLs is recommended.
You can group your keywords into different clusters and evenly distribute them among web pages the way Google wants to see them.
Add SSL To Improve Website Security
An SSL certificate can boost your website's SEO, enabling a secure connection from a web server to a browser. Google has taken a strict stance to protect the privacy of its users, so don't be surprised that HTTPS is a ranking signal.
Switching to SSL can improve your rankings with the search engines and your business results. The Certificate Authority issues SSL certificates. Ensure you have a unique IP address, an unerring WHOIS record, and business/organization validation.
In case you didn't already know, there are different types of SSL certificates, so the right one for you will depend on your unique business position.
Build Backlinks For Better SEO for Crypto Sites
Finally, yet importantly, get backlinks. Links from other websites show search engines that your cryptocurrency website has the upper hand, so having a backlink strategy is vital to your success.
If your SEO rankings increase, your traffic and sales will also increase. Create high-quality pages that naturally attract backlinks and promote them in relevant publications, but don't neglect to evaluate the websites you link to.
Equally, you can find broken links on web pages within your niche and contact the web admins with resources to replace them. Even just being mentioned on a high-quality website can make your brand more successful.
Wrapping It Up Better SEO for Crypto Websites
SEO is paramount as you have more chances to appear in the search results for related queries, which translates into more opportunities to convert prospects into customers.
Do you have a crypto blog or website? I'd love to hear about your SEO efforts with it in the comments.
How can you promote your cryptocurrency project to your target audience? Have a website to show people you're offering them something useful and valuable.
Click To Tweet