Managing your online reputation is a must. Everyone from consumers to potential business partners and employees is researching you online before committing to working with or engaging in activities with your business.
This makes it even more important to keep up-to-date records of your company's reputation through regular management.
With the right steps, tips, and strategies, any business can ensure its brand is showing favorably on the web.
1. Monitor Your Online Presence Regularly
Keep track of the content appearing when you search for your name or brand name on various search engines. It is essential to monitor not just the first page of results but also the second and third pages, as negative information may appear further down.
Set up alerts on search engines that will notify you when there is fresh content online that mentions your name or brand.
Consider using online monitoring tools such as Hootsuite Insights or Google Alerts to monitor mentions of your name or brand across the web. Using white label review management for agencies is also the best way to monitor your client's online reputation.
Setting up alerts will notify you when your brand's name is mentioned online, allowing you to respond promptly to any complaints or negative reviews. When monitoring, pay attention not only to what is being said but also to trends and patterns.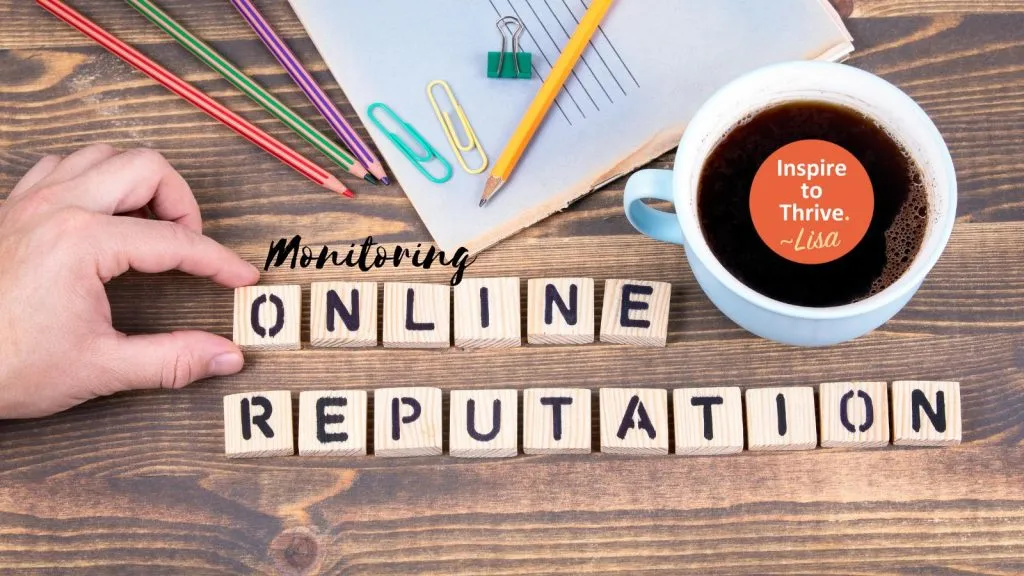 2. Respond Quickly and Professionally
Responding quickly and professionally is important if a customer posts a negative comment or review about you or your business. Acknowledge the issue, apologize for any inconvenience caused, and offer a solution if possible. It is always best to reach out privately rather than engage in a public back-and-forth with the customer or reviewer.

You will discuss the issue in more detail by airing your grievances publicly without worsening things. When you respond quickly and professionally, you show your business values and customer feedback and are willing to go the extra mile to make sure they are satisfied.
This builds trust with existing customers and potential customers alike.
3. Encourage Positive Reviews For Managing Online Reputation
Positive reviews and customer testimonials can significantly boost your online reputation. Encourage satisfied clients or customers to leave positive reviews on Google, Yelp, or other relevant review sites.
Happy customers are often willing to share their positive experiences, but they may need a little nudge to do so. Here are a few ways to encourage positive reviews:
Ask for reviews: After a successful transaction or positive interaction, politely ask satisfied customers to leave a review on relevant platforms like Google, Yelp, or industry-specific websites.
Provide exceptional service: Offering exceptional service is one of the best ways to get customers to leave positive reviews. Make sure your customer service team is well-trained and knowledgeable about the products or services they are selling and that they are polite and professional when interacting with customers.
Make it easy: Provide clear instructions and direct links to review sites, making it as convenient as possible for customers to share their feedback.
Offer incentives: Consider offering a small discount or special offer to customers who leave reviews. However, be sure to follow platform guidelines and disclose any incentives transparently. Avoid incentivizing positive reviews explicitly, as this can damage your reputation if discovered.
It can be achieved by asking for reviews via email, on the website or social media, on receipts, or with follow-up questions.
4. Stay Vigilant on Social Media
Inappropriate posts, comments, or images can adversely affect your reputation and don't go away easily. Before posting a comment or sharing a post, ask yourself if it aligns with your values, objectives, and the image you want to portray.
Remember, anything you post or share online is public and can be seen by anyone. Avoid getting involved in online arguments or negative posts, and ensure that your privacy settings are updated to limit access to sensitive information.
5. Seek Professional Help Managing Online Reputation
Reputation management companies or agencies specialize in helping businesses monitor their online presence and handle any negative feedback that may arise.
The best reputation management companies provide customized solutions based on your needs and goals and 24/7 monitoring of your online mentions.
6. Engage Your Audience
Participating in online conversations and discussions about your industry or niche can help build trust and credibility. Regularly post relevant content on your social media platforms and respond to comments and messages promptly.
You can also participate in online forums, groups, and communities related to your industry. Create and share informative blog posts on your website and consider guest posting on reputable industry blogs.
Host webinars or live streams to connect with your audience in real time.
7. Utilize Google As Your Virtual Business Card
Around 75% of users don't venture beyond the first page of Google results. It would help if you created a Google My Business profile to manage how your business appears in local searches.
Having accurate business information, such as an address, phone number, opening hours, is essential for Google's "Knowledge Graph" to rank you higher in search results.
Optimizing titles and meta descriptions can improve your visibility on Google's organic SERPs. You can further leverage your Google My Business listing by getting featured on Reserve with Google.
8. Keep Your Key Employees Happy
Employees who enjoy their work can easily become advocates for your brand. They have knowledge about your product or service and are often eager to share this on their personal social media platforms.
Traditional word-of-mouth promotion can also be quite impactful. Given the diverse social networks of each employee, their advocacy can introduce your brand to potential customers you've yet to connect with. This helps with your online reputation management efforts.
Create an engaging work environment where they feel appreciated and respected. Appreciate their hard work from time to time, provide rewards for exceptional performance, organize team-building activities, and make sure to always listen to their feedback.
Endnote of Online Reputation Management
Managing your business's online reputation requires dedication and commitment to the task and constant monitoring of reviews, comments, and ratings posted online about your business.
The focus should be on claiming or creating a reputable digital footprint to increase trustworthiness and credibility among customers. Putting in the effort to manage your online reputation now will help benefit your brand in the long run.
So ensure you take care of any issues as they arise, have an actionable plan for protecting your reputation online, and invest in professionals when needed.
What are you doing for your business to manage it's online reputation?