When Twitter suspends an account, it is not usually a permanent one. However, some suspensions on its social network platform are permanent. This week Elon Musk announced he will offer amnesty on Twitter for all accounts that have been suspended. A recent lawsuit brought by Alex Berenson back in December of 2021 has resulted in a reversal of his permanent Twitter suspension.
Below was his last tweet before the suspension from Twitter began back in August of 2021.
1/ Hey Twitter censors: what is misleading about this tweet? Please be specific. The @cdcgov and everyone else now agree the #Covid vaccines do not prevent infection or transmission. Nor am I suggesting that anyone specific not be vaccinated, only that mandates don't make sense… pic.twitter.com/PbbKcuOB85

— Alex Berenson (@AlexBerenson) August 28, 2021
So what happened with the permanently suspended Twitter account? 
In federal court in San Francisco, Twitter's preferred venue, Alex Berenson sued Twitter in December. In April federal Judge William Alsup rejected Twitter's motion to dismiss the suit, allowing his breach of contract and promissory estoppel (basically that he had relied on Twitter's words to his detriment) claims to proceed.
Now that Twitter and Alex have settled the case, Twitter has reinstated him as a user and acknowledged its error. Now Twitter told Fox News that his tweets "should not have led to his suspension" last year.
The Twitter Lawsuit of the Permanent Twitter Suspension
Berenson's case hinged on the fact that Twitter did not give him any notice or opportunity to appeal his Twitter suspension. The court found that this was a violation of due process, and ordered Twitter to reinstate Berenson's account on the social network.
This case may have implications for other users suspended by Twitter. If you have been suspended without notice or the opportunity to appeal, you may now be able to get your social media accounts reinstated.
The court found that this was a violation of due process, and ordered Twitter to reinstate Berenson's account on the social network. #Twitter
Click To Tweet
What Was The Bottom Line?
According to Alex, if Twitter's position is that it can ban anyone for any reason, fine. Section 230 – at least as it is now interpreted – allows that discretion. But once Twitter or any social media company voluntarily sets and disseminates guidelines that it says it will follow in disciplining or banning users, it must follow those, even if its underlying terms of service explicitly say otherwise.
Now here's the key for other banned users: in settling the case, acknowledging the error, and reinstating Alex, Twitter seems to have inherently – and publicly – accepted this theory of its contractual obligations. Not just because of its specific representations to me. But for any user.
Twitter has acknowledged that his tweets should not have led to my suspension at that time.
In its own words, in its own public statement, the little bird admitted that the tweets themselves – the CONTENT of the tweets – mattered.
A Breach of Contract
In other words, if you've been banned for tweeting Covid misinformation – or ANY specific and named violation of Twitter's policies – and you have a plausible case that your tweets did not in fact violate those policies – you may now be able to bring a breach of contract case.
The more granular your argument, the more you can argue that on a factual basis your statements were correct, and the better chance you will have.
Is A Twitter Account Suspension Permanent All The Time?
No, many Twitter suspensions are temporary, for only 12 hours, a few days or a week, or possibly more. However, sometimes Twitter does ban an account forever like former president Donald Trump's account.
The former president filed a lawsuit in the state of FL which was dismissed in court this past May. (It was moved to CA.) However, the court case did leave the door open to an appeal according to The Verge.
Judge Donato from the case noted. "It also states that Twitter may remove or refuse to distribute any content. There is nothing cagey or misleading about these provisions."
That note leaves the Twitter rules quite gray with no right or wrong. It gives Twitter the right to make judgments on its platform about its active users. This is something that Elon Musk was fighting for Twitter about.
Interestingly that former Twitter CEO Jack Dorsey recently said: "But generally permanent bans are a failure of ours and don't work," he said. He went on to say:
He agreed with another user who tweeted that it's "short-sighted' for "a handful of social media companies" to act as "gatekeepers to political discourse."
"It was a business decision, it shouldn't have been," Dorsey wrote of Trump's ban, saying he believes that "permanent bans of individuals are directionally wrong." He also replied to another comment about Trump's ban that "businesses should not be making these decisions."
"I'm saying a corporation should not have to make this decision in the first place. [N]ot for something as important as public conversation," Dorsey wrote.
His argument received widespread support, with many saying he should have realized the error while still at the head of the company. – via NY Post. 
What Other Celebrities Have Been Banned From Twitter?
According to some sources, Twitter bans a million accounts a day! (There are 229 million users on this social-networking site today.) However, many of these are back on within 12 hours or within days as they are temporarily banned from the network.
Some other famous people and influencers who have been using Twitter were banned from using the Twitter website over the past few years including:
Milo Yiannopoulos
David Icke
Katie Hopkins
Senator Ron Johnson
Adele
Cameron Diaz
Rihanna
Christopher Walken
Courtney Love
Alex Jones
and yours truly.
(Some of these people were also taken off other popular social media sites like Facebook.)
As you can see below, every week I see suspended accounts that unfollowed me or were turned into unfollows by the suspension. Once reinstated the followers come back unless they choose not to follow you. Some of these users may be very active on social media.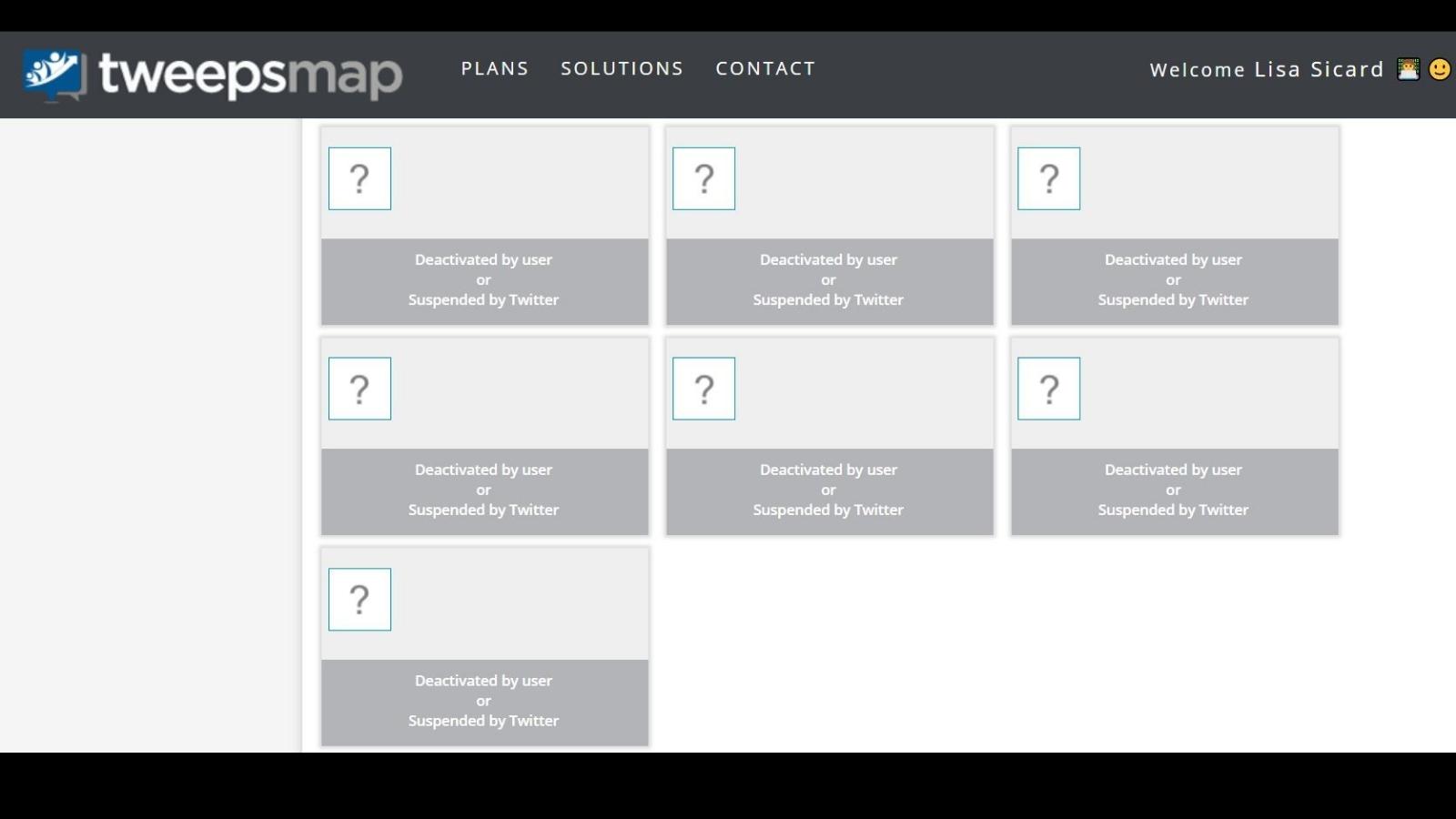 What Are Other Reasons For A Twitter Suspension?
Abusive tweets are considered a violation of Twitter policies. However, they are in a gray area and the rules are not all black and white.
Most of the Twitter rules are gray, and that is why there are so many suspensions every day on the popular social media platform.
Another reason may be that an account is considered a bot on this social media site. Bots are often taken down as quickly as they are put up furthermore, if you publish anyone's private information, like a phone number you can up in a Twitter suspension.
Of course, if you are using a misleading identity that's another reason to get the ax on the network.
You can read all the Twitter rules here for Twitter users.
However, this is what the new owner of Twitter, Elon Musk says about suspensions today:
The goal is a trusted digital town square, where a wide range of views are tolerated, provided people don't break the law or spam. For example, any incitement to violence will result in account suspension.

— Elon Musk (@elonmusk) November 26, 2022
The Reinstatement of Alex Berenson
Shady's back.

Tell a friend.

For the full story of my reinstatment, including @Twitter's acknowledgment of error, see my Substack.https://t.co/SgXfocIFiQ

— Alex Berenson (@AlexBerenson) July 6, 2022
How The Permanent Twitter Suspension Turned Into a Book for Alex
Since Alex was banned as a Twitter user, he decided to write a best-selling book. If life hands you lemons, you make lemonade, right? That is exactly was Alex did.
The ban kept me from telling you about the release of PANDEMIA, my book about Covid, published Nov. 30.

It's more relevant than ever, as we fall down the Omicron rathole and governments and public health bureaucrats push mRNA jabs for kids.

Find it here:https://t.co/lQCfFBaltE

— Alex Berenson (@AlexBerenson) July 7, 2022
Could you turn your tweets into a book? With Twitter's new note feature coming it may not be a bad idea to keep your tweets and retweets from disappearing if you get a permanent suspension from Twitter or other popular social networking sites.
Your Turn On Is A Twitter Account Suspension Permanent?
What would you do if you had a suspension from Twitter permanently and lost millions of users that followed you? Would you write a book or join an alternative social media network? Or would you file a lawsuit against the big tech giant? Maybe start a new social site?
I'd love to hear what you would do in the comments below.